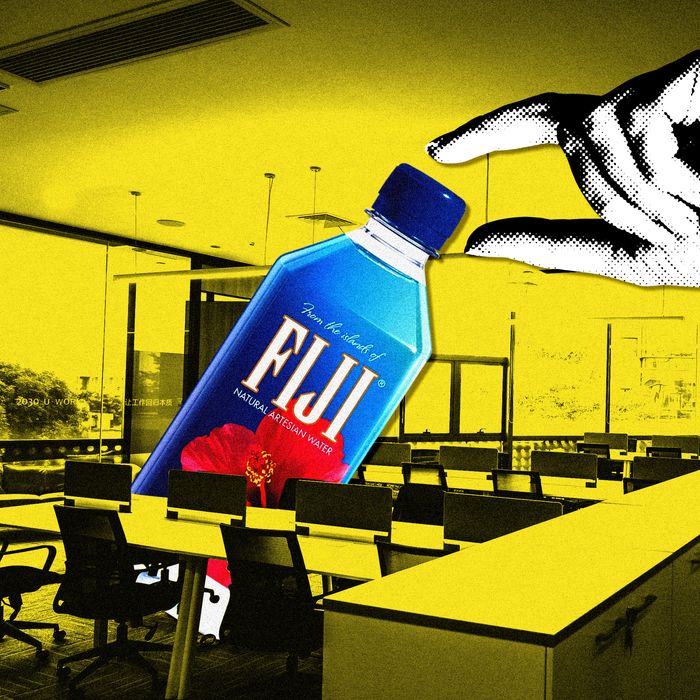 Photo-Illustration: The Strategist; Photos: Getty, Fiji Water
Assistant is a bit of a catchall term. Sure, assistants schedule meetings, take notes, and retrieve coffee, but they can also act as quasi concierges, sending fruit baskets to top clients and buying gifts for partners. In an effort to unearth the highly specific material needs of powerful people, we spoke with "Natalie," who spent the beginning of 2020 doing five trial runs in different personal-assistant positions that lasted anywhere from days to weeks. We spoke to her about the collapsible hair diffuser requested by a music director, the glass food-storage containers one businessman tossed out like takeout boxes, and a statusy couch an interior designer left behind when she moved.
The interior designer beloved by Upper East Side and Hamptons socialites
Natalie got a message from someone looking for a personal assistant in January 2020. "It was the most poorly written message I've ever seen," she says. "The grammar was off, the spacing horrible, no capitalization. I thought it was a scammer and almost didn't go." But when she did meet with the sender, who turned out to be a well-known interior designer, the two hit it off. They ended up working together for about two months, during which Natalie mainly took care of administrative tasks, like chasing down invoices from clients "because she felt bad doing it herself." Natalie also ran some personal errands, including driving her boss's Range Rover "every ten days or so for about 30 minutes" to make sure it was still in working order.
The interior designer's first task for Natalie was restocking wallpaper glue for her home office. "I'll never forget it because I was so scared I would mess it up," Natalie says. Her boss sent her to Sherwin-Williams in Chelsea and instructed Natalie to "tell them you're working for me"; Natalie did just that and was treated like royalty, she says. The staff pointed Natalie in the right direction, but she was still afraid she'd get the wrong kind, so she bought four extra types. When she brought them back, the interior designer asked why Natalie didn't FaceTime her or send her photos. "I was like, 'Because I didn't want to bother you. Most people, like my past bosses, get mad when you do that.'" The interior designer laughed it off and had Natalie return the extra glue.
Before moving from her Upper East Side apartment to a townhouse, Natalie's boss wanted to redecorate her living room with a new Cloud couch from Restoration Hardware. "I kept telling her to get a dupe" of the internet-famous sofa, Natalie says, but her boss insisted. Natalie called the store (where they also knew the interior designer by name), but they only had the smaller versions in stock. Eventually, Restoration Hardware shipped the correct one directly to the interior designer's home. Because she worked with the store regularly, Natalie's boss received a discount, but it was "still insanely expensive," she says. When the interior designer moved, she didn't take the Cloud couch with her.
Since she and the interior designer spent nearly every day together, Natalie also went on trips to her boss's house in East Hampton. Once, on their way back to the city, she realized that the interior designer's Louis Vuitton makeup bag was missing. "It was very alarming because I immediately thought it was my fault," she says. "I was supposed to be in charge of everything going on around me." It "barely fazed" the interior designer, however, and she just requested that Natalie buy a replacement. The next day, Natalie went to Bloomingdale's, where they were unavailable, so she ordered one online. "Of course, they knew her there too, so they had someone hand-deliver it" the next day, Natalie says.
The award-winning music director with Disney connections
After the interior designer, Natalie began a role that was pitched as 75 percent supporting a successful music director — who was recording an album for an upcoming movie musical — and 25 percent helping his wife with household tasks. She would meet the music director at the studio (where she frequently spotted famous actors, directors, and vocalists) and do mostly administrative work: emails, organizing his schedule, and making to-do lists. On another trial day, she worked with his wife to reorganize their apartment's basement. After about two weeks, Natalie realized she didn't like working with the music director's wife and passed on the job.
The music director was "very type A and very particular," Natalie says, even down to his water: He would only drink Fiji because he said it was "cleaner" than other brands. On her first day, Natalie says she bought him a liter bottle, but he "promptly but nicely" explained that he preferred the 330-milliliter size because of how they fit in his hand. Every day after, Natalie says he had at least one bottle on him at all times. At his home, too, Natalie noticed that the fridge was stocked with 330-milliliter bottles, and there were extra boxes stacked in the pantry.
The music director traveled frequently and always packed a diffuser to style his long hair, which he wore down and curly every day she worked with him. The diffuser he had at the time was too bulky for his suitcase, so he asked Natalie to find one that was both collapsible and could clip on to hotel hair dryers. Sephora didn't have any collapsible options, so Natalie searched Amazon, where she found two suitable options — one from the Curly Co. and another from Segabeauty — and sent the music director links to both. Ultimately, he went with the latter because it had better reviews.
The wealth-management adviser making billion-dollar calls
Natalie also trialed with a wealth-management adviser she likens to "someone who would be in Succession." It required two interviews in a corporate office in Midtown East at a "massive, scary mahogany table." Natalie says she could already tell she didn't like the atmosphere, but "for some reason, my entire life revolves around doing things for the plot. I was like, Let's see how long I can survive." The job ended up being mainly administrative: She worked with the businessman's executive assistant on his schedule and emails, provided "CliffsNotes" of calls, and prepped his lunch. Natalie ended up working for the businessman for three days because she didn't like the "arrogant" and "micromanaged" environment.
On her first day, Natalie was tasked with restocking the businessman's Liquid I.V. stash, which he always carried because he "didn't like the taste of water." She picked up a pack of the strawberry flavor. "That was a no," she says. "He asked me, 'Why isn't this my normal water?'" "Normal" referred to the acai-berry flavor, Natalie soon learned, and she rushed over to a nearby GMC to pick up the correct ones. She says he would drink one every morning and three or four throughout the day.
The businessman had an at-home chef who would cook him lunch daily — "salmon dishes, chicken meals, and sandwiches" — and one of Natalie's responsibilities was to heat it up at exactly 1:45 p.m. (She had an alarm set on her personal phone.) Once he was done eating, it was also Natalie's responsibility to wash the Pyrex containers his lunch was packed in. Both the businessman and his EA emphasized that the containers had to be "very, very clean and see-through," not just rinsed out. On her second day, Natalie found out why: After receiving a container with some smudges and slight discoloration, the businessman threw it in the trash because it was "dirty." "I do that if I've had containers for like eight years, but these seemed brand-new," Natalie says.
During her short tenure, Natalie also reordered more of the rectangular glass Pyrex with snap-on lids — no round ones — her boss preferred. "This was when I realized I didn't want to be a personal assistant anymore," she says.
Want to be featured in Assistant Files? If you've been an assistant in the past three years and want to tell us about your boss's shopping habits (anonymously or not), email strategist@nymag.com with "Assistant Files" in the subject line.
The Strategist is designed to surface the most useful, expert recommendations for things to buy across the vast e-commerce landscape. Some of our latest conquests include the best acne treatments, rolling luggage, pillows for side sleepers, natural anxiety remedies, and bath towels. We update links when possible, but note that deals can expire and all prices are subject to change.