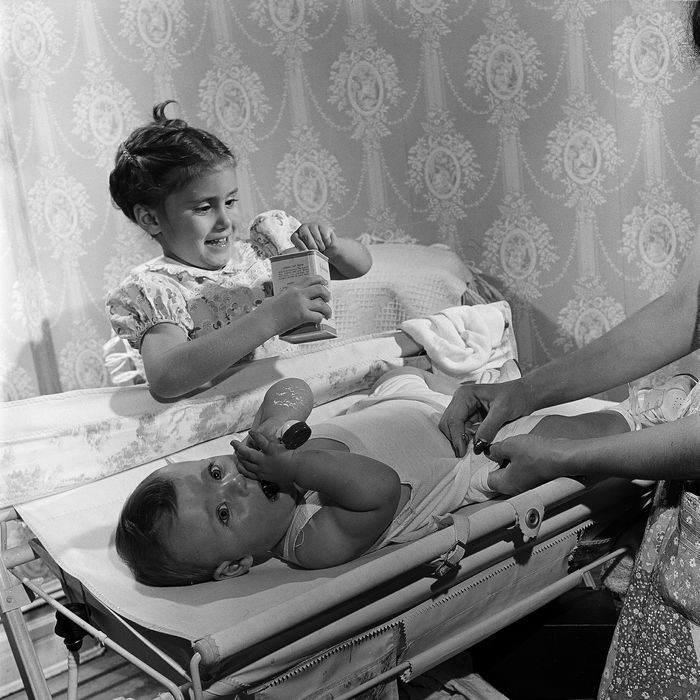 Photo: Rae Russel/Getty Images
Your baby's first diaper rash is a dreadful experience — seeing it spread all red and angry, making your poor little infant cranky while making you feel guilty, as if it were your fault. The reality, though, is that it doesn't take much for a rash to begin. For starters, diapers aren't ideal environments for flesh, particularly the thin skin of newborns: "Water and moisture occluded on the skin without a barrier is a powerful irritant," explains Dr. Jennifer MacGregor, a dermatologist at Union Square Laser Dermatology in New York City. "It can get so bad that skin breaks down and gets raw." Dr. Jennifer Gruen, a Westport, Connecticut, pediatrician and co-founder of Village Pediatrics adds, "Stool (especially diarrhea, which can be acidic) and urine (which has ammonia) held close to skin, as well as rubbing from the diaper, all cause rash." And then there's the fact that even the most attentive parents can't be immediately on top of every single dirty diaper in those early days when babies can be pooping all day long.
The good news is that there are plenty of effective ways to avoid and treat this common ailment. Experts' top tips: Change baby's diaper often (and promptly), do plenty of diaper-free air time, stick to basic water wipes (and use sparingly to avoid additional irritation), and apply a generous, preventative coat of diaper cream with every change — not just when they develop redness. "The main purpose of a diaper cream is to act as a protectant and barrier," explains Dr. Whitney Tan, a dermatologist at Tribeca Park Dermatology in New York City. So the point bears repeating: Apply diaper cream with each and every change; spending the extra few seconds on this step can save you a lot of time and pain in the long run.
But of course, the inevitable will likely still happen. And at this point, "once rash is present," Tan says, you should "work to hydrate and soothe skin and continue to protect it from worsened injury." When tended to properly, most diaper rashes improve within 72 hours. Tan says to look for healing products with a thick texture and zinc oxide and petrolatum as the main active ingredients, which "soothe and seal off the skin from further exposure to a harsh environment." Here, Tan, Gruen, MacGregor, and three other dermatologists and pediatricians recommend the best options to have on hand. And as all of our experts stressed, if your baby's rash doesn't show improvement in a few days, make an appointment with your doctor.
The best overall diaper cream
There are a lot of chic-looking diaper creams these days — you can even get a $28 tube on Net-a-Porter — but three of our experts chose good ol' Vaseline, or petroleum jelly, as the very best treatment of them all. (Note: We're using the term "cream" broadly here, even though some of these products are more like ointments, and don't have the consistency of a cream in the traditional sense.) "I have two young kids now and one has eczema, and the most important thing is to seal skin with a barrier that protects against moisture and other irritants," MacGregor says. "I grease my kids with Vaseline from head to toe after baths and use a thick layer with every diaper change. It's simple, inexpensive, and prevents problems before they begin." As for MacGregor's point about price: To give a comparison, a 13-ounce tub of Vaseline costs about $3.50, while a similar size of other favored ointments like A&D, mentioned below, will run you about $11. Tan also voted for this classic workhorse, noting that, because it's pure petrolatum, there are "no potential allergens" and that it acts as both an "emollient and barrier to soothe and protect skin." In addition to forming a seal that keeps moisture from a wet diaper out, it also "prevents bacteria and yeast from entering skin," says Dr. Sonia Batra, a Santa Monica, California–based dermatologist and co-host of The Doctors TV Show. Which could lead to even more intense forms of diaper rash.
The best diaper creams for preventing rash
For daily diaper changes and mild rashes, A+D Ointment is a favorite of Dr. Edward Kulich, a pediatrician and founder of KidsHousecalls, a pediatric house call concierge practice. The formula combines skin-protecting petrolatum with lanolin, another ingredient that helps keep skin moisturized, along with cod liver oil, "which serves as a vehicle for vitamins A and D," he explains. The blend, he says, "helps provide an excellent hydrophobic barrier to lock the moisture in the skin and prevent the caustic urine and stool enzymes from contact with the skin." Gruen also recommends A+D for its versatility. "It can be used for everything," she says, "from diaper rash to dry skin."
Another solid option for everyday prevention, according to NYC dermatologist Dr. Dendy Engelman, is Cetaphil Diaper Cream. "It contains skin-soothing botanical oils to keep delicate skin hydrated and zinc oxide to keep it protected," she says. "Apply on clean skin every time you change a diaper starting in the front and working your way to the back." An added bonus: It contains calendula — if you find yourself in a position where the diaper rash has already occurred, this plant-based ingredient will help soothe baby's irritation.
The best diaper creams for overnight and more intense rashes
Most diaper creams have somewhere around 10 percent zinc oxide, but Desitin Maximum Strength Original Zinc Oxide Paste contains a whopping 40 percent (which, according to the brand's site, is the highest percentage you'll find without a prescription). "Zinc oxide does wonders for helping create a barrier when there is a sensitive diaper rash and allowing the skin to heal itself," Kulich explains. Because of its high zinc content, it's also ideal for nighttime use, according to Engelman: "The 40 percent zinc oxide provides a great protective barrier to ensure skin stays protected throughout the night, trapping moisture within while repelling water, so skin doesn't break down." While most creams wear off overnight, you'll still notice a layer of this cream on baby's skin at the early-morning diaper change. (This also helps justify the expense — about $5 more than a similar-sized tub of A&D.)
Both MacGregor and Gruen also love Triple Paste, a fragrance-free blend of 12.8 percent zinc along with corn starch, petrolatum, oat kernel extract, and beeswax in its ultrathick, adherent, waxy texture. "It has a high concentration of zinc and petrolatum and is thick and waxy to seal out moisture," MacGregor says. A few notes on the application: Make sure you're applying to dry skin so you don't "inadvertently lock moisture on the skin," MacGregor notes. And don't skimp on the application. "We like to layer on the cream like frosting a cake," Gruen says. "You can never have too much!" Although it's one of the most expensive products on this list, the 1,400 five-star reviews on Amazon — plus our experts' endorsements — make it seem like a worthy investment when you're dealing with more serious diaper-rash situations.
The best moisturizing diaper cream
Avoiding rash isn't the only reason to reach for a diaper cream. Constant baby wipe use can chap and dry out baby's bottom, and Aquaphor Baby Healing Ointment combines nourishing ingredients along with the skin-protecting benefits of petroleum. "It's thinner in texture than Vaseline, but still an ointment," Tan says, adding that it has "glycerin, panthenol, and lanolin to help moisturize the skin." To keep irritation at a minimum, she also recommends using the squeeze tube version of the stuff, "so you're not touching a dirty buttock and then digging your hands back into the jar." (Of course, the big tubs still have their own undeniable appeal, considering how much you go through, so that one is more of a personal preference.)
The best diaper cream for treating yeast rash
When your baby's diaper rash seems especially angry, red, and inflamed and is not responding to one of the barrier creams above, there's a chance it's turned into a yeast rash or infection. "Candidiasis, a form of yeast, is another cause of diaper rash that should be suspected when common diaper rash treatments fail," Tan says. "This rash is much redder and irritated-appearing and can occur secondarily if an irritant diaper rash is not appropriately treated. It should also be thought of if a diaper rash develops immediately following a course of antibiotics," as those are often linked to yeast infections, too. Sounds scary, but it's very treatable. How exactly does a baby get a yeast infection? "Yeast is present in and on our bodies, as well as in stool, and can cause a superinfection," Gruen says. "Once skin is irritated, the yeast can take up residence causing an increase in redness and itch." She recommends an over-the-counter yeast cream like clotrimazole for this particular type of rash. Just apply a thin layer on clean skin four times a day, then finish with a generous coat of regular diaper cream on top. Typically the infection will improve in two to three days.
The best diaper cream for preventing yeast rash
If your baby has gotten yeast infections in the past or has been on antibiotics, Beaudreaux's Butt Paste is a good option: It has an ingredient called Peruvian balsam, "which has mild antibacterial and antifungal properties and can be helpful if a diaper rash is complicated by yeast/candida," Tan says. (It is a potential allergen, though, so she suggests using with caution if your baby has sensitive or eczema-prone skin.) On the plus side: It's lanolin-free, a common ingredient in diaper creams that some babies are sensitive to. "If your child's rash looks worse after using a diaper cream, look for one that's lanolin-free, like Boudreaux's," Gruen says.
The best diaper cream to carry in your diaper bag
What makes this one so diaper-bag-friendly is its teensy .5-ounce packaging (you'd be hard-pressed to find another effective diaper-rash treatment so portable). Doctor Rogers Restore Healing Balm is a simple blend of just three ingredients; glycerin, castor seed oil, and castor oil that can be used from head to toe on both babies and adults. And MacGregor absolutely approves of it to use in place of your typical diaper-rash-prevention treatment when you're out and about. "It has very few ingredients and is safe and gentle for healing almost anything," she says. "I tend to carry this for use on the go since it comes in a little tube and can be additionally used on cuts, brows, flyaways, hands, and dry nails in the winter." And yes, this is a pricey one, but a little goes a long way. And as one Amazon review put it: "It is such an all-in-one product that you really are getting your money's worth."
The Strategist is designed to surface the most useful, expert recommendations for things to buy across the vast e-commerce landscape. Some of our latest conquests include the best acne treatments, rolling luggage, pillows for side sleepers, natural anxiety remedies, and bath towels. We update links when possible, but note that deals can expire and all prices are subject to change.