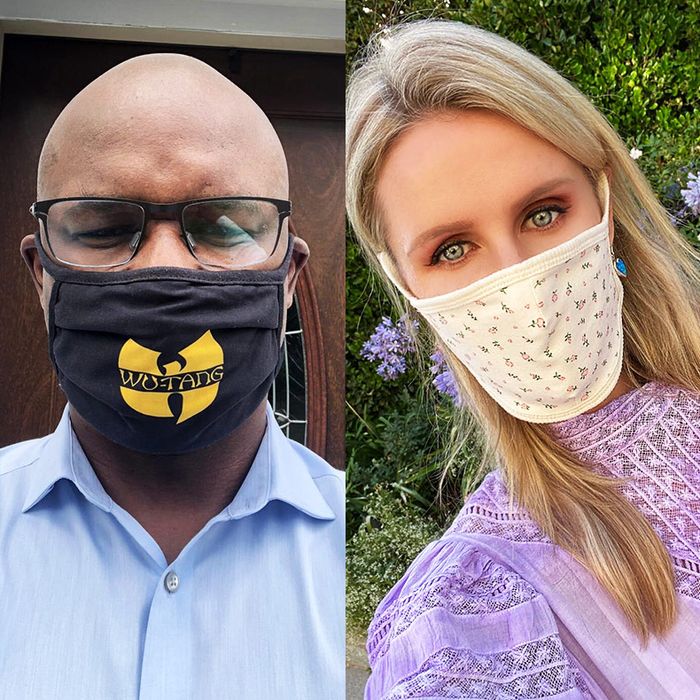 From left: Art director and textile fabricator Todd Heim modeling a mask he made (which Cervo's head chef Aaron Crowder recommends); Democratic nominee for U.S. Congress Jamaal Bowman; Nicky Hilton.
Photo-Illustration: courtesy
Over the past few months, protective masks have become a part of our daily lives — and likely will continue to be. In the early days of the pandemic, choosing a mask often came down to ordering whichever pack of blue surgical masks happened to be available online. But now, masks have become as much an expression of personal style as any other item in your wardrobe. From the cheerful Liberty prints of Atlanta-based designers Sid and Ann Mashburn's version to Tia Adeola's lace-adorned masks-slash-head-coverings that look almost like something out of a Renaissance painting, masks have transcended the purely utilitarian to become an expression of taste (not to mention, often a relatively inexpensive way to own something from a favorite brand). To hear about the most stylish (and still comfortable and secure) ones out there, we reached out to dozens of people with great style — below, their everyday masks, "fashion masks," and everything in between.
"Hands down my favorite face mask is my black mask with the yellow Wu-Tang logo in the front. It became sort of a signature during the campaign. It's not just because the Wu-Tang Clan is my favorite hip-hop group of all time, it's more than that. Hip-hop is not just music; it's a culture that was created by teenagers who were forgotten about, and they came together and turned this neglect into something beautiful. Hip-hop is the culture that raised me, along with my mother, and now Wu-Tang is what helped me connect with the people I met on the campaign trail. They know where I'm coming from without even saying anything. It also shows that wearing a mask isn't just a way to keep yourself, your family, and your community safe — it's a way to express yourself. Wu-Tang forever!" —Jamaal Bowman, Democratic nominee for U.S. Congress
"I am still trying to come around to the idea of seeing face masks as fashion accessories, considering that they serve as daily reminders of our current morbid reality. In any case, Studio 189 actually makes some fun ones. It has fun options in different fabrications. (My favorite is the Lola Hand Batik because — INDIGO.) They are lightweight, too, and have inserts for PM 2.5 filters." —Niyi Okuboyejo, designer
"I bought these, and they are a bit big and roomie, but still comfy and a great unisex fit. I have these in the car as backup for my husband." —L.B.
"For everyday use, I love the Baggu masks. They come as a set of three, so you always have one to wear while you are washing the others. There is a nose wire to help with the fit, and I like the way the ties go over the back of the head for a nice, comfortable fit that doesn't put pressure on the ears. I really love the material — it's a Kona Quilter's Cotton, which is a specially densely woven cotton, the type that is most recommended in preventing the spread of the coronavirus. Also, the color palettes are delightful, as you would expect from Baggu." —Chay Costello, associate director of merchandising MoMA Design Store
"After some trial and error — and I will now only allow natural fibers against my skin — I have settled on an ear strap and cotton mask from J.Crew. They come in packs of three and natural cotton in classic blue-and-white stripe and blue chambray-shirt materials. While not high protection, they are the most comfortable for the summer when there is a lot of easy outdoor social distancing to buffer. I imagine a heavier outer layer for when we return to the office and smaller spaces." —Matthew Malin, Malin + Goetz co-founder
"I've been alternating between my Lele Sadoughi face masks. They come in bright colors and playful prints, making it easy to have fun with your mask while staying safe. My personal favorite is a neutral gingham printed mask with subtle hand-embellished silver stars. On top of being stylish, it's made of a soft cotton fabric that's easy to breath in and has colorful ear straps that can be adjusted to maximize comfort." —Marissa Galante Frank, Bloomingdale's fashion director for accessories and beauty
"NYC designer Susan Alexandra has truly made the super-femme, sweetly joyful mask of my dreams. Susan's designs are fun and make me feel buoyant, which is saying a lot for a mask in 2020. They look incredible in person, are sewn from vintage cotton fabric, and have the telltale oodles of S.A. charm and personality in the form of beaded accents, baby rosettes, and rainbow ribbons." —Natasha Li Pickowicz, pastry chef
"Because I'm always covered in wax or some sort of sticky material, I like to wear one vibrant thing that will distract people from all the other residue. Pre-COVID, I loved a bright lip, however, since visible mouths are retired, I've started wearing the Susan Alexandra gingham bow mask, and I adore it. It's so playful and fun, and peacocks in the right way. Full disclosure, I didn't pay for this mask. My sister Susan is the brilliant designer, and I stole it from her, for which I guess I should apologize … When that mask is in the wash, I do a paper medical mask. Extremely breathable; plus, surgical blue is the new neutral." —Janie Korn, candle artist
"Lisa Says Gah's face mask with matching scrunchie is such a cute set — it goes with everything, and the mask is breathable and durable. The best part, $1 for every mask purchase goes to the San Francisco-Marin Food Bank." —Lili Chemla, founder of LESET
"You want to have a summer mask for everyday sweat, a fashion mask, and something in between the two that's just for every day. For my everyday mask, I like the ones from Made by Alex. He has one of the last factories on 29th Street, where they make all the masks. They're cotton microbial masks, and if you want, they will even do custom embroidery. It's a really good way to support a 'made in New York' business, and he also just makes a fantastic product." —Olivia Rose, founder of the plant design studio Bodega Rose
"I've been rolling with the canvas masks from 69 U.S. from the start. They go with everything, and the tie-dye option is super fun. But my favorite is the black-and-white. And at $7 each, it's an easy way to get your hands on some of the sweet, culty 69 denim." —Alden Jackson, Cool and Casual Studios founder
"It's boring, but my favorite is still the CDC standard style — straight across with pleating. My fit trick is to pull a ribbon through the ear loops and tie it at the back of my head — makes it easy to pull down and pop back up as needed. I wear a lot of stripes, and the Liberty prints seem to match ALL of them … because they match none of them! I get a lot of compliments in the grocery store, so I think it must be working." —Ann Mashburn
"L.A.-based Harun Intl has been using leftover block-print scraps to create these punchy masks. I hate masks that just wrap around the ears; these have two straps that wrap around the head, so they fit really nicely over the chin and nose without feeling too loose, or too tight. I like that when you order these, you don't know what fabric they'll be made from — opening the package is a fun surprise every time. I'm especially happy to see so many designers repurposing leftover fabric to create masks. I hate seeing images of the surgical masks washed up on beaches." —Alex Tieghi Walker, Tiwa Select Shop owner
"My go-to mask and favorite accessory for my quarantine looks is my 'STAY SAFE' mask by Shema Love Designs X Leader QLTY. For starters, this mask was designed with the community in mind; for each mask purchased, a mask is donated to a kid in Harlem or Brooklyn. The earth tones of the mask give it the perfect pop to my very tan-and-white wardrobe. I often get compliments when wearing this mask; the flare it adds to an outfit is undeniable. The mask also comes with filters. It also helps me breathe more comfortably, especially in this heat." —Brittney Alexandra Winbush, founder of Alexandra Winbush
"For a more fantastical mask, I love these fancy masks by Tia Adeola. I imagine wearing a pink one of these with a suit or gown whenever events come back into existence." —Tyler McGillivary, designer
"This is my favorite non-disposable mask so far. It has two layers and feels lightweight but also substantial. It's not itchy or tight and comes in very cute colors. I have the tan one." —Kelly Zutrau, lead singer of Wet
"Working in a field where physical connection is key has been challenging through the pandemic, but these masks make it easier for me to work more safely throughout the day. They have a protective Dri-FIT fabric cover, and are still very breathable. I move around a lot, but the drawstrings help the mask stay secure and safely in place." —JaQuel Knight, choreographer
"For everyday use, I wear a green floral-patterned mask from a Dale Zine, which is a local company that publishes and sells zines. It's very cute, very breathable (the Miami heat is no joke), fits snug on my face, and doesn't hurt my ears too much. The floral pattern is also good, given that I'm a florist — ha!" —Elizabeth Jaime, florist
"We wear masks by Royal Jelly Harlem. The best thing about these masks is the fit: They're comfortable and don't move around too much. Just the right amount of stiffness to sculpt around your face, with a little space around your mouth so you can breath and talk — ideal. It also rests well on the cheeks so there's barely a gap at the sides, which makes me feel more protected. The masks are also super stylish, in seersucker and prints. It's an accessory and adds a layer to your outfit." —Estelle Bailey-Babenzien and Brendon Babenzien, founders of NOAH
"We also wear masks from Goodgood Community. They're super lightweight and comfortable, and have an elastic that goes around the back of the head and ties that go around the back of the neck. Because they go around the back of the head, it's hard to lose them: They stay on well." —E.B. and B.B.
"The Hertling masks are just great: The construction has evolved to, like, the Mortal Kombat–style masks. They're super lightweight, super breathable." —Jeremy Kirkland, host of Blamo podcast
"The team at Cervo's, Hart's, and the Fly have been wearing our favorite hand-sewn masks designed by Todd Heim, the extremely fashionable art director and textile fabricator behind Steak Diane. My current favorite design sports a half-mussels, half-fries print that I'd like to think was inspired by Cervo's (but maybe it's just wishful thinking). His cotton masks are super comfortable, tie in the back, and fit everyone on the team. Most importantly, Todd donates his mask proceeds to the Sylvia Rivera Law Project and the Ali Forney Center, bridging the gap between safety, comfort, fashion, and solidarity." —Aaron Crowder, head chef at Cervo's