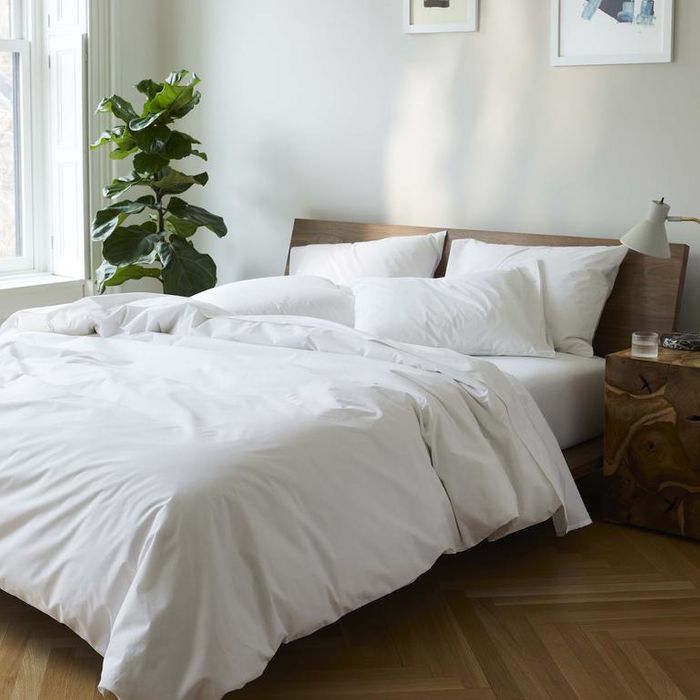 It's no secret that we're big Brooklinen fans here at the Strategist. We've tested every type of sheet there is — cooling cotton, versatile linen, low-maintenance jersey — and Brooklinen consistently makes the list with their soft, lightweight bedding. We're also pretty enthusiastic about their down pillows, laid-back clothing, and adorable kids line, Brooklittles. So we were delighted to see that they're once again wading into the Prime Day fray by hosting their very own site-wide sale. Today and tomorrow, you can take 15 percent off almost everything at Brooklinen, no minimum required — it's the perfect time to grab a new set of sheets, a fluffy bath mat, or a cozy robe. To help you navigate the sale, we've rounded up some of our favorite Brooklinen pieces below (and when you're done, check out the other Prime Day sales happening here).
"Brooklinen made me fall in love with linen sheets," says former Strategist writer Lauren Levy. They're so light that it's "almost like you don't feel them," and when they brush against you "it's like an angel's kiss."
These classic percale sheets are best for shoppers on a budget. Made from 100 percent cotton, they promise to stay cool and crisp all night long.
Or, if you tend to find yourself freezing at night, these cashmere sheets may be just what you need to warm up.
This all-purpose linen duvet cover is suited for warm days or cool nights. It's available in ten different colors too, so you can pick the shade that matches your mood.
For a comforting, snuggly effect, top your mattress with this weighted blanket.
Itching to skip straight to autumn? This pure wool throw blanket is sure to supply all the cozy vibes — but act fast, as they tend to fly off the shelves.
A mattress is only as good as its topper. This generously sized micro-gel one is encased in a 100 percent cotton shell and can accommodate mattresses up to 18 inches deep.
These bath towels are a Brooklinen bestseller for a reason: A former Strategist writer called the 100 percent Turkish-cotton towels "soft, luxurious, and big enough to swaddle yourself in."
This densely tufted bath rug provides a soft, luxurious experience for your feet right out of the shower.
We warned you not to wait around when it came to this adorable baby bedding, and we predict they'll sell out again. While we can't guarantee they will make your baby fall asleep, they should go a long way in getting them close.