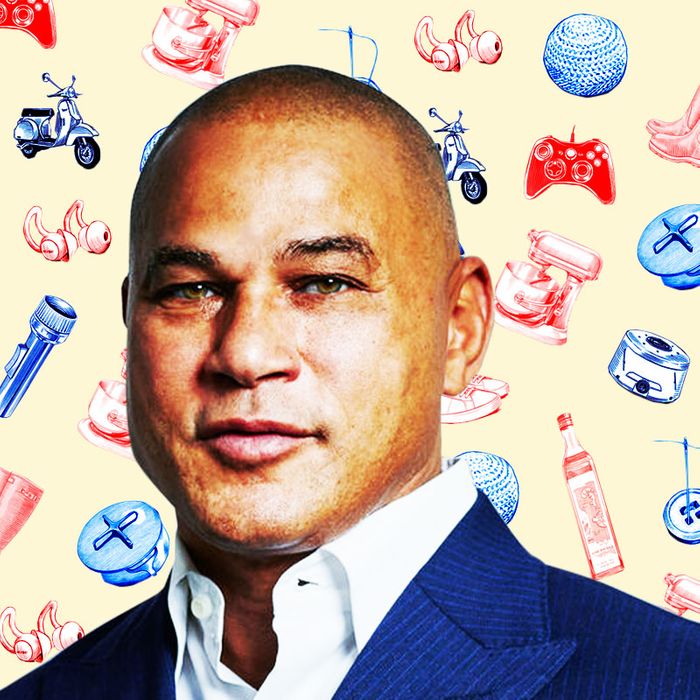 Photo: courtesy fernando mateo
If you're like us, you've probably wondered what famous people add to their carts. Not the JAR brooch and Louis XV chair but the hair spray and the electric toothbrush. We asked Fernando Mateo — a Republican candidate running to be New York City's next mayor — about the bodywash, bedtime snack, and bottled water he can't live without.
The bath gel is more like a liquid that you pump out and creates suds. I rub it in with a cotton towel. I like that it's light on the body. My skin is very soft and I am not a hairy person; this just glides on and rinses right off. It leaves skin smelling amazing — very fresh and clean. I've been using it for about five years, at least. I went to my daughter's house on Martha's Vineyard and it was in all the bathrooms there. I tried it, loved it, took a photo of the bottle so I could buy it, and have been using it ever since.
I have big, strong hands, so I need toilet paper that won't break when I'm wiping my butt. This has that toughness, but it's soft enough for my sensitive areas. I've used other toilet paper and my hand has ripped right through it. It's a mess. I usually wrap the paper around my hand a few times just so it doesn't break.
My daughter told me I should drink Essentia. She said it has a lot of other things my body needs, aside from being hydrating. I'm the love of her life and I know she's trying to take care of me, so I took her word for it. I order a case or two every other week. I try to drink a bottle or a bottle and a half a day.
Every morning, I put a handful of almonds, a half-cup of Quaker Old Fashioned Oats, a frozen banana, a cold glass of Essentia water, and some cinnamon in the NutriBullet and blend it. My sister gave me the recipe. It's supposed to keep my cholesterol in check. It comes from the homeland, from my great-grandmother. She was from the Dominican Republic and passed it along to my sister before she died at 106. The NutriBullet breaks everything down — it blends the oats really well — into a smooth shake.
I rub this on my body every day, all the way down to my toes and feet. I have very soft feet. Very nice feet. The lotion is very light and very smoothing. It's not sticky or thick. I do it every morning so that my body is lubricated and feels good when I leave the house.