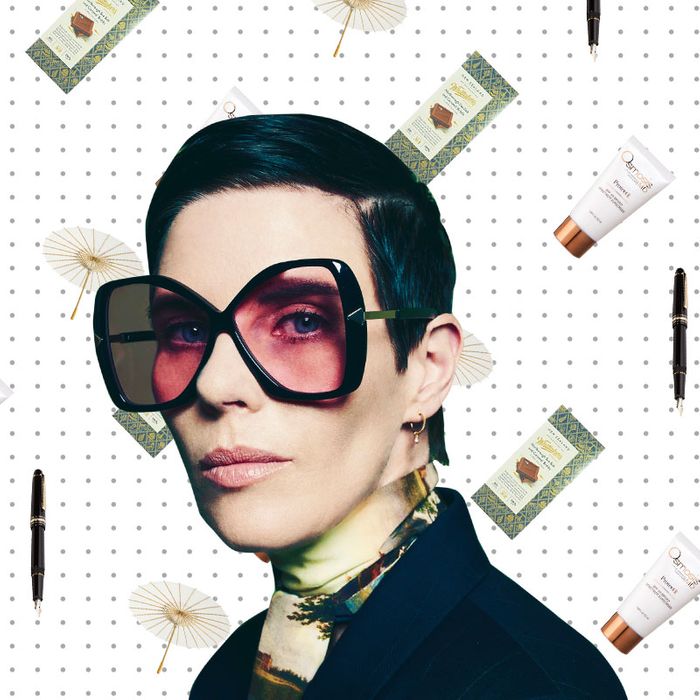 Photo: courtesy the retailers
If you're like us, you've probably wondered what famous people add to their carts. Not the JAR brooch and Louis XV chair, but the hand sanitizer and the electric toothbrush. We asked New Zealand fashion and accessories designer Karen Walker — who is known for her statement sunglasses and is launching her first line of optical frames for fall 2019 — about the pen, chocolate bars, and paper parasol she can't live without.
I've been using Osmosis skin-care products for probably 10 or 15 years. It's a whole complex system — like six bottles lined up in my bathroom — but it's worth it. They're beautiful and they do the job, the sunblock especially. You know the expression, the best-looking thing on 50-year-old skin is 20-year-old skin with sunblock? That's very true. I'm 49, so the sunblock is essential, especially where I live, where the sun's very harsh. I use Osmosis everything, but their sunblock is the one thing that's always in my bag.
Again, I'm super aware of the sun because I live in New Zealand where there's basically no ozone layer. I have some great sun hats, but with a sun hat, you gotta keep your head held in a certain way to protect your face, chest, and neck. So about five years ago I started buying paper parasols at the beginning of each summer. I get them in white paper so the light still gets through, but it stops the UV hitting you. Whenever I'm in a sunny spot, I have a parasol with me. It's great for dog-walking, the beach, or just walking around the city. In the summer in New Zealand when you listen to the weather report on the radio, they'll also give the burn time, and the middle of our summer, January and February, burn time might be just four minutes. I love that feeling that you get from the sun, that dreamy Vitamin D pumping through your veins, but I know 40-year-olds who've died from Melanoma. So I have to really think about protection.
When I travel, this eye mask is always in my bag. It's from Slip and it's 100 percent silk crepe de Chine. If you use a cotton one, you wake up feeling quite dry and puffy around the eyes and you will get lines. The silk one is just amazing. I've had it for years. Bought it in Hong Kong actually, it's great.