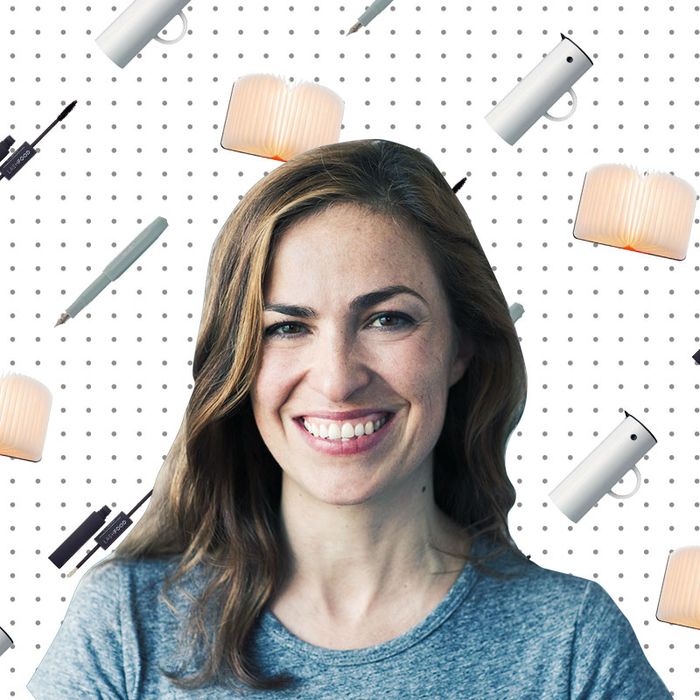 If you're like us, you've probably wondered what famous people add to their carts. Not the JAR brooch and Louis XV chair, but the hand sanitizer and the electric toothbrush. We asked author Lisa Brennan-Jobs, whose book Small Fry comes out in paperback on Tuesday, about the lamp, fountain pen, and lash extender she can't live without.
A poet friend and I were trying to figure out how we could protect ourselves from our phones while we were trying to work. If you're working and your phone is available and you hit a snag in your work, you'll go to see if someone's texted you. It's the equivalent serotonin rush you'd get from five days of productivity. Then my friend figured out they have these food-addiction lock boxes that you can set for a few minutes or a few days — they have a countdown timer on them so you can see your phone but you can't interact with it. (They even sell replacement bottoms for the boxes because sometimes people break into them to get their cookies.) I haven't had to resort to that yet, but I do have to say when I lock my phone I get an immense sense of freedom and relief. When you're working, everything feels like an emergency even when it's not. Now I'll leave it locked for as long as I can. For a few hours it can feel like the '90s. And even if it's just for 20 minutes it feels good.
These pens elevate the to-do list. I like the plastic colored versions more than the other ones — I like the minty one and the red one and the hunger green — just because they're lighter weight. I also just like writing with a fountain pen because they give you that good feeling, even though I don't like the formality associated with a fountain pen. These make it light and easy and fun.
When the sun comes in in the morning, it hits the solar panel and it turns so that there are rainbows all over the kitchen. You have to use it in direct sunlight, but it's wonderful. In the winter, you might get 30 minutes a day, but it's worth it. It's worth looking like a hippie for a half hour of sun. I remember when our son was super tiny and how he reacted to it. I've loved them for years.