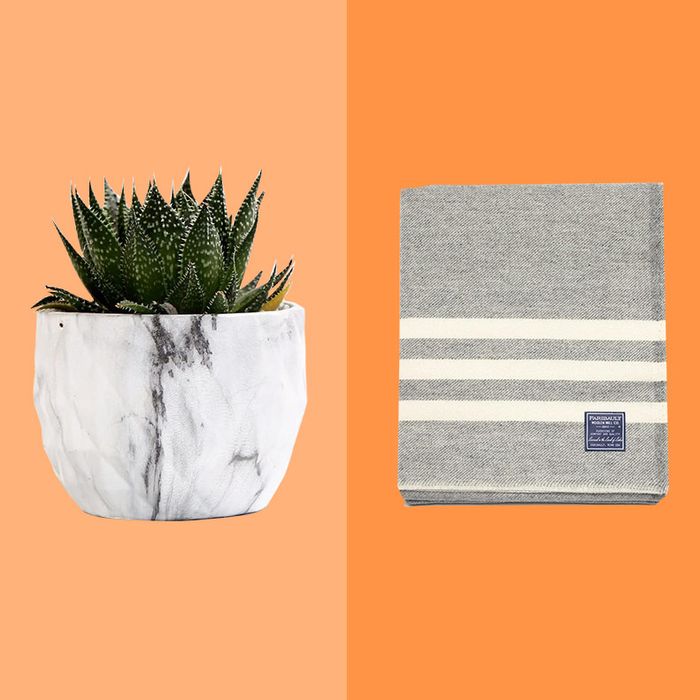 Photo-Illustration: retailers
It's probably the most difficult gift to give, the one for a friend or acquaintance who just lost a loved one. But along with simply spending time with a grieving person, the right gift can also offer some solace. "A gift is a great way to show that you're thinking and you care," says Kelsey Crowe, author, speaker, and founder of Help Each Other Out. In times like these when you can't always physically be there for a friend, a gift carries even more significance.
Whether you choose a gift that helps your friend through the grieving process, or one that honors the memory of their loved one, keep in mind that condolence gifts are largely symbolic of your love and support. "It's really about that communication, letting the person know you're here for them," according to R. Benyamin Cirlin, a social worker and the executive director of the Center for Loss and Renewal. Still, it can be nerve-racking to figure out what someone might want or need. That's why we asked Crowe, Cirlin, and four other grief experts about the best gifts to buy for people dealing with loss. Then, to round out the list, we combed our archives for products we've written about before that felt spiritually similar to the gifts they suggested. But before we get to the items, all of the experts say the sentiment is what counts when giving a condolence gift and stress that you should include a meaningful note with whatever you give. Cirlin says this can be as simple as writing "I'm not even sure what to say," or "I'm thinking about you," or recounting a happy memory you have of the person who died. Alan Wolfelt, director of the Center for Loss & Life Transition, adds that "they may forget down the line what gift you gave them but they won't forget the note." When it comes to writing the note, using a simple blank card is the best way to personalize your message.
Traditional gifts
"In a lot of traditions, sending food offers comfort," says Cirlin, who says a "fruit or nut basket" like this can be a thoughtful gift. Besides providing mourners with sustenance during a wake or while sitting shiva, leftovers can feed grieving family members who don't have the time or energy to cook. Even if some families aren't observing traditional rituals because of the pandemic, therapist Michelle Maidenberg says if you live close enough, it's also acceptable to leave a home-cooked meal on a friend's doorstep. Wolfelt told us about an old tradition in which friends and neighbors of the family would bring over homemade meals on some of their finer dishes. "It gave you a reason to go over after the funeral to retrieve the plate and sit at the table and [talk]," he says, which is often helpful since opportunities to reminisce about the deceased can be rare once the formal funeral rites are over. As Cirlin says, "to lose someone is to find yourself in a lonely space and one of the ways people heal is often by talking."
We've written before about how the chocolate babka from Breads Bakery is regarded as some of the best in New York City. Through Goldbelly, you can have it sent to a grieving loved one anywhere in the country. Shipping starts at $25.
Wolfelt says that "flowers are symbols of love in most cultures when words are inadequate." While they aren't given at Jewish funerals, flowers are otherwise a nice way to show you care.