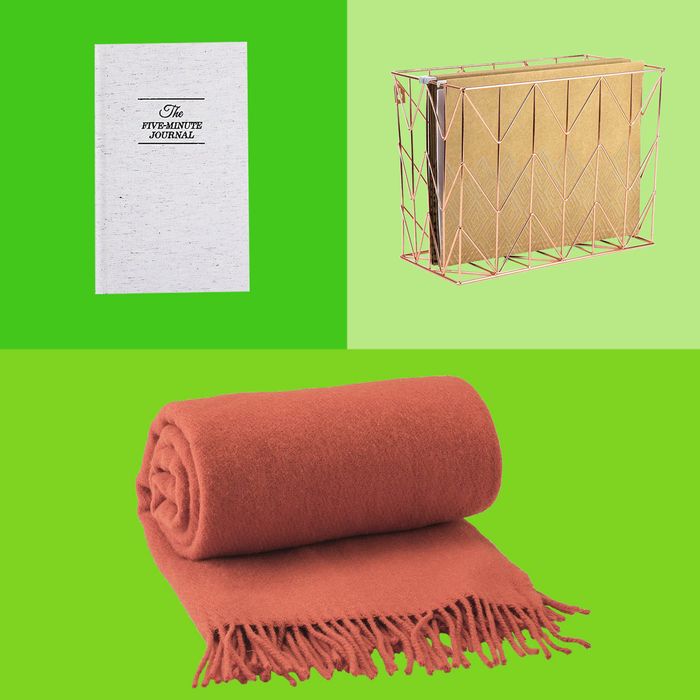 It's probably the most difficult gift to give, the one for a friend or acquaintance who just lost a loved one. But along with simply spending time with a grieving person, the right gift can also offer some solace. "A gift is a great way to show that you're thinking and you care," says Kelsey Crowe, author, speaker, and founder of Help Each Other Out. In times like these when you can't physically be there for your friend, a gift carries even more significance.
Whether you choose a gift that helps your friend through the grieving process, or one that honors the memory of their loved one, keep in mind that condolence gifts are largely symbolic of your love and support. "It's really about that communication, letting the person know you're here for them," according to R. Benyamin Cirlin, a social worker and the executive director of the Center for Loss and Renewal. Still, it can be nerve-racking to figure out what someone might want or need. That's why we asked Crowe, Cirlin, and four other grief experts about the best gifts to buy for people dealing with loss. But before we get to their picks, all of the experts say the sentiment is what counts when giving a condolence gift, and stress that you should include a meaningful note with whatever you give. Cirlin says this can be as simple as writing "I'm not even sure what to say," or "I'm thinking about you," or recounting a happy memory you have of the person who died. Alan Wolfelt, director of the Center for Loss & Life Transition, adds that "they may forget down the line what gift you gave them but they won't forget the note." When it comes to writing the note, using a simple blank card like this is the best way to personalize your message.
Traditional gifts
"In a lot of traditions, sending food offers comfort," says Cirlin, who says a "fruit or nut basket" like this can be a thoughtful gift. Besides providing mourners with sustenance during a wake or while sitting shiva, leftovers can feed grieving family members who don't have the time or energy to cook. Even if families aren't observing traditional rituals during the pandemic, therapist Michelle Maidenberg says if you live close enough, it's also acceptable to leave a home-cooked meal on a friend's doorstep. Wolfelt told us about an old tradition in which friends and neighbors of the family would bring over homemade meals on some of their finer dishes. "It gave you a reason to go over after the funeral to retrieve the plate and sit at the table and [talk]," he says, which is often helpful since opportunities to reminisce about the deceased can be rare once the formal funeral rites are over. You may not be able to pick up your dishes for a while, but once restrictions are lifted you'll have your time to reminisce. As Cirlin says, "to lose someone is to find yourself in a lonely space and one of the ways people heal is often by talking."
Wolfelt says that "flowers are symbols of love in most cultures when words are inadequate." While they aren't given at Jewish funerals, flowers are otherwise a nice way to show you care.
If you'd rather not give flowers that wilt within a few days, Cirlin recommends giving "a plant with some staying power." Go with something low-maintenance that the recipient won't have to worry about taking care of during this difficult time. "A small, easy-to-care-for succulent in a beautiful little pot is almost always appropriate," says Wolfelt. Here's a set of four hearty succulents with pots to match.
It's a bit more of a project, but for friends with outdoor space, grief counselor Jill S. Cohen likes the idea of gifting a kit that lets recipients plant a tree in honor of their loved one. She says that being able to look at the tree as the years go by "keeps a piece of that memory alive." Maidenberg agrees "there's nothing like nurturing somebody in terms of growth." Planting a tree, she says, is a powerful metaphor for preserving memories while moving forward.
Helpful gifts
Sometimes the best gift you can give is help with daily tasks that a grieving person isn't able to handle at the moment. "Mourners have what we call the 'lethargy of grief' for months and months after loss," says Wolfelt. "They don't have the energy to clean the house or cook a meal." It might not be something a friend comes out and asks for, but experts agree it's something they'll appreciate. "No one likes to ask for help and most times when they're grieving they're in a pretty big fog," says Cohen. You can offer to clean, babysit, or cook once things go back to normal; or treat them to a post-quarantine professional cleaning service for a day.
For something they can use right now, give them a night (or week) of dinner delivered with a Seamless gift card. Diane P. Brennan, grief counselor at Life & Loss Mental Health Counseling and founder of the 20-20 Grief Project, says these "gifts of time" are ideal for "giving the person time to do the things that they need to do to support their grief." Along with taking the time to mourn, there are often responsibilities that come with the death of a family member, like settling their estate or cleaning out their home.
While they're less exciting than some of the other gifts on this list, there are a few household items you can give that will make someone's life a little easier. "People receive a lot of food, so maybe [give them] a nice way to store that food, like Tupperware," says Crowe. "It's almost a way of showing that you know inside the way of loss. That there's just these practicalities that come up."
"Dealing with someone who's died means dealing with so much paperwork," says Crowe. "People don't talk about that." Gifting something like an organizer shows you really understand what they're going through. Here's one that's pretty enough to repurpose in happier times.
Self-care gifts
As a way of processing grief, Maidenberg explains that "people typically like to write down their thoughts and feelings," so she suggests giving a journal and nice pen to someone who has recently lost a loved one. She likes options that offer reminders, like this one which includes short prompts to encourage daily journaling. It's also recommended by therapists for those dealing with anxiety during the coronavirus. As for the pen, we can confidently recommend the super-smooth Baron Fig Squire rollerball as it topped our list of the best 100 pens. It's a big step up from a drugstore ballpoint and will make their daily ritual feel special.
Lots of our experts suggest gifts that offer the grieving person an opportunity to feel pampered because, as Cirlin says, "you're going to be challenged to take care of yourself" during this tough time. Cohen agrees that a massage offers "a gentle thing to do for yourself." Wolfelt adds that "many mourners appreciate touch and, after somebody — particularly a significant life partner — dies, you lose that." Like the cleaning gift card, they'll have to put this one on hold for a while, but we're sure a massage will be a welcome treat in the future.
For at-home wellness, few things beat a bubble bath. To add a personal touch, Crowe suggests writing a note like, "I don't know what would give you comfort in this time, but bubble baths always help me." Writer Hannah Morrill loves this Honest Company bubble bath because it leaves her feeling "clean and quenched and lightly scented."
Lots of times people in mourning won't have the energy to get off the couch for a while, so Cohen suggests a cozy throw blanket to give them comfort through those early days. "You might have a hundred blankets, but this one came as a gift from you to me to give me comfort," she says. "Who couldn't use an extra throw blanket?" This super soft wool throw is a favorite of interior decorators.
We've written about the soothing effects of weighted blankets before, and Maidenberg says this would be a good situation for one. As she says, using one "feels as if you're being embraced." It's a way to give your friend a comforting hug, even if you can't do so in person right now. The woven Bearaby blanket, one of our top picks to gift, also just looks nice draped over a sofa or favorite chair.
Books on grief can be tricky as you don't want it to feel like a reading assignment, nor do you want to come across as giving unsolicited advice. Cirlin says "you can read 5,000 books and you wake up the next day and your loved one is still dead and you still feel like crap." But experts do like Joan Didion's memoir chronicling the year after her husband died. It's not a self-help book, but rather one that offers a portrayal of grief that others can identify with. Cohen says The Year of Magical Thinking "resonates with everybody," and it was the most-recommended title when we wrote about the best books about grief. "They may not want to read it right away, but gradually they'll open it up and it'll probably be helpful," says Cohen.
Gifts for remembering a loved one
Wolfelt says "a small photo of the person who died in a nice frame" is another way to honor their memory. If you want to get a photo professionally framed, we like Level Frames because it's an easy-to-use service and they ship fast. Strategist writer Liza Corsillo recommends this weathered black frame that's "dark but with subtle highlights that keep it from looking too heavy or serious."
If you'd rather let your recipient choose a photo, you can also just give a handsome frame, one of Maidenberg's suggestions. Betsy Helmuth, owner, Affordable Interior Design, once told us "you can make the most mundane photo sparkle with a mirrored frame." This weathered-looking option comes in a handful of sizes to choose from.
People love mugs and people love handmade things. Find a way to combine those by printing a photo with the person who is gone on a mug. "That's really meaningful," says Crowe. "That just shows: I love you." She warns that it's probably best for it to be a group photo and not just the person alone: "That might be a bit much." Cohen also likes the idea of printing a photo on any things your friend will regularly use. "If it's a good photo, it's an excellent memory," she says.
For the anniversary of a friend's father's death, Maidenberg created a trivet on Shutterfly with a photo collage of pictures of her friend with her dad. "She absolutely loved that," she says. She likes that you can grab images from social media to make a customized gift without bothering your friend with requests for photos.
Gifts for grieving kids
Just like adults, grieving kids will enjoy preserving the memory of their loved one through photos, objects, and letters. If the child was close with the person who died, they might enjoy creating a memory box for the personal things they shared. "The idea is that the box is going to be the place where you're going to hold your memories of the person," says Brennan. "It could be tangible items, like a baseball from someone's grandfather, pictures of him, notes he wrote.'" Cohen likes the idea of "small wooden boxes that the kids can paint," and Brennan also suggests pairing the box with art supplies so kids can actively create something to deal with their loss.