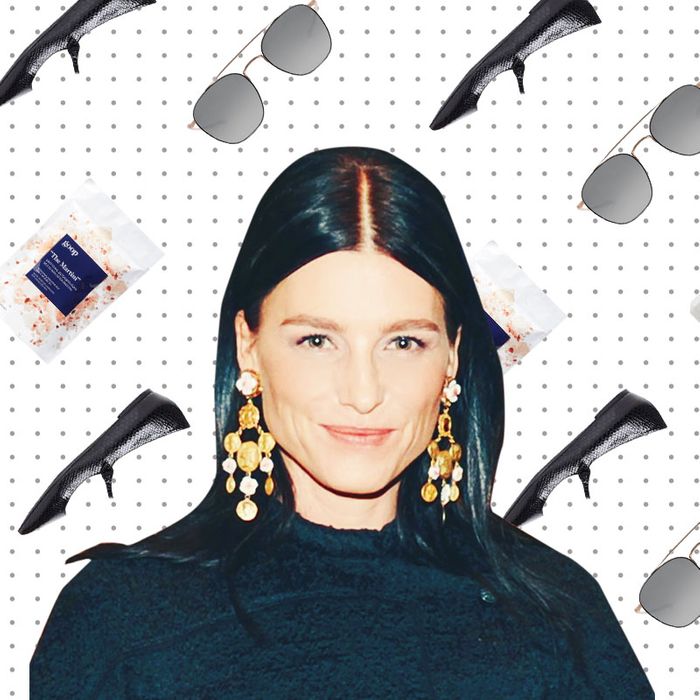 If you're like us, you've probably wondered what famous people add to their carts. Not the JAR brooch and Louis XV chair, but the hand sanitizer and the electric toothbrush. We asked London-based shoe designer Tabitha Simmons about the sunglasses, perfume, and foundation she can't live without.
Photo: ©2008 David S. Mutter
The first time I used this was with my son for when he got out of the bath. And then with my daughter, who has really sensitive skin. It doesn't break her out or give her baby rashes or anything like that. It's also good for adults. I'll apply it after the shower, or if I've been in the sun a bit and my skin's dry. The smell is quite unique, it's a bit honey-esque. It's just really good and has been around for years. My son is now 15 and my daughter is 1, so it's stood the test of time.
I tend to break out, but I love how this product almost tightens your skin. It just gives skin a really good even smoothness to it. I traveled a lot over the summer, and would put it on on the plane, and then put it on again just as I was about to get off. It's my new favorite product.
I discovered these in a ski store a couple years ago — I had never heard of the brand. I just got another pair because I tend to lose sunglasses all the time. But with these, I'm like, I am not losing these because they just look great! I like the lens because it's slightly graduated, and they have a little cat-eye — I really like that shape on my face. And they're not too dark, so you can still see when it's a bit overcast out.
I stick one of these in the bottom of my bag because some of the paper straws tend to fall apart when they're in a drink. Then when I get a coffee, I'll try not to use a plastic cup; I've just been more conscious of that. About six months ago, I watched a documentary called War on Plastic about a street in England and how much single-use plastic there was from each household. Then they multiplied it by what was going on in the UK. It made me really think about how I could make small changes, and how if everyone makes small changes it makes a big difference.