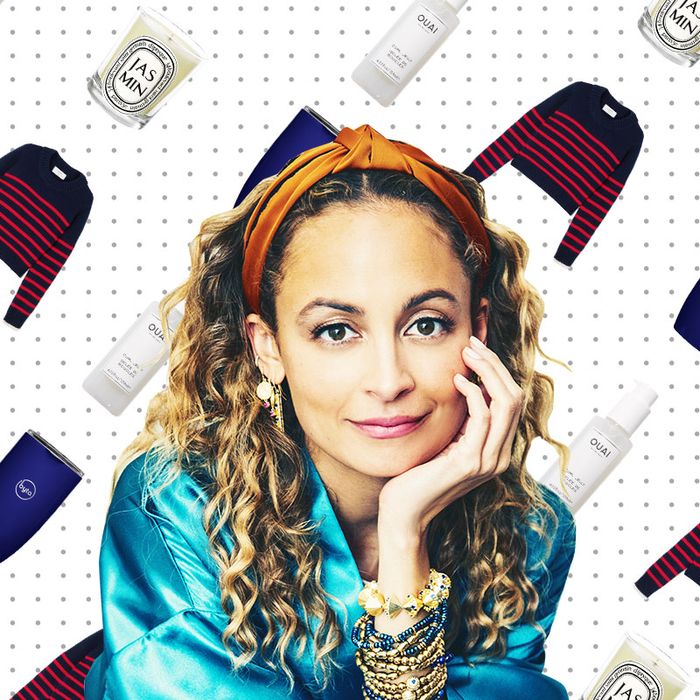 Photo: Courtesy of RivalWorld
If you're like us, you've probably wondered what famous people add to their carts. Not the JAR brooch and Louis XV chair, but the hand sanitizer and the electric toothbrush. We asked Nicole Richie, the founder of Honey Minx, about the lip balm, coffee tumbler, and striped sweaters she can't live without.
The best, most moisturizing lip balm I've ever used. I think some people use it everywhere, but I just put it on my lips. I discovered it the first time when I visited Australia with my family, and now I love taking a bit of Oz with me everywhere.
I use this light in bed if I can't sleep, and I'll also use it on the plane when I'm traveling. The best thing about it is that it's rechargeable, saving me from having to buy new batteries all the time. The shape is also flat and kind of sexy.
I love rocking my natural curls. I try to do the least amount possible to my hair now and keep it healthy. One of my secrets is using a leave-in conditioner plus the Ouai, then letting it air-dry. The jelly adds just the right amount of something and isn't heavy. It sets the curl, and it's anti-frizz, too.
I do oil pulling every morning with coconut oil. It's an Ayurvedic method that draws toxins out of your mouth and keeps it fresh. You melt it first and then swish the oils around, which actually kills bacteria and helps improve dental health. It really works! I do it first thing in the morning before brushing my teeth.
Lighting a candle is one of my favorite ways to just practice a little self-care in my day. The Diptyque scents are always distinctively fragrant and immediately bring me joy. We light them throughout the house most evenings to set the mood. My mother's actually had Dyptique candles in her house for as long as I can remember.
These are literally my everyday sweaters. I keep one in my bag at all times just in case. I don't know anyone who doesn't love a stripe moment.
I never leave the house without my own coffee cup. I start with tea and move on to coffee by noon. I'm doing my best to eliminate plastic and paper wherever I can. Full disclosure: My friend Jedidiah Jenkins actually created this cup to bring awareness to overwhelming plastic waste. It's very sleek.