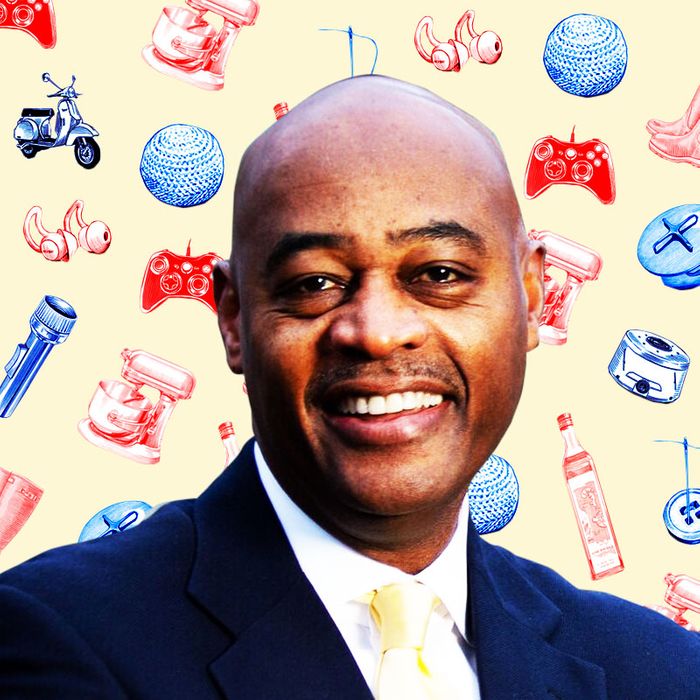 Photo: courtesy Ray Mcguire
If you're like us, you've probably wondered what famous people add to their carts. Not the JAR brooch and Louis XV chair but the hair spray and the electric toothbrush. We asked Ray McGuire — a Democratic candidate running to be New York City's next mayor — about the candy, razors, and hot sauce he can't live without.
Photo: retailer
I like the burst of flavor and like to convince myself that it's a burst of energy. The green ones are my favorite — and my 8-year-old, Leo, now goes for the green ones as well. I have them in a big bowl and I know if there is a limited number of green ones in there, Leo has been there before me. When there aren't any green ones left, I go for the purple. Then blue. But the green ones always go first. My earliest memory of eating Jolly Ranchers is from grade school. They've just always been around. I'll keep some in my pockets. They're a fundamental part of every day. Sometimes I'll start my weekends with a Jolly Rancher before breakfast.
Photo: retailer
I always have it the real way, which is hot. I can't have iced Peach Tranquility tea. I get it at Starbucks. I used to drink cappuccinos. The tea makes me feel a little calmer; the caffeine highs aren't as high, but the lows aren't as low. Sometimes I get what's called a Medicine Ball — it's a mix of Peach Tranquility and mint teas with steamed lemonade.
Photo: retailer
The button makes it so much easier to use than the newer iPhones. I have an iPhone 11, but I still use this because of the button. I'm old-school. I use it for everything; I have my Starbucks app on it and I use it for Apple Pay. Mine is 64 GB and I still have about 20 GB left.
Photo: retailer
The first thing I do when I get up in the morning is brush my teeth. Colgate makes the best toothpaste on the market. It's tried and tested, and I like the taste of the Clean Mint flavor. It's not that I've been disappointed by other toothpastes; Colgate has just been consistent. I've tried others and Colgate, to me, is the premier toothpaste experience. I just trust the brand when it comes to dental care.