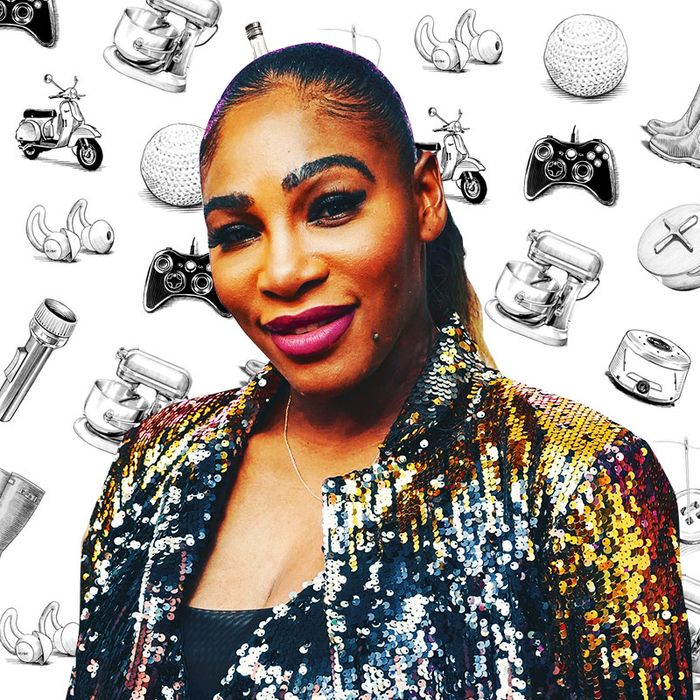 Photo-Illustration: Getty
If you're like us, you've probably wondered what famous people add to their carts. Not the JAR brooch and Louis XV chair but the hair spray and the electric toothbrush. We asked Serena Williams about the eyeliner, headphones, and book she can't live without.
I can wear this when I play tennis, and that's why I love it so much. Other waterproof brands have just not been as reliable. This never wears off or budges, no matter how much I'm sweating. I own it in both brown and black. My sister Venus also wears it — I assume for the same reasons. We share makeup tips and product suggestions sometimes, but my former physiotherapist Esther Lee actually first introduced me to this a few years ago.
I try to read the Bible daily — usually first thing in the morning. If I'm driving, I'll listen to scriptures on Audible. It's also something I've tried to implement in my daughter Olympia's life from infancy. Religion is a personal decision that everyone has to make on their own, but I make sure she knows principles from the Bible and how to live her best, most respectful life. I have specific passages that I turn to if I need inspiration or wisdom. Right now, I know a lot of people are feeling the pressures of the times that we are living in. In moments I feel overwhelmed, I like to remind myself of Matthew 6:30–34. I focus on verse 33, where we are reminded to keep seeking the kingdom when you feel anxious about the future. It really helps me calm down.
I do my makeup really fast every morning because I'm always in a rush. I'm no pro, but it's been fun to learn new techniques from watching my favorite makeup artists over the years. In the past, I've always had to mix different foundation colors to find my perfect match, but this product does a really good job matching my skin all on its own. I can just use one shade instead of two or three.
I am on my phone way too much. Usually I'm still half-asleep when I pick it up in the morning — I'm so bad. But in my defense, the first screen I look at in the morning is our baby cameras, to see if Olympia is awake yet, then I pick up my phone. I use it for all the basic things: checking email, texting, social media. But I also do research for my fashion line on my phone. I create so many different mood boards for upcoming collections and find inspiration via so many different avenues. Doing it on my phone allows me to collaborate with my team so we can bounce ideas off each other throughout the day.