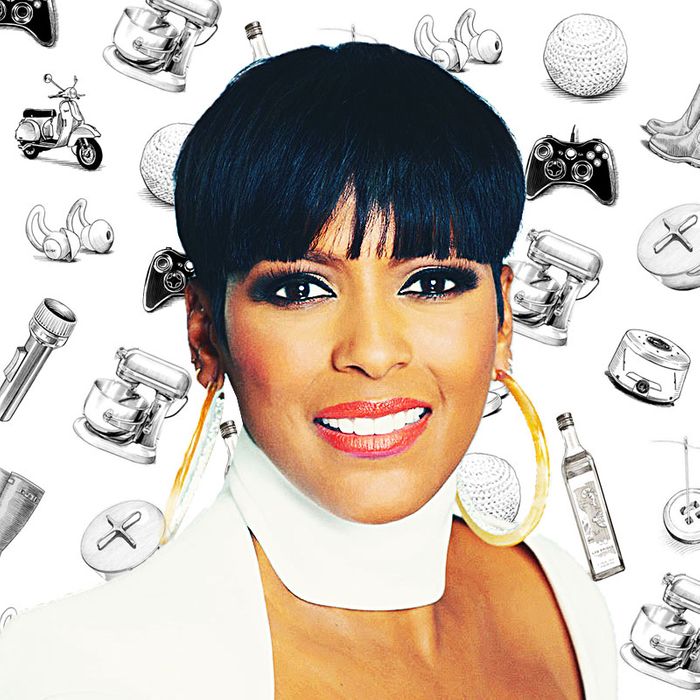 Photo-Illustration: The Strategist; Photo: Kwaku Alston
If you're like us, you've probably wondered what famous people add to their carts. Not the JAR brooch and Louis XV chair but the hair spray and electric toothbrush. We asked Emmy-winning talk-show host Tamron Hall about the locket that holds a photo of her childhood home, the diffuser that could be mistaken for a decanter, and the disaster-preparedness kit she can't live without. 
I wore braces for six years including all of high school. I don't think I have a photo without. Maybe my senior graduating picture — I had my braces off by then. So I'm hypersensitive about hygiene and teeth. Growing up, my grandfather had a Waterpik that I was always obsessed with. What it was? I don't know. So this is braces trauma meets curious child.
I wake up in the morning, and there's nothing more invigorating. It's efficient. It's a lot less time than it takes to floss. It's a state-of-the-art toothbrush as we know it with all the bells and whistles — the timer, the different modes like cleaning, sanitizing. You can either get the Waterpik by itself or you can do the toothbrush-Waterpik combo. So far, so good. I've got all my teeth. I mean, I make my living with my words — and sometimes my smile. So in daytime television, it matters.
I'm a diffuser and candle person, and I'm often seduced by packaging. I was drawn in initially by the decanter, the display of it all. Most diffusers are a bottle, and you put the stick in. Some of them are very lovely, but they're not impressive visually.
I moved not long ago, and I was worried about this diffuser — of all things. It turned into a whole thing. The diffuser can't be damaged. Protect the diffuser at all costs.
Only thing I'll tell you is to make sure you don't have any guests that mistake it for red wine in a decanter. But as beautiful as it is, it's the aroma that's intoxicating. The smell is something I can't describe. I've said this so many times on television: I wish there was Smell-O-Vision. I would say there's a deep berry scent — almost like a currant. But it's not fruity. It's not light. You walk in the home, and this diffuser commands respect.
I gift it often. It's a "shut the party down" gift. Listen, it's not cheap. You want to give it to people you really, really, really like. There are stages of gifts — this is for your best friend, this is for the neighbor you really want to impress because you might need a favor from them later. It's top-tier.
Here's the backstory: Superstorm Sandy. I lived downtown near 34th Street. I was a reporter at the Today show, and I knew we were probably going to be all hands on deck. So there I am, watching the evening news in my apartment. I was alone, single at the time. The power is on. I'm like, Well, the storm has hit. I'm okay. Boom, the lights go out. Surely, they'll come back on. It's like 8 or 9 p.m. When I wake up, the lights will be on, I'm not worried. When I woke up the next morning, still no power. In the complete dark. By the way, I'm afraid of the dark — my cousin put me in a bathroom once and chanted "Bloody Mary." It's got me terrified, to this day, of the dark.
I had to be at work at 4 a.m., and there was a car waiting downstairs. I didn't have a candle. I didn't have a flashlight. I had nothing. My poor dad would be so ashamed. He was in the army for 30 years. My dad had emergency kits, generators, prepared for any and everything. And here I was in this apartment, yelling down the hall, "Can someone please help me?" Thankfully, my doorman knew I was probably getting up around that time, and he came up. He goes, "Ms. Tamron, I'm here for you," with his flashlight. After that, I made a pledge to myself that I will never, ever not have a fully equipped emergency bag.
If you're in trouble, you can come and get me, because I'm going to get us off this island. I am Rick from The Walking Dead. I will save you. I have one of these in my car. I have one in our apartment. I think we take for granted those types of things — especially when you're in a city. Oh, I'll be okay. I can walk to the store and get this and this and this and this. I decided I would never have a home without an emergency kit. And I'm not talking about one just with Band-Aids. This has it all, anything you can think of. Knock on wood, but if it happens again, I am ready.
I was gifted this when I first had my son, Moses, who's about to be 4 years old. I'm lucky enough to say that my child, even as an infant, slept through much of the night. It's one of those things that I don't like sharing, because I don't want parents to say, "What? Are you kidding me?" I don't know if it's the wash, but I'm telling you, he sleeps through the night. It's relaxing for him, and this is what he uses every single day. I'm very sensitive to the smells of the things I use on him — and this has an almost undetectable aroma. It's a creamy, very emollient product. We've been using it for bedtime every night since he was born.
[Editor's note: This wash is currently sold out, but you can sign up to be notified once it's restocked.]
My friends call me NewNextNow, because I'm always looking for the new, the next, and the now. This was an item that we featured on my show as part of our holiday giveaway. I test out all the things. I've been there. You see something on TV, you get it, and you're like, "That's not what happened when I got it." So I enjoy being the test kitchen for the Tam Fam, as we call our audience.
And I fell in love with this gadget. I cook probably four nights a week. I've tried a lot of different gadgets — some I love, some I think are okay, some go out the window. This has been one of my Steady Eddies for a while now. It really does save time. It's a curious contraption. It has an iPod-esque device, its own little pad. It's a way to cook without having to clean my entire kitchen, without having to pull out a bunch of pots and pans. There's nothing you can't make in it.
There's a steamer. I use the steamer a lot. I steamed broccoli for broccoli and cheese the other day. It has a huge bowl attachment — you can make bread in it. It has a chopper, spatula, all of that. I make a mint hot chocolate that would make anyone not want to leave your home. I put the chunks of chocolate in, then I steam the milk in there. I've been using it a lot lately to make my soups. It has a huge stainless-steel attachment like your traditional mixer. I've been leaning into a lot of soups. I've been freezing them to take for lunch. Having lunch is a luxury, especially something that's tasty.
There's a book called Possession Obsession. Monica Rich Kosann, a jewelry designer and photographer, approached a number of celebrities and posed the following questions: "What is your most treasured possession? If, today, you could only take one thing in your home, what would that thing be?"
I have a photo of my childhood home. In Texas, they're called shotgun shacks — you can stand in the door of the home and look straight back and go straight through. This was the first home I was brought into when I was born. And before the house was torn down, I took a photo of it. I framed that photo, and it has been in every home that I've had since.
Monica came over and photographed me, in my beautiful Tribeca apartment at the time, holding this framed photo of this modest tin-roof house that was my first home. It ended up being the cover of her book. She gave me a locket with the photo of my childhood home and sent me into sobs. And when my son was born — to celebrate my new journey into motherhood — she gifted me a locket with Moses's face in it.
There's something special about a locket. It's one of those pieces that's sometimes seen as a dated thing. But this isn't your grandma's Victorian locket. I'm sure you get those alerts: "Here's where you were this time last year." But this is a reminder that's not on your phone. It's on your skin — nothing is more intimate and personal than something touching your skin. Especially with the photo of my childhood home — it's protected in this locket. Even when the picture fades, this is a way to preserve the home in this beautiful little locket, where it's safe.
There's an old wives' tale that when you enter a new significant relationship, you should get a new mattress, because the spirit of the old relationship may linger in your bed. I don't know if I believe it. But it was said to me before, and since I knew that, with my husband — we were starting what we hope is a love that will last the test of time — we figured, "Let's invest in a mattress together."
I have to credit my husband. He's a true researcher. He spent weeks, months, and days studying every mattress you can imagine. We were at every store in New York City. And we came across this bed, he dragged me in to see it six times. I think they got tired of seeing us. And finally, we settled. It's absolutely heavenly. It's the most incredible mattress I've ever had. It's a significant splurge, but the bed was our wedding gift to ourselves in celebration of our new life together.
I get up at 5 a.m. every day — that's been for most of my career. So in 30 years of journalism, 25 years of that I spent in morning television. People ask me how I get through the day — I am a master of the 40-minute nap. It's a true refresher. So my bed and bedroom are my sanctuary. Again, credit to my husband. It's unlike anything I've ever slept on. It really appeals to both of our sleep patterns. He's a back sleeper. I'm a side sleeper. It has a topper that you flip and rotate, so there's no sinking in.
The Strategist is designed to surface the most useful, expert recommendations for things to buy across the vast e-commerce landscape. Some of our latest conquests include the best acne treatments, rolling luggage, pillows for side sleepers, natural anxiety remedies, and bath towels. We update links when possible, but note that deals can expire and all prices are subject to change.