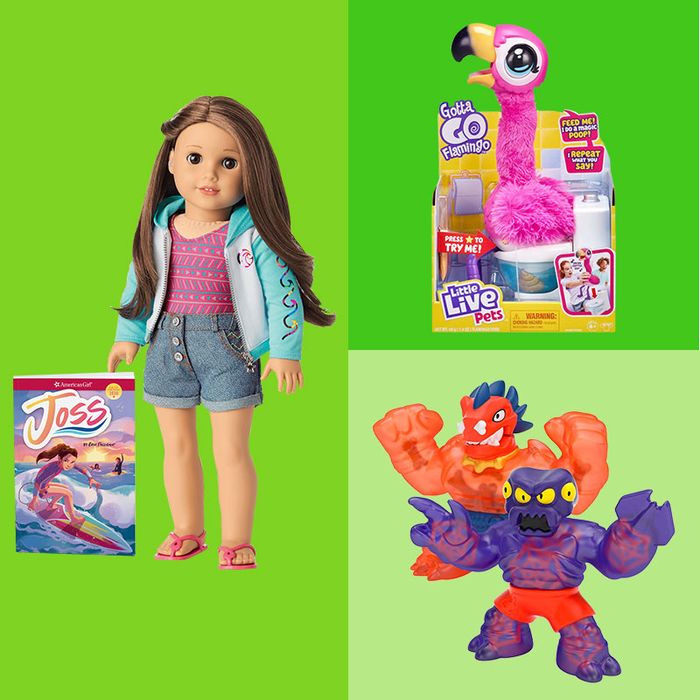 Photo: Courtesy of vendors
For the fourth year in a row, we've asked toy-trend experts for their opinions on which of this year's holiday toys will rise above the rest. (Hint: As opposed to last year's pooping unicorn, this year's hottest toy is a pooping flamingo.) Instead of endlessly scrolling sold-out links along with the other parents, we want you to have a head start on finding the dancing sloths, tiny collectible dolls, and ride-on recycling trucks that kids will be clamoring for.
Getting your hands on these coveted toys could be trickier than ever, thanks to shipping delays caused by the pandemic and more people than ever doing a majority of their holiday shopping online. But it's worth it. With many of us forgoing travel and big family gatherings this holiday season, there will be more time for families to play together at home. Or maybe you just want to surprise your niece or nephew and cement your status as the coolest aunt or uncle alive. Whatever your reasons, we are here to help.
We also have gift guides for kids of all ages, including 1-year-olds, 2-year-olds, 3-year-olds, 4-year-olds, 5-year-olds, 6-year-olds, 7-year-olds, 8-year-olds, and 9-year-olds.
Editor's note: As we approach the holidays, these toys are, in fact, starting to sell out. We've tried to find in-stock options wherever possible, and we'll continue to update prices and availability as they change.
Who is it for?
Baby Yoda toys are popular with both kids and adult collectors, so you'll be competing with a lot more shoppers to get one. According to Chris Byrne, also known as the Toy Guy, this one will lead the pack because "it really feels like it's come to life."
What does it do?
Touch the top of Baby Yoda's head to make it coo, babble, and wiggle its ears. Touch it again and it will close its eyes and stick out one hand to activate the Force. Lay it down so it can take a "Force nap" to recharge. You can preorder yours now to get it in time for the holidays.
Editor's note: This little guy is going fast and Walmart still has a few for in-person pickup, only.
Who is it for?
Squeakee the Ballon Dog and his cousin Spotty the Dalmatian are great for kids 5 years and older, and because they looks an awful lot like a Jeff Koons sculpture, they'll be popular with adults, too. James Zahn, senior editor at the The Toy Insider, says, "Every kid and adult that I have ever seen interact with this thing is instantly enamored by it."
What does it do?
Squeakee and Spotty make noises and do tricks. Pop them with their special pin and they play dead. Inflate them with the included pump and they pee or fart. Train them to sit or beg with the squeaker ball or tickle them and watch them roll over and ask for more.
Editor's note: At Target, Squeakee and Spotty are available to ship, but they won't arrive before Christmas. You can get them through in-store pickup depending on your location. Walmart has a few Squeakees left in stock, but they won't arrive before Christmas either.
Who is it for?
Byrne says this remote-control flying parrot was a big hit at the Hong Kong Toy Fair back in January and that shipping delays could contribute to it selling out in the United States.
What does it do?
The Go Go Bird's flapping wings make it look like a real bird in flight, and its LED lights make it possible to fly the bird at night. The bird has a 6-axis sensor inside and will turn around automatically six feet away from a wall or other obstacle. Gently toss it in the air to get it to start flapping its wings and flying.
Editor's note: This toy is available to buy but won't arrive before Christmas.
Who is it for?
Young kids love watching the recycling truck (or any truck) drive by, and this year you can encourage their curiosity with a bunch of different recycling-truck toys. This model, however, is the only one they can actually ride on and drive around. It's designed for children 18 months to 4 years old.
What does it do?
Zahn recommends this because, in addition to being a majorly exciting gift to open, it teaches kids about recycling and sorting the garbage. It plays sounds and music, responds when you insert one of the included toy cans or boxes into a shape-sorting slot, and lets kids dump out their recycling haul with the pull of a lever.
Editor's note: The ride-on recycling truck is available at Target and Amazon but won't arrive before Christmas.
Who is it for?
Blind-box collectible toys are as popular as ever, and L.O.L. Surprise! is still the best selling of the bunch. These toys have small parts, so they're best for kids ages 4 years and up. Adrienne Appel, senior director of communications at the Toy Association, says this year the Remix Hair Flip dolls are the ones to watch.
What does it do?
Each mini-doll comes with 15 surprises, including a second hairstyle, a water bottle, and a musical instrument. Plus the package turns into a turntable and actually plays the mini-record inside.
Editor's note: You can still get L.O.L. Remix dolls, but they won't arrive before Christmas.
Who is it for?
Fail Fix dolls are inspired by beauty tutorial videos, and should delight any fans of L.O.L Surprise dolls.
What does it do?
Help transform your doll from bathrobe and messy hair (a classic 2020 WFH look) to stylish, glam, and ready to go out. "It's not just a onetime thing," says Appel. Once you're done with the first glow up you can start the whole process again.
Who is it for?
If ever there was a perfect quarantine toy, this tie-dye kit is it. "It's self-contained so it's truly no mess," says Appel, who tested it out on one of her old J.Crew tees and got a lot of compliments. She says it's great for kids 8 years old and up, or to use as a whole family with younger kids.
What does it do?
The globe-shaped contraption lets you tie-dye clothes and accessories indoors without needing gloves or an apron. Put your T-shirt or bandana into the globe and use the little red inserts to add color from the squeeze bottles. Spin, wait for the dye to set, and you're done.
Who is it for?
Power Treads drew crowds at the New York Toy Fair in February and comes recommended by all three of our toy experts. It's great for kids 5 years old and up.
What does it do?
With this starter set, kids can custom-build their own racetrack using the Power Treads track pieces and stuff they have around the house like books, pillows, and sneakers. Watch as the Power Treads all-surface vehicle flips, jumps, and tears through the course.
Who is it for?
Zahn tells us that Care Bears, the popular plush toy from the '80s, have relaunched this year with updated versions of Cheer Bear, Grumpy Bear, Share Bear, and Tenderheart Bear (pictured above). The new Care Bears also exist as interactive toys and blind-box collectibles. Zahn says they appeal to nostalgic parents and grandparents looking for gifts, and despite the lack of foot traffic at stores this year, they have been selling out very quickly. "Children and toddlers love them, but then you've got multiple generations of parents that also grew up with the characters," he says.
What does it do?
The plush bears are soft and huggable and come with a collectible "care coin."
Who is it for?
Hexbugs, the tiny, colorful, robotic creatures that look like little bugs, have been popular for a few years now. Their newest iteration, Junk Bots, comes packaged in a little locked dumpster and are really special — and set to sell out before the holidays. They're also a favorite of Zahn's youngest daughter.
What does it do?
Inside the dumpster, you'll find a ton of stuff that looks like pieces of trash, but once assembled, they transform into robotic characters. "You might have a robot that has a radio for a head and a bucket for a body, and you could make hundreds of different combinations," says Zahn.
Editor's note: Junkbots are available at Target and Walmart, but they won't arrive before Christmas. Depending on your location, you may get lucky with in-store pickup at Target.
Who is it for?
Last year, our list included a booty-shaking llama. This year, we've got a flossing sloth. Meant for kids over 3 years old, it comes recommended by Appel and Byrne.
What does it do?
Press its nose and watch it dance.
Editor's note: This dancing sloth is available at Walmart and Target but won't arrive in time for Christmas. You may luck out with in-store pickup.
Who is it for?
All three of our toy experts mentioned this pooping flamingo as the gift to replace last year's crazy-popular Poopsie Surprise Unicorn. It's best for children 4 years old and up.
What does it do?
This hot-pink flamingo sings a toilet song, repeats what you say to it, and poops after you feed it.
Editor's note: This toy is available to ship but won't arrive in time for Christmas. You may want to try your luck with in-person pickup
Who is it for?
The slime craze has morphed from science project to store-bought toy and now includes things like kinetic sand and other compounds. These action figures full of squishy goop and beads take the trend one step further. According to Appel, kids are crazy about them. In addition to this set of two, you can get all kinds of characters, including some classic Marvel heroes.
What does it do?
Pull and stretch their arms and legs to feel the gooey, squishy stuff inside.
Who is it for?
Parents who long for the days of playing video games in an arcade — in public — will love sharing a bit of that magic with their own kids, nieces, and nephews.
What does it do?
According to Appel, this miniature arcade game is fully playable despite its size. You can choose from Space Invaders, Frogger, Pac Man, Ms. Pac Man, and more nostalgic games.
Who is it for?
Appel says Professor Maxwell's VR Universe is a hit with children 8 years and older who "want to really dive into science."
What does it do?
The set comes with an 80-page book filled with over 30 interactive science projects that kids can do in real life and in virtual reality. The brand also makes similar sets for kids who like magic or cooking.
Editor's note: This toy is available at Amazon and Target but won't arrive before Christmas.
Who is it for?
To celebrate the 35th anniversary of Back to the Future, Playmobil made a very cool DeLorean play set. According to Byrne, this set will be popular with kids ages 6 and up — and adult collectors, too.
What does it do?
The set inspires creativity through the DeLorean, Marty McFly, Doc Brown and his dog, and, of course, a flux capacitor.
Who is it for?
Mario and Luigi are also celebrating 35 years. Like the Playmobil DeLorean, this Lego set will be on both kids' and adults' wish lists, Byrne says. It's appropriate for children over 6 years old.
What does it do?
The set pairs with a free app, so you earn virtual coins as Mario moves through each "level." Mario has color sensors and LCD screens in his eyes, mouth, and belly to display over 100 different instant reactions to movement. The set includes a speaker that plays iconic sounds and music from the game.
The Lego Super Mario starter course is so popular it's been restocked a few times now. But the collaboration includes a ton of other equally cool expansion sets and character packs, like the Bowser's Castle (Mario not included), pictured above, that lets you fight Mario's enemy in flipping, balancing, and shaking challenges. You can also pick up this set featuring Toad, Toadette, and a bunch of hidden treasures.
Editor's note: Of the three toys above, only the Bowser's Castle Expansion Set will arrive in time for Christmas.
Who is it for?
If your kids (or you) are more into Scooby-Doo than Super Mario, they'll love the Scooby-Doo collection from Playmobil, which Appel, who grew up watching the show, told us about. "My kids have the haunted mansion, and they've been playing with it for hours," she says. Unfortunately, the haunted mansion won't arrive before Christmas, but this cemetery play set will.
What does it do?
The cemetery play set comes with Fred, Daphne, Scooby-Doo, and a glow-in-the-dark skeleton, plus tons of detailed accessories: a gravedigger costume, a trick grave site, a trick coffin, and more.
Who is it for?
Appel says "American Girl has been really big this year. Their 2020 doll of the year, Joss, who's a surfer girl with a hearing aid, is going to be a big one for the holiday season." American Girl dolls are for kids ages 8 and up.
What does it do?
Joss comes with a swimsuit, shorts, a hoodie, and a pair of flip-flops, but you can also purchase extra accessories including a woven tassel tote bag, a cell phone, sunglasses, and a BBQ grill. If you really feel like splurging, there's also a Joss VW surf bus complete with surfboard, towels, first-aid kit, skateboard, a cooler, and lots of snacks.
Editor's note: Joss may not arrive before Christmas, but the doll appears to be available for in-store pickup at many locations.
Who is it for?
Also mentioned by all three toy experts, Zoe is a breakout new doll for kids ages 6 and up from the Black-women-owned brand Healthy Roots.
What does it do?
Zoe's hair is specially designed so kids can wash and style it in any way they can think of. They can use real products on her hair and try out countless styles from puffs to box braids.
Editor's note: Zoe dolls have been so popular they're currently sold out. They're currently available for preorder but may not arrive by Christmas, so you might just have to wrap up a picture of her.
The Strategist is designed to surface the most useful, expert recommendations for things to buy across the vast e-commerce landscape. Some of our latest conquests include the best acne treatments, rolling luggage, pillows for side sleepers, natural anxiety remedies, and bath towels. We update links when possible, but note that deals can expire and all prices are subject to change.