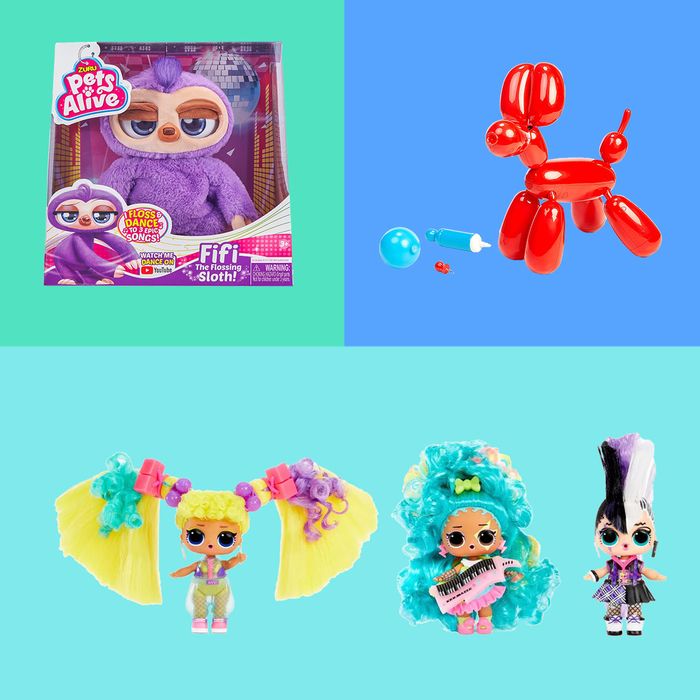 Photo: Courtesy of vendors
For the fourth year in a row, we've asked toy-trend experts for their opinions on which of this year's holiday toys will rise above the rest. (Hint: Instead of a pooping unicorn, the hottest toy this year is a pooping Flamingo.) Instead of endlessly scrolling sold-out links along with the other parents, we want you to have a head start on finding the dancing sloths, tiny collectible dolls, and ride-on recycling trucks the kids will be clamoring for.
Getting your hands on these coveted toys could be trickier than ever, thanks to shipping delays caused by the pandemic and so many more people shopping online. But it's worth it. With many of us forgoing travel and big family gatherings this holiday season, there's more time for families to play together at home, or maybe you just want to surprise your niece or nephew and cement your status as the coolest aunt or uncle alive. Whatever your reasons, we are here to help.
Note: We also have gift guides for kids of all ages, including 1-year-olds, 2-year-olds, 3-year-olds, 4-year-olds, 5-year-olds, 6-year-olds, 7-year-olds, 8-year-olds, and 9-year-olds.
Who is it for?
Baby Yoda toys are popular with both kids and adult collectors, so you'll be competing with a lot more shoppers to get one. According to Chris Byrne, also known as the Toy Guy, this one will lead the pack because "it really feels like it's come to life."
What does it do?
Touch the top of Baby Yoda's head to make it coo, babble, and wiggle its ears. Touch it again and it will close its eyes and stick out one hand to activate the force. Lay it down so it can take a "force nap" to recharge.
Who is it for?
Squeakee the Ballon Dog is great for kids 5 years and older, and because it looks an awful lot like a Jeff Koons sculpture, it will be popular with adults, too. James Zahn, senior editor at the The Toy Insider, says "Every kid and adult that I have ever seen interact with this thing is instantly enamored by it."
What does it do?
Squeakee makes noises and does tricks. Pop him with his pin and he'll play dead. Inflate him with his pump and he'll pee or fart. Train him to sit or beg with his squeaker ball, or tickle him to see him roll over on his back and ask for more.
Who is it for?
Young kids love watching the recycling truck (or any truck) drive by, and this year you can encourage their curiosity with a bunch of different recycling-truck toys. This model, however, is the only one they can actually ride on and drive around. It's designed for children 18 months to 4 years old.
What does it do?
Zahn recommends this because, in addition to being a majorly exciting gift to open, it teaches kids about recycling and sorting the garbage. It plays sounds and music, responds when you insert one of the included toy cans or boxes into a shape-sorting slot, and lets kids dump out their recycling haul with the pull of a lever.
Who is it for?
Blind-box collectible toys are as popular as ever, and L.O.L. Surprise! is still the best selling of the bunch. These toys have small parts, so they're best for kids ages 4 years and up. Adrienne Appel, senior director of communications at the Toy Association, says this year the Remix Hair Flip dolls are the ones to watch.
What does it do?
Each mini-doll comes with 15 surprises, including a second hairstyle, a water bottle, and a musical instrument. Plus, the package turns into a turntable and actually plays the mini-record inside.