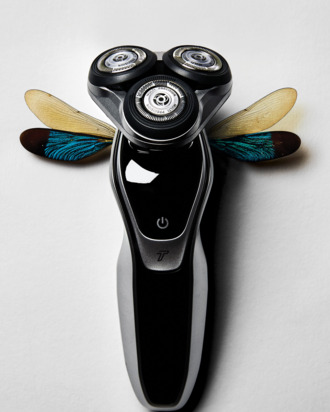 The Philips Norelco Series 5500 shaver provides the most effortless cut.
Photo: Bobby Doherty/New York Magazine
Hair: It's a natural part of being a human (and typically, a cat). But when the temperature climbs, and skin is exposed, it's one of those things that a good many of us want to control. This week, we're tackling hairlessness, not just the process of hair removal (beard trimmers and ingrown-hair treatments and aesthetician-approved tweezers) but also what to buy when you're losing your hair. 
Whenever I told people that I would be writing about electric shavers, it would always be the same joke: "What hair are you going to shave?" That, my friends, is exactly the point. I take my electric shavers seriously enough that you shouldn't ever see a hair on my chin or cheek. It's true, I can't grow a full beard, but left unchecked, whiskers would sprout above my lip and on my chin, with a few errant guys on the cheek. Going the manual-razor route would be overkill on my face, which is why I've been using electric shavers since my first Remington at age 12 — you could call me something of a connoisseur. To find the best ones for most people, I called in more than a dozen different versions and tried them all over the course of a few weeks. These were my favorites.
The best electric shaver for most people
Philips Norelco Series 5550 Shaver
I love this shaver: It's lightweight, feels good in the hand, and catches hairs on the first pass with hardly any effort. It might be because of the blade's "Lift and Cut Action," which sounds like a gimmick, but apparently draws the hair up before slicing it off. It might also be the angles of the blades on the head, which protrude toward the center to follow the glide of your hand. Whatever the case, it's the smoothest, most effortless shave I got of any of these shavers. If there's anything negative I would say about it, it's that it doesn't hold the world's longest charge — I probably go about a month and a half of shaving every morning before the little indicator light comes on, which isn't that often but not best in class, either. You also lock the shaver by holding the power button for three seconds, which could be slightly more intuitive than it is (a button would be nice!). There are more good than bad things going for it though: A clean and easy shave, a nice feel in the hand, an easy weight, and the ability to be cleaned with just a rinse under the sink.
The best electric foil razor
Braun Electric Shaver, Series 7 7865cc Men's Electric Razor
A close second to the Philips, the Series 7 also does a killer job of shaving hairs on the first go, though I prefer a rotary to a foil shaver. Apparently, the blades on this Braun shaver are smart enough to react to different lengths of hairs on the beard, adjusting to shave hairs even in denser beards. It's also the only shaver I tested that lets you toggle the intensity — there are plus and minus buttons that'll let you increase the strength of the shave from level one to five. It was a tough choice between this and the Philips, though the lower price of the Philips tipped it in that shaver's favor. But if you go for foil versus rotary shavers, this is the one to get.
The best electric shaver for travel
Remington WETech Rotary Shaver
The Remington was pretty much designed for keeping in the Dopp kit. It has a solid battery life (60 minutes on a full charge, and even a quick-charge mode that gives you enough juice for a full shave after a five-minute boost) and is notably lighter weight than any of the other shavers. It's 5.6 ounces; the Philips Norelco is 7.2, the Braun significantly more than that. That means it doesn't feel expensive necessarily, but the grip feels totally natural (almost ergonomic). It's also cheap enough that you wouldn't cry over it if the airline lost your luggage.
The best electric shaver for the shower
Braun Electric Shaver, Series 3 ProSkin 3040s Men's Electric Razor
I don't shave in the shower (too much happening), but if I did, the one I would use is the Braun S3. Of all of the shavers I tried, it feels the most amphibious, with a rubberized grip and streamlined body designed to minimize internal leaks. I found the shaver head a bit on the narrow side, and it didn't catch all of the hairs on the first try, but it's the one I'd trust the most to play well with shaving cream and overspray — you can tell just by looking that it's designed to handle the moisture.
The best luxury electric razor
Panasonic ES-LV95-S Arc5 Electric Razor
If you're looking for an electric shaver to give as a present — ahem, dad — the Panasonic Arc5 feels the most "giftable." First off, it just looks luxe, with a glossy black finish and light-up screen that tells you how long the shaver's been in use and what percentage of battery is left. It also has the best accoutrements of any of the shavers I tried: There's a cap for the shaver when not in use, a travel pouch, and a very conspicuous lock feature that keeps the shaver from turning itself on when jostled in your Dopp kit (embarrassing because no one ever thinks it's your shaver). The blades are also very generous: wide and plentiful (there are five, more than any of the others) to cover a massive amount of surface area. Spring for the premium version and it comes with a cleaning/charging station, too. I liked the Panasonic a lot, though its head was a bit heavy for everyday use — I just didn't need all of it. For someone with a full beard who needs to go clean-shaven, though, a super-solid choice.
About the Philips OneBlade
Philips Norelco OneBlade
The Philips OneBlade is a body trimmer, a beard trimmer, and a shaver, though I wouldn't suggest that you buy it for shaving. To be fair, the OneBlade can get rid of all your facial hair — it's just not optimized to do it. I bring this up only because I forgot my razor while on vacation a few weeks ago and resorted to using my boyfriend's OneBlade. Take off the beard guards and you can actually "shave" your face, though you'll have to go over the same spot a few times from different angles (it works best if you use the edge rather than the flat part of the blade like the model is doing above), and it has none of the satisfying whizzing sounds that a regular shaver will give you when hacking hair away. You probably won't be able to tell that you've gotten a clean shave until you squint into the mirror. In short, it'll work in a pinch. If you go clean-shaven regularly, I'd stick with the Remington instead. If you're someone with a beard that needs trimming who, say, needs to go clean-shaven for one day (a wedding perhaps), it'll do the trick.
If you're looking for a different style of electric razor (or if these are just too pricey), we also went and found some highly reviewed options from Amazon, according to hyperenthusiastic shavers.
The best cheap electric razor
SweetLF 3D Rechargeable 100% Waterproof IPX7 Electric Shaver
"This is the fourth shaver I've purchased looking for one between $12 and $30 and is easily the best. Has a quality presentation with straight-line shrink-wrapping, quality box, foam interior. Unit itself is beautiful and came 100 percent charged, so I didn't have to wait to use it. Unit only takes one hour to charge (using USB) versus four to eight hours with most less-expensive shavers. It can shave probably at least eight days on one charge. The three heads are the smoothest I've ever felt in a shaver with this head configuration (although I haven't used the more expensive Philips shavers). It has a slight problem handling stubble underneath the nose, but many shavers do. Also, this shaver is completely waterproof. I submerged it to put it to the test and there was no water leakage. Overall, an excellent shaver for this kind of price. I doubt you'll regret the purchase, like I did with the previous three shavers I tried."
The best USB-charging electric razor
Hatteker Mens Electric Shaver Razor
"I'm going to preface this review by saying that I have been using regular razors to shave my face for the last 20 years because I was never able to find an affordable electric razor that worked well on my face. Even the expensive ones have been mediocre at best, which makes them not worth the expensive price tag. Due to my experience in the past, I was reluctant to drop $200 on an electric razor without trying it out, so I came to Amazon to read the reviews on the different razors. After checking out a few different Braun and Norelco models, I found this Hatteker razor for a fraction of the cost. This is by far the best electric razor that I have ever owned. It shaves my face very well with minimal irritation. If you are considering this purchase and are still on the fence, I can assure you that this is probably a great buy for eight out of ten men who are in the market for an electric razor. I had never heard of Hatteker before this purchase, but I would be willing to buy other electronics from them based on the value and quality of this product."
The best wet and dry electric razor
Philips Norelco Electric Shaver 8900, Wet & Dry Edition
"I decided I was going to try a three-head shaver for the first time. I chose this specific model because I didn't want to invest lots of money in case I came to regret my decision. Now that I've been using it for a while, I really don't know what benefits a more expensive model could possibly offer. Racing stripes, perhaps? This model shaves so close that a different model can't possibly give a better shave. It cleans so easily that a more expensive model won't be any easier to clean. The value proposition of this thing exceeds all expectations. It's made all the better because it's a product that I use every single day. In my opinion this model is a worthwhile investment that I expect will give me many years of quality usage. I have no second thoughts about this purchase. If you're searching for a better shave, I cannot recommend this enough. Try it — you may love it just as much as I do."
The best electric razor for women
Panasonic ES8103S Arc3 Men's Electric Shaver Wet/Dry
"I'm a woman and I've been using women's electric shavers forever. Mostly for the bikini area and sometimes legs. I've never been very happy with any of them and most of them 'bite' the skin to some degree or other and cause pain and bleeding, some worse than others. After some research, I found out that shavers with higher RPMs (above 10,000) will do less 'biting,' so I looked around and this is the most amazing shaver ever! If shavers are cars, we women have been driving the Flintstones car and I just upgraded to a Mercedes-Benz. I will never buy another women's electric shaver again! I think it took me one-third of the time I normally take to shave, since I didn't have to go over and over the same area. Just FYI, the beard trimmer is amazing for sculpting and getting a clean line. SHAME ON YOU Panasonic, Braun, and Remington for cheating women out of a great, pain-free shave. Women, get out of the Stone Age and start shaving in the 21st century. I promise you won't regret it. And if you're a man, buy your woman this shaver, she'll love you for it."
The best battery-powered electric razor for travel
Braun M90 Mobile Shaver for Precision Trimming
"I have owned four or five high-end Braun shavers. They worked pretty well, but the price seemed exorbitant. I bought the M90 for business travel, and am completely taken with it. It is a pleasure to use because every aspect is so thoughtfully designed. I think it surpasses all their other models in design for function. Instead of dubious features based only on marketing hype, like a hydrodynamic, floating, triple-pivot, whisker-sucking, titanium head, every feature on the M90 is an elegant solution to the requirements. The screen protector is attached, so it stays on, it can't be lost, and no separate case is needed. The protector pivots out of the way for use. It includes an extendable trimmer, just like the big shavers. Instead of the typical, hardwired internal batteries, it uses two replaceable AA (LR6) batteries. If need be, I can always use alkalines, which I can pick up anywhere. Finally, even with just a simple, fixed, single screen head, it shaves as well as any of the high-end Brauns I've had. All in all, I love it so much, I had to share it and bought one for my dad and another for my son."
The Strategist is designed to surface the most useful, expert recommendations for things to buy across the vast e-commerce landscape. Some of our latest conquests include the best acne treatments, rolling luggage, pillows for side sleepers, natural anxiety remedies, and bath towels. We update links when possible, but note that deals can expire and all prices are subject to change.
Every editorial product is independently selected. If you buy something through our links, New York may earn an affiliate commission.