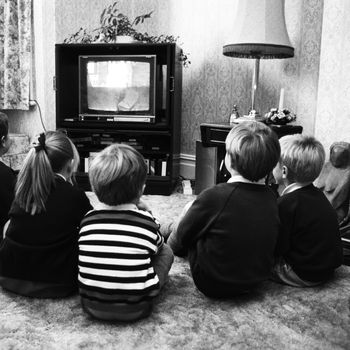 Photo: Getty Images/Getty Images
With schools closed during the coronavirus pandemic, you may be struggling to find ways to support your kids' education and keep them busy while also trying to navigate Zoom meetings, do laundry in the tub, and properly sanitize every new box of Annie's Mac & Cheese you bring home from the grocery store. At a certain point — right around the time the craft projects and Magna-Tiles seem to be losing their appeal — plonking the kids down in front of PAW Patrol can feel like the only way to save your sanity. If you're worried about rotting your kids' brains, don't be. You just have to choose the right shows. The American Academy of Pediatrics says parents of children 18 to 24 months should be extra picky when choosing shows and should watch them with their kids to help toddlers understand what they are seeing. According to Donna Housman, a clinical child psychologist and founder of the Boston-based Housman Institute, "Programming that addresses emotional well-being and competence is vital right now." Housman cites classic children's programming like Mister Rogers' Neighborhood and Sesame Street as shows that not only entertain and teach ABCs but also help children become more aware of their emotions and the emotions of others. We asked Housman and six other child-development experts and teachers to recommend the best streaming TV shows to keep your kids entertained and enlightened — and you feeling a little less guilty the next time you need a little break.
Three of the experts we talked to recommend this series starring zoologist brothers Chris and Martin Kratt. Each episode starts and ends with real-life informational videos about animals, and in the middle is a fun cartoon adventure involving the animal kids just learned about. Marie Masterson, director of quality assessment at the McCormick Center for Early Childhood Leadership and author of Let's Talk Toddlers, recommends Wild Kratts because it teaches kids about wildlife and the importance of conservation. "Parents who hear their young children spouting the biological names for creatures like spiders and insects will appreciate the learning-packed entertainment," she says. Best for ages 4 through 8.
For more animated fun with science, Masterson and Jesse Kohn, class adviser at Saint Ann's School in Brooklyn and a father of two, recommend The Magic School Bus. Parents may remember watching the original series based on the beloved picture books, which first aired in 1994 and starred Lily Tomlin as the voice of Miss Frizzle. But there is also a popular reboot, called The Magic School Bus Rides Again, that launched in 2017 and stars Kate McKinnon as Miss Frizzle's kid sister Fiona. Kohn calls the new series "amazing" and Masterson says it's a great show for families to watch together, "featuring lovable, funny characters, and fantastic magical travels that explore the vast world of science from inside the body to outer space." Best for ages 7 through 10.
It's no surprise that Mister Rogers' Neighborhood was mentioned by almost every expert we talked to. Kohn says it's the pace of the show that he appreciates most. "So much of TV today is bright and poppy and fast," he says. "But when you watch Mister Rogers', there is so much silence and so much time for reflection. You don't feel like you're force-feeding your kid ADHD." Kohn also notes that, during the pandemic, his own stress and emotions have probably been rubbing off on his kids, and he is impressed with and grateful for how well Mr. Rogers names emotions, normalizes them, and gives kids permission to accept and cope with their feelings. Housman and Masterson also recommend Mister Rogers' Neighborhood, along with the animated spinoff Daniel Tiger's Neighborhood, for the shows' social and emotional benefits. Housman says the skills kids learn from both shows — including identifying how you feel, managing emotions, and developing empathy — are "critical for lifelong learning and success. Especially critical during these scary days." Best for ages 3 through 6.
Both Housman and Valeen Bhat, founder of Private Picassos, a visual-art studio for kids, recommend Sesame Street. The show has been going strong for 50 years now and is perhaps the first of many educational shows for kids. It's full of lessons about the world from counting and spelling to what it means to be friends and how to share. Best for ages 3 through 6.
Masterson and Kohn both say the original episodes of Reading Rainbow still hold up, especially for children between the ages of 4 and 6. Kohn says, "If your kid can't read and won't listen to an audiobook, it's about the next best thing." Former Reading Rainbow host LeVar Burton also does live book readings for kids on his Twitter account at noon ET on Mondays. (Adults can catch grown-up stories from LeVar on Fridays at 9, or on his podcast.) Best for ages 4 through 6.
Masterson recommends this show, as does Christie O'Brien, an elementary-school teacher at Brooklyn Friends School. O'Brien notes that it's both educational and a hit with both of her kids. "It starts with a question that a real child has asked," she says. "Then the StoryBots — who are little cartoon characters living inside a computer — spend the episode searching for the answer." Celebrity special guests — including Snoop Dogg, Whoopi Goldberg, Zoe Saldana, and Kristen Schaal — have been known to join in the fun each episode. Best for ages 6 through 8.
When the world around them feels scary, young children can be comforted by stories showing characters who succeed at overcoming adversity. That's why Theresa Bertuzzi, a former elementary-school teacher and co-founder of Tiny Hoppers early learning center, recommends George Shrinks. "George often finds himself in dangerous predicaments, mostly because of his physical size," she says. "But he teaches kids that no matter the situation we find ourselves in, we should always remain positive and never give up." Plus, it's free on YouTube. Best for ages 4 through 6.
For more stories about overcoming scary situations, Housman recommends Scaredy Squirrel, which is based on the children's book series of the same name. In each episode, Scaredy Squirrel and his friends take on new challenges and obstacles. They learn about confidence and being comfortable in their own skin. Best for ages 4 through 6.
Masterson suggests this show for anyone interested in STEM learning. It centers around an 11-year-old kid scientist named Anne, who builds robots in a secret junkyard laboratory, and her friends Nick and Shania as they perform scientific experiments and go on adventures. The combination of real characters with CGI technology is compelling for kids and adults alike, Masterson says. Best for ages 7 through 10.
If you're self-isolating with a kid whose favorite word is why, Forky Asks a Question should be in permanent rotation in your house. Bhat is especially fond of the "What Is Art" episode, which explores visual and performative art. She says it's fun and that it gives "a great explanation of what art is and how everyone can have their own interpretation of it." Best for ages 4 through 6.
For something you'll enjoy watching together, Chloe Smith, head of the high school at Saint Ann's School in Brooklyn, recommends The Great British Baking Show. She likes that it's calming and inspires creativity. "It's the only reality show where everyone is nice to each other, and it can inspire kids to make their own creations, which is awesome." Best for all ages.
Masterson is a fan of this iconic '90s sitcom for older kids. She says it provides much more than just laughs: "The show uses pop culture to bring a diverse perspective to the challenges of growing up." Best for ages 10 and up.
And one great movie to keep them entertained
Although we were asking about TV shows, O'Brien also mentioned Moana, which she has strong feels for, over all other Disney movies. The soundtrack is an obvious draw, she says, but she also loves it because the story is about a brave young girl, with brown skin, who teaches herself to sail and saves her village. "Also, it might be the only Disney movie where both of the parents are actually alive," she says. Best for ages 6 through 10.
A few notes on pricing:
If you are an Amazon Prime member, you already have Prime Video. Otherwise you can subscribe to the video-only service for $9/month or get it as part of a 30-day free trial with Prime. All prices in this post are for monthly service (with one or two exceptions), but you can often get a better deal by paying for an entire year in advance. We've also listed a few options to buy one season of a show or in the case of Moana, one movie (that your kid will watch over and over again) without needing a subscription.
The Strategist is designed to surface the most useful, expert recommendations for things to buy across the vast e-commerce landscape. Some of our latest conquests include the best acne treatments, rolling luggage, pillows for side sleepers, natural anxiety remedies, and bath towels. We update links when possible, but note that deals can expire and all prices are subject to change.