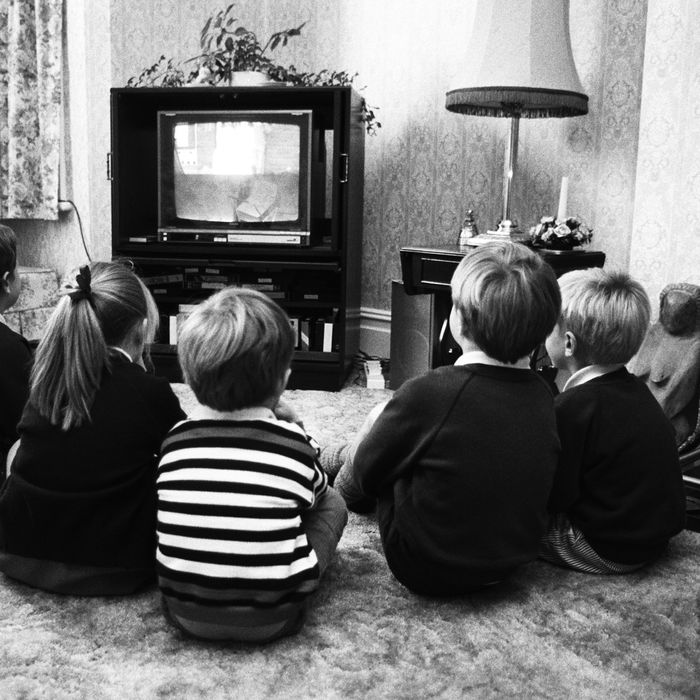 Photo: Getty Images/Getty Images
With schools closed during the coronavirus pandemic, you may be struggling to find ways to support your kids' education and keep them busy while also trying to navigate Zoom meetings, do laundry in the tub, and properly sanitize every new box of Annie's Mac & Cheese you bring home from the grocery store. At a certain point — right around the time the craft projects and Magna-Tiles seem to be losing their appeal — plonking the kids down in front of PAW Patrol can feel like the only way to save your sanity. If you're worried about rotting your kids' brains, don't be. You just have to choose the right shows. The American Academy of Pediatrics says parents of children 18 to 24 months should be extra picky when choosing shows and should watch them with their kids to help toddlers understand what they are seeing. According to Donna Housman, a clinical child psychologist and founder of the Boston-based Housman Institute, "Programming that addresses emotional well-being and competence is vital right now." Housman cites classic children's programming like Mister Rogers' Neighborhood and Sesame Street as shows that not only entertain and teach ABCs but also help children become more aware of their emotions and the emotions of others. We asked Housman and six other child-development experts and teachers to recommend the best streaming TV shows to keep your kids entertained and enlightened — and you feeling a little less guilty the next time you need a little break.
Three of the experts we talked to recommend this series starring zoologist brothers Chris and Martin Kratt. Each episode starts and ends with real-life informational videos about animals, and in the middle is a fun cartoon adventure involving the animal kids just learned about. Marie Masterson, director of quality assessment at the McCormick Center for Early Childhood Leadership and author of Let's Talk Toddlers, recommends Wild Kratts because it teaches kids about wildlife and the importance of conservation. "Parents who hear their young children spouting the biological names for creatures like spiders and insects will appreciate the learning-packed entertainment," she says. Best for ages 4 through 8.
For more animated fun with science, Masterson and Jesse Kohn, class adviser at Saint Ann's School in Brooklyn and a father of two, recommend The Magic School Bus. Parents may remember watching the original series based on the beloved picture books, which first aired in 1994 and starred Lily Tomlin as the voice of Miss Frizzle. But there is also a popular reboot, called The Magic School Bus Rides Again, that launched in 2017 and stars Kate McKinnon as Miss Frizzle's kid sister Fiona. Kohn calls the new series "amazing" and Masterson says it's a great show for families to watch together, "featuring lovable, funny characters, and fantastic magical travels that explore the vast world of science from inside the body to outer space." Best for ages 7 through 10.
It's no surprise that Mister Rogers' Neighborhood was mentioned by almost every expert we talked to. Kohn says it's the pace of the show that he appreciates most. "So much of TV today is bright and poppy and fast," he says. "But when you watch Mister Rogers', there is so much silence and so much time for reflection. You don't feel like you're force-feeding your kid ADHD." Kohn also notes that, during the pandemic, his own stress and emotions have probably been rubbing off on his kids, and he is impressed with and grateful for how well Mr. Rogers names emotions, normalizes them, and gives kids permission to accept and cope with their feelings. Housman and Masterson also recommend Mister Rogers' Neighborhood, along with the animated spinoff Daniel Tiger's Neighborhood, for the shows' social and emotional benefits. Housman says the skills kids learn from both shows — including identifying how you feel, managing emotions, and developing empathy — are "critical for lifelong learning and success. Especially critical during these scary days." Best for ages 3 through 6.