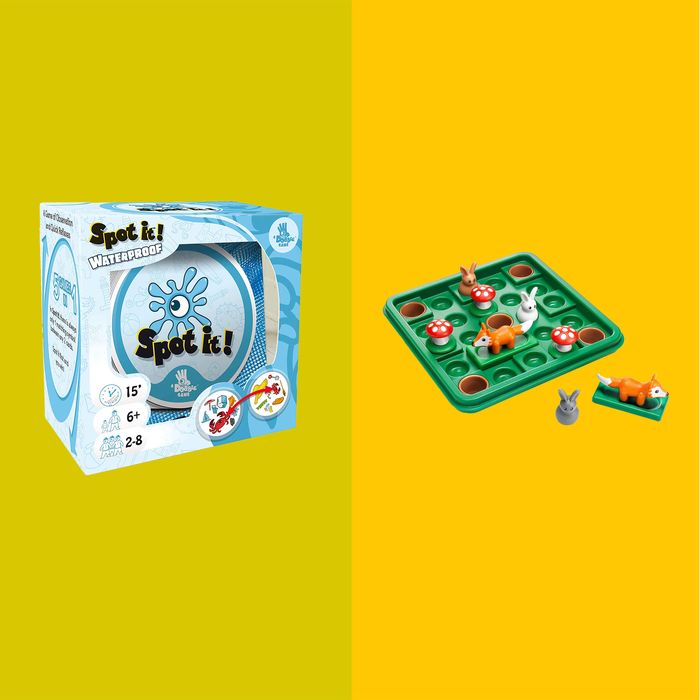 Photo-Illustration: The Strategist; Photos: Retailers
When you're getting ready for a trip, you typically have bags to pack, automatic pet feeders to fill, those annoying light-timer things to set, and all the other whatnot that comes with going away. But there's one more important thing to consider: What do you bring to keep the kids entertained? As a dad who travels with the fam a fair amount, I have tried dozens of products over the years, all of which have promised in some way or another to alleviate boredom and maybe even bring us closer together. Out of everything we've tested, here are the best. We genuinely own, play, and enjoy all of the games on this list. Most are appropriate for kids as young as 5 or 6 (and a few even younger), but just as important, all of them are legitimate fun for adults — because we're people too, and we deserve to enjoy life. Plus, they're all travel friendly: With one exception, you could fit them all into a pocket.
We have played dozens of rounds of this fast-paced picture-matching card game with the kids, currently ages 3 and 7. Even our youngest can hold her own. In fact, a few years back, when my son and I started camping, we always brought this game along — and he often won. It requires no reading or math, just spotting a shape and being the first to play a card with the same shape. Up to eight people can play, and it comes in a waterproof version, which is always useful with kids.
Although they aren't wildly challenging for adults, these inexpensive little 36-piece puzzles aren't baby toys. They take a decent chunk of time for the kids to work out, and they're just difficult enough that, as a parent, you won't have to pretend to be trying. If you're short on space — which we always seem to be, even when we're heading out just for the afternoon — you can put the pieces in a plastic baggie and leave the bigger box at home.
This game is intended for kids 13 and up, but we've had a lot of success (and fun) playing with our younger children. All it requires is understanding what the three icons — panda, bamboo, and water — mean and then knowing whom you want to screw over. Every player starts with the same number of dice. On your turn, you roll the dice. Any that come up water are removed from the game, any that are bamboo are used to challenge the player next to you, and any that are pandas are gleefully passed on to another player. The first person to get rid of all of their dice wins. Since all you need to play is the dice, this is another one that can easily be downsized to a plastic bag for packing.
Note: While this game is currently out of stock, Amazon expects it to be in soon. You can order now for delivery as soon as it's available.
Settlers of Catan, though amazing to play, isn't exactly something you can easily pack in your bag. This little, dice-based version, however, is. Plus, it's easier to learn; it's fast-paced, making it great for children; and it will more than scratch the itch for adult fans. As you use the resources rolled on the dice to build cities on your game card, the amount of reasoning involved makes it tough for kids under 10, but if you have older kids (or the kids are finally asleep), this game will entertain you for hours. It can even be played solo if you're a unicorn parent who has somehow discovered a way to have some alone time.
Jumpin' is a logic-and-reasoning game that, depending on which challenge you choose, can be easy enough for a 6-year-old or hard enough to frustrate this dad in his late 30s. Every challenge involves moving rabbits and foxes over and around one another on the board. Some are simple enough that I can solve them in my head and offer some (subtle) help as my son tries to solve them — though often he doesn't need a bit of assistance. Others are so hard we both need multiple attempts before we can finally solve them. But they're all fun.
Full disclosure: My wife and I play this game at night with a glass of wine or plate of snacks ten times more often than we play it with the kids. Why? Because it's genuinely fun (and they tend to slow us down). You start each game with four lines showing numerals two through 12, each corresponding to one of the colored dice. With each roll, you mark off one or more numbers on your list. But if you pick the wrong one (and roll a better number the next time) — or your opponent is able to complete and close off a line before you do — you miss out on a lot of points. It's a mix of probability, luck, and being able to read your opponents. With the kids, it's a great learning opportunity; without them, things get heated.
We didn't say this is a list of the best unknown travel games, just the best ones. Bananagrams is our constant companion for one big reason: It's a lot of fun to play with kids, but it's also a lot of fun to play without them. We have found this Scrabble-style tile game — in which each person must form words as quickly as possible with the tiles they are dealt — a useful learning tool for vocabulary and spelling.
I already had many fond memories of playing this classic card game with my own family on trips in the '90s, matching colors and numbers and gleefully playing Draw-4 cards on my brother. Now that I'm a dad myself, I have so many more great memories playing with my kids and wife. When our kids were first learning, we played with our cards face up on the table so everyone could follow along and get help when they needed it. Soon enough, though, their cards were back in their hands, and it was every player for themselves.
The Strategist is designed to surface the most useful, expert recommendations for things to buy across the vast e-commerce landscape. Some of our latest conquests include the best acne treatments, rolling luggage, pillows for side sleepers, natural anxiety remedies, and bath towels. We update links when possible, but note that deals can expire and all prices are subject to change.