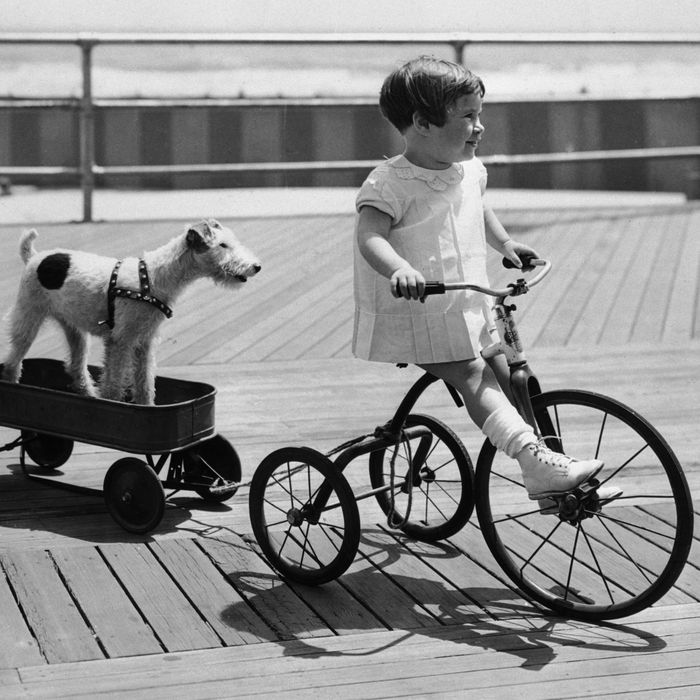 Photo: Bettmann Archive/Getty Images
Here at the Strategist, we like to think of ourselves as crazy (in the good way) about the stuff we buy, but as much as we'd like to, we can't try everything. Which is why we have People's Choice, in which we find the best-reviewed products and single out the most convincing ones. (You can learn more about our rating system and how we pick each item here.)
And while we've written about the best outdoor toys for kids before — including the best bikes for kids, the best scooters for kids, and even asked cycling experts about the best helmets — here, we've rounded up the best tricycles for kids as praised by the most enthusiastic reviewers on Amazon.
Best-rated (and least-expensive) tricycle
With over 2,900 reviews, this trike is loved by kids and parents alike. "I run a daycare, and this is one of the kids' favorite things to ride. It's easy to assemble, the directions are very clear, and it's a solid little trike. It gets ridden by multiple kids (ages 2 and 3) every day, and it has held up great," writes one reviewer. Many reviewers were specifically impressed with the decorative stickers and additional seat storage. "It's tough and durable and the seat opens up to keep stuff in," writes one parent. Another adds, "The bike is VERY sturdy, yet rides great. The stickers are good quality and not peeling off and it has been over a year." Several reviewers specifically recommended this tricycle for 2-to-3-year-olds: "My son is 2 years old and 36 inches tall and he can not reach the pedals all the way through the cycle. I would say that in another three to four months, maybe 38 inches tall, this would be perfect for him."
And now some micro-picks for every type of tricycle you might be looking for.
Best tricycle with large front wheel
Parents love this big-wheel-style tricycle specifically for the durable, rubberized front wheel. "This is the best version of this child-oriented big wheel tricycle. The steel-reinforced steering construction really makes a difference," writes one happy parent. "The two we have purchased lasted through four kids. They jump curbs, do 180s, smash into other bikes. Fun!" One grandparent who bought this trike for her 5-year-old grandson writes, "I liked this one for its added rubber strip around the big wheel and its more sturdy construction. My grandson has put this Radio Flyer through its paces; jumping off curbs and doing power slides. So far no visible wear." Many reviewers also noted how much kids love that this trike is designed for tricks and speed: "They ride it nearly every day and they are NOT gentle. They typically get going as fast as they can and then drift it across our pavement or jump it off a ramp. This is WORTH every dime! Its been a wonderful toy for our boys and very well loved."
Best 4-in-1 tricycle
Reviewers raved about this four-in-one adjustable trike that is designed to grow with your child. "Absolutely love this trike. It was kind of expensive but with it being 4-in-1, I will get my money's worth for sure. It will be used for years to come," one satisfied grandparent writes. "Easy to put together. Easy to turn. Easy to clean. Lots of little storage places." Parents also loved the added safety features and convenient design. "Our child loves, loves, LOVES this bike. The sun shade works really well and it even works great as a rain cover," writes one reviewer. "My 17-month old loves this trike! The push handles for parents are very easy to maneuver and are pretty sturdy," writes a second. Another reviewer calls this a "great alternative to a stroller. The straps are secure and he's very comfortable."
Best tricycle with bell
Many reviewers rave about the retro look and fun design details of this Schwinn Roadster. One reviewer says that this "world class old school Schwinn is better than my 1956 Schwinn bike. I really think it is that well made. I cannot see how anyone would be disappointed if they purchase it. Quality is worth paying for." Another reviewer writes, "To begin, the design of the trike is great. The smooth curves and retro styling make this really eye-catching. The paint, chrome, and trim are beautiful. The wooden, chrome-trimmed deck is a great touch which my son uses frequently to tote around toys. Even the quality of the well-secured, fabric handlebar tassels is impressive. The inclusion of a steel handlebar bell is yet another nice touch." A parent, who bought this trike for a 2-year-old, writes, "This is such a gorgeous bike and very well made. We were so happy with the look and quality. The bell and handlebar ribbons make it extra fun."
Best pink tricycle
"Radio Flyer is somewhat of a tradition in our family. I'm so happy to see they make the tricycles in pink. Now that my 2-year-old is ready for her own tricycle I knew this would be perfect for her," writes one reviewer. Another reviewer gets straight to the point: "Who doesn't appreciate Radio Flyer?
Very affordable and great quality. And it's pink!" While some reviewers noted that the plastic is not quite as durable as other materials, they largely agree that this trike is still "well worth the price point."
Best tricycle with push handle
The majority of reviewers were in agreement that this dual-purpose rocker/trike was extremely versatile. "We love these multi-function toys. It's durable, attractive, and easily changed from a rocker for indoor use, to a pusher/trike for outdoor use," writes one reviewer. Reviewers also loved the push-handle detail, with one noting, "The handle on the back is a great addition so an adult can push without standing bent over for so long."
Best tricycle for children with special needs
While this tricycle is on the expensive side, many reviewers wrote that it was a "great bike for special needs." One parent writes, "This bike is amazing for my 14-year-old who has special needs. He weighs 170 pounds and is 5'6'' and he rides the bike comfortably. He's on it about 1.5 hours a day, so it is great exercise for the big guy!" Another parent adds, "I have a 6-year-old little girl with Cerebral Palsy. She has desperately wanted a bike, but adaptive bikes are EXPENSIVE not to mention big and bulky. We heard about Mobo through a Facebook friend whose child also has CP. After some adjustments, our little girl is now speedy." The hand brake and rear-wheel steering system were also praised. One reviewer, who had purchased the bike for his son with Down syndrome, writes, "We had tried traditional bikes, but he struggled with them due to balance and the seating. The Triton with its recumbent seat and rear wheel navigation gives him security and control."
Best 360-degree spinning tricycle