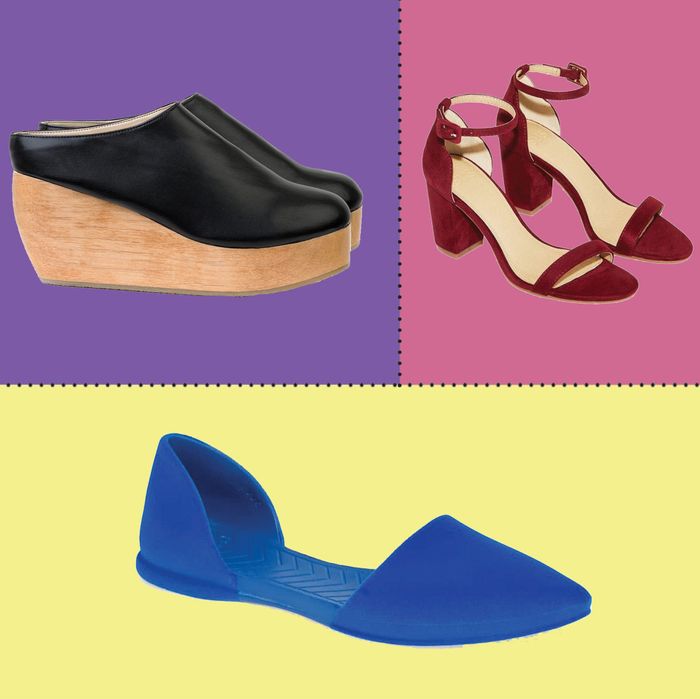 Photo: Courtesy of the retailers
It's a pretty good time to be a vegan. No longer confined to crunchy health food stores, plant-eaters can now find jazzed up vegetable dishes on the menus of top restaurants, faux leather that's not cheap-looking, even multiple options for gummy bears. Nowhere is this evolution more apparent than in the world of footwear, where designers are using new materials to craft shoes that are typically made from leather or suede. We asked Christina Sewell, manager of clothing campaigns at PETA, along with a vegan nutritionist, two vegan writers, and two personal stylists, to point us toward the most stylish animal-friendly shoes on the market.
Best vegan clogs
A vegan option for proud members of the clogerati, this pair comes from Sydney Brown, a line that's also committed to using renewable resources and fair labor practices. Sewell admires how the brand finds creative ways of replacing animal products in their shoes. "The company uses pressed pineapple and coconut fibers to construct its shoes, and its uppers are composed of fused shaven cork and grains," she says.
Photo: Years_of_Living_Dangerously,LLC
Run by a third-generation female shoemaker, Nicora got nods from three of the experts we spoke with. Vegan nutritionist Taylor Wolfram likes that "they are handmade in the U.S. using fair labor practices and ethically sourced materials." Sewell adds that they're best known for their boots. "My favorite right now are the new Swedish-style clogs," says Ashlee Piper, author of the sustainable living manual Give a Sh*t: Do Good. Live Better. Save the Planet.
Best vegan sneakers
When Stella McCartney founded her eponymous line back in 2001, making vegan clothing and accessories was almost unheard of in luxury fashion. And according to Sewell, she's still "a pioneer of animal-friendly style." Between the platform sole and the color-block upper, this pair exemplifies the "ugly sneaker" trend we've been following.
Best vegan heels
Also in business since 2001, British brand Beyond Skin is a top pick of Wolfram's, who likes that they "offer loads of styles." Among them is this stiletto heel, which challenges the notion that ethical shoes are unsexy.