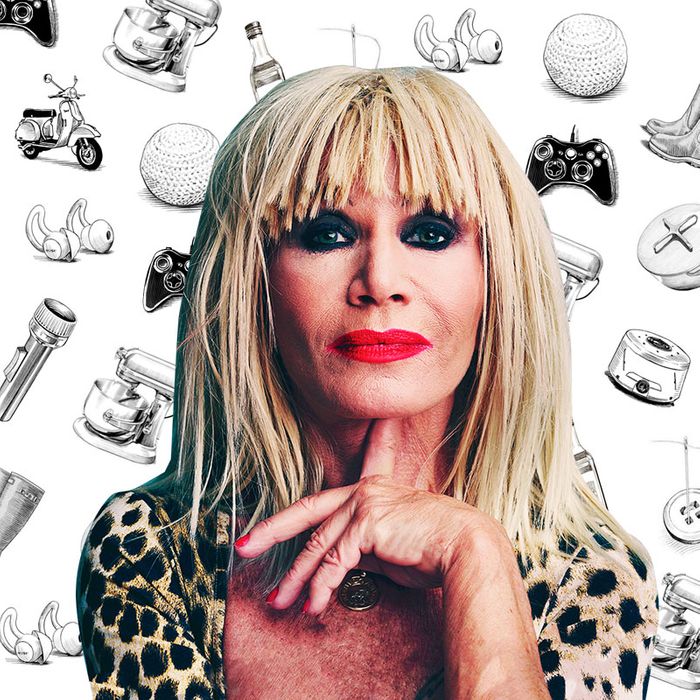 Photo: Courtesy Viking/Penguin
If you're like us, you've probably wondered what famous people add to their carts. Not the JAR brooch and Louis XV chair but the hairspray and the electric toothbrush. We asked Betsey Johnson — whose memoir Betsey comes out today — about the lipstick, essential oil, and writing utensil she can't live without.
Let me tell you about this oil. It's a very weird product, but I think it's the best body oil. It comes in a tube, like toothpaste, and it's a multiuse. It's just the best stuff I've ever, ever found for hydration and moisture, and all that junk. My skin looks more even; my sun spots, or whatever spots I had, go away. I glop it on at night, and I wear it very lightly during the day. I'm so sunburned, I'm like a lobster, and I don't use sunscreen. I'm really bad with that, but this oil is a magic oil.
I have dry mouth — an old lady's disease, I think. Nobody can solve it. It's when you don't have enough saliva. It started about 12 years ago, and I went to the best doctor in the world, but nobody cares about dry mouth. What happens is not so much that your mouth gets dry, but when it gets dry, your mouth gets very chemical. It's just a feeling — it's like a toothache, how it takes over your whole body. So I, for 12 years, have existed with Halls sugar-free cough drops. I found them to be the best for creating saliva, and they don't allow the chemical thing to happen.
I've always used a Sharpie. I did a little bit of illustration work for Mademoiselle magazine in the 1960s, and I did my drawings with a Sharpie. That was my thing: No other illustrator was using a Sharpie then. They gave me little pages, then I got full pages, then I got really into the drawing thing, and I still love the drawing thing. It was just major for my stores; I drew my fabric and all that. A Sharpie is really the only writing tool I use.
The best red on the planet. I need it to feel alive. As soon as I get up in the morning, I put my red lipstick on. I ha