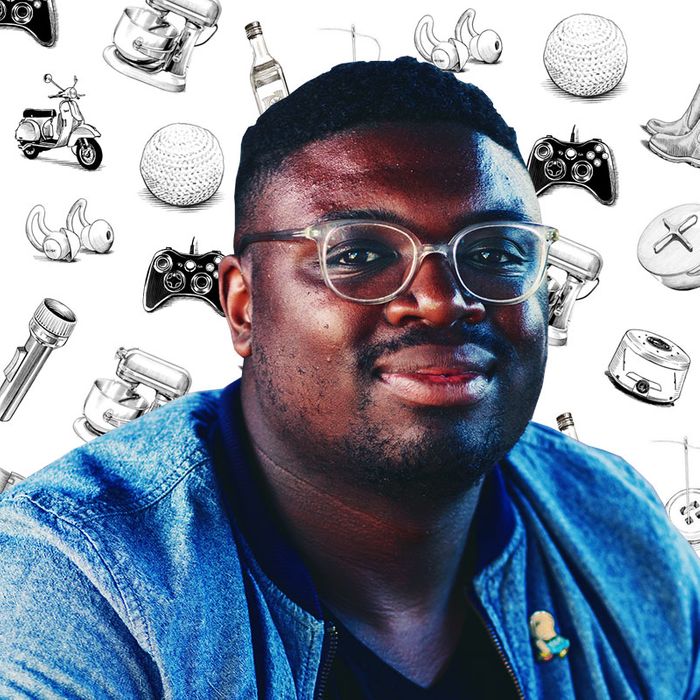 Photo: Dailey Hubbard, Illustration: Joe McKendry
If you're like us, you've probably wondered what famous people add to their carts. Not the JAR brooch and Louis XV chair but the hairspray and the electric toothbrush. We asked novelist Bryan Washington — whose second novel, Memorial, is out now — about the bowls, house shoes, and moisturizer he can't live without.
Rigby's is based in Houston; they make dishware and silverware. The breakfast bowl set is lovely and not terribly expensive for the quality you're getting. I eat a good chunk of my home-cooked meals out of bowls, whether it's breakfast, lunch, or dinner, so having beautiful bowls to eat from has been really nice. With a bowl you have depth, you know exactly where to top off. You can also eat on the sofa, sit at the table, at the counter, whatever.
It's a mug, but it's a beautiful mug. I just like looking at it. It's a beautiful thing to have in your home, and Pearl River Mart itself is a really lovely place, so to get to have something from it in my home is nice. I've been drinking most of my coffee and tea out of it.
There was a version of this that was released prior to this one. I used the older one for about a year and a half and now I use this newer one just about every evening. There has been a notable difference in how my skin feels and in the glow that it has. A bottle lasts for quite a long time, so it's pretty cost efficient.
It's a large battery as far as vape pens are concerned. I'm a bit notorious for losing vape pen batteries and the Ooze one is one that I have not lost yet. You can get a bunch of different colors; I have one that's gold and one that's blue. In the past, when we would travel and go places, I would buy these tiny vape pens and I would always lose them. That hasn't happened with these yet. Partly, probably, because we're not going anywhere.