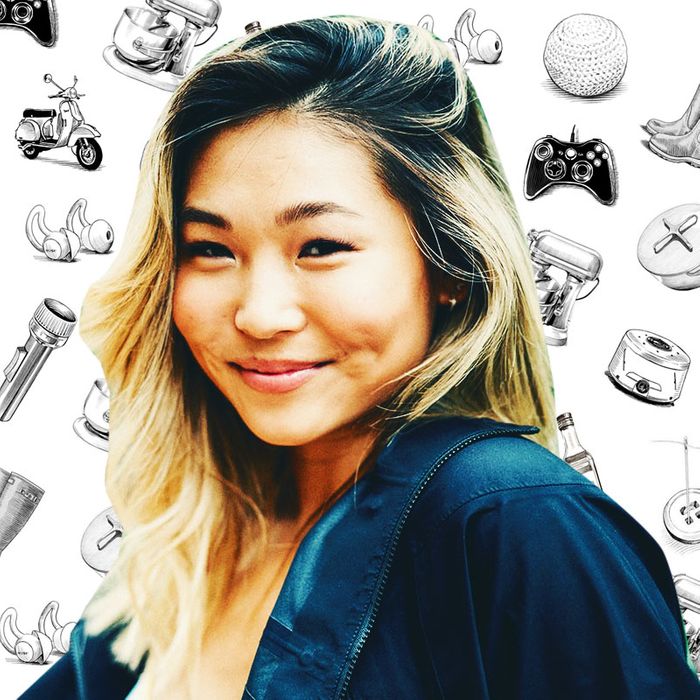 Photo-Illustration: Courtesy Chloe Kim
If you're like us, you've probably wondered what famous people add to their carts — not the JAR brooch and the Louis XV chair but the hairspray and the electric toothbrush. We asked snowboarder Chloe Kim — an Olympic and X Games gold medalist who recently partnered with Roxy to design a forthcoming clothing line — about the earbuds, mascara, and dog camera she can't live without.
These are Bluetooth earbuds but they still have a wire on them, which I like because I know they'll stay on me when I'm snowboarding. Sometimes my earbuds can pop out if I take a slam, but I know that's not going to happen with these because the wire helps them stay around my neck. They aren't noise-canceling, but I like that because I need to hear what's going on around me. I also like that you can skip through songs with a button on the wire, which is important because I like to drop in at certain points of certain songs. For the most part, I listen to rap. It keeps me pumped, but not too pumped. If I listen to really high-energy music, I can get too excited and fall on my face.
I love Hot Cheetos, I always have. They're definitely my guilty pleasure. Whenever I'm in a bad mood, my boyfriend will run to the store and get me some. That's a good thing for me and a good thing for him, because my mood always improves with some Hot Cheetos.
Due to the wind, snow, and other environmental factors of my sport, my skin tends to dry up quite a bit. This moisturizer has been a lifesaver. It's the one thing that's helped me with dryness and irritation from windburn. I'll always have a tub in my backpack on the mountain and it's also part of my everyday routine. It's nice and thick, but not super sticky — it's silky, not tacky. I'd be lost without it.
My miniature Australian shepherd, Reese, likes to sit by the Furbo camera because I'll sometimes check in and throw her a treat and she gets so excited. I like to see what she does when we're out. She's not really allowed on the couch, but I sometimes see that she's sleeping on it. Whenever I open my apartment door, though, she'll jump off the couch and lie somewhere else like she wasn't just on it. It's so cute.
This lip mask gives the effect of a gloss, but it's super hydrating. When I'm going out or meeting with people, I'll put it on because it looks like I'm wearing lip gloss and it keeps my lips moisturized. I also love the packaging — it comes in a little glass container that's small enough to bring anywhere.