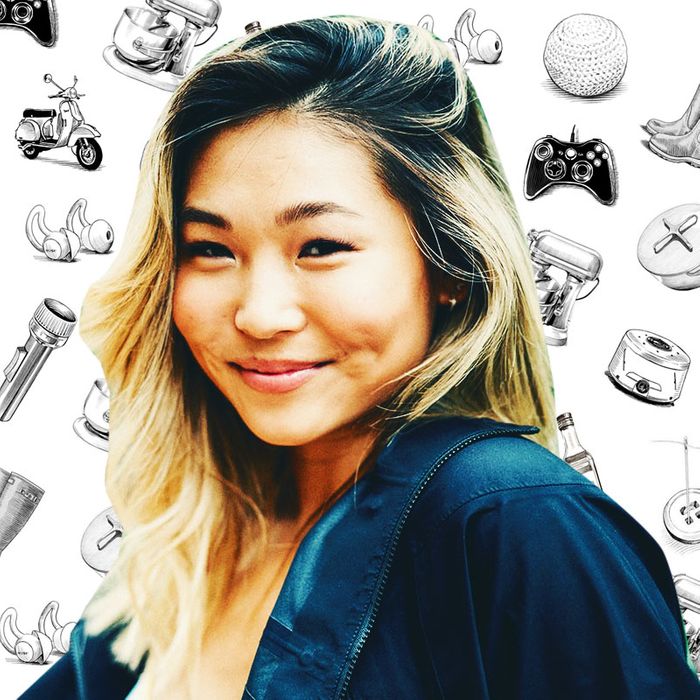 Photo-Illustration: Courtesy Chloe Kim
If you're like us, you've probably wondered what famous people add to their carts — not the JAR brooch and the Louis XV chair but the hairspray and the electric toothbrush. We asked snowboarder Chloe Kim — an Olympic and X Games gold medalist who recently partnered with Roxy to design a forthcoming clothing line — about the earbuds, mascara, and dog camera she can't live without.
These are Bluetooth earbuds but they still have a wire on them, which I like because I know they'll stay on me when I'm snowboarding. Sometimes my earbuds can pop out if I take a slam, but I know that's not going to happen with these because the wire helps them stay around my neck. They aren't noise-canceling, but I like that because I need to hear what's going on around me. I also like that you can skip through songs with a button on the wire, which is important because I like to drop in at certain points of certain songs. For the most part, I listen to rap. It keeps me pumped, but not too pumped. If I listen to really high-energy music, I can get too excited and fall on my face.
I love Hot Cheetos, I always have. They're definitely my guilty pleasure. Whenever I'm in a bad mood, my boyfriend will run to the store and get me some. That's a good thing for me and a good thing for him, because my mood always improves with some Hot Cheetos.