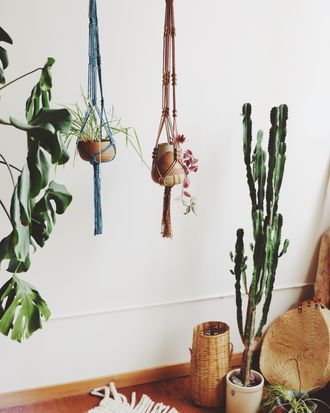 Alongside tie-dye and shag rugs, macramé — a knotting-based textile art — is one of several 1970s aesthetic trends that's been repopularized by boho home décor, including knotted plant hangers and textured pillows. Like the related textile art of weaving, macramé has a DIY ethos: "If you can tie it into a knot, you can tie it into your macramé piece," explains artist Michael Gabrielle. And even when it comes to more traditional materials, Emily Katz, founder of Modern Macramé and author of a book by the same title, says the only essential tools are rope, an object to tie the rope to, and your hands for knotting. Among the 4,000-plus knots in the world, those most commonly used in macramé come from the family of nautical-inspired square knots (for camp kids, those are the same knots most often used in friendship bracelets). "Macramé is a subset of the larger world of knots, and it's a good place to start with knotting, because with three or four knots, you can make something that looks beautiful in your home," explains Windy Chien, artist and author of The Year of Knots, a book that details techniques and stories from her year spent learning a new knot every day.
If all this time cooped up inside has inspired you to learn a hands-on hobby, make something colorful for your blank wall, or hang your plant a little closer to the sun, we spoke with three artists about the best decorative beads, hanging devices, and rope or string (yes, they're different) to help you start knotting.
Macramé tools
All of our experts say that you can knot anything from shoe laces to hoodie strings for macramé, but if you'd like to use rope, both Katz and Gabrielle recommend beginning with a five millimeter twisted variety. "It's the gateway into macramé because it's not too thick and cumbersome, but also not too thin that it requires very dexterous motor skills," says Katz, adding that thicker material knots up quickly, but can also be more unwieldy, whereas thinner materials create more detailed knots, but require more time. Gabrielle, who began making macramé with stiff clothesline, recommends looking for rope that's cotton based because "it's a little more soft and supple, and it'll be way gentler on your hands, making it easier to tie the knots." Depending on how much rope you need, the Amazon spool is 140m long, whereas the bundle sold on Modern Macramé is about 30m (though they also sell 183m spools).
Rope most commonly consists of many strings either twisted or braided together, and Chien prefers using a braided rope because "it has a smooth line. I don't love twisted rope because it's super distracting to me, and I think you notice the twist more than you notice the knotting itself," she adds. Both Chien and Gabrielle recommend buying rope from Knot and Rope, though it's readily available on other sites, too.
Macramé hangings often have fringed edges, and if you want those edges to hang straight (instead of curly) then Katz recommends using string in lieu of rope; since rope consists of many strings, whereas string is just made of many threads, "when you unravel the rope, because it's wound so tightly, you get wavy edges," explains Katz, adding that you can incorporate both materials into a project. Also, since string isn't twisted in the same way as rope, Gabrielle says that it "really lets the knot stand out on its own without being overshadowed by other textures," adding that when he needs string of a specific weight or color he shops the macramé-specific wares from Niroma Studio (Chien agrees). Niroma Studio's 5mm string is sold in spools of about 700 feet, whereas the spool sold on Amazon is only 393 feet long.
"One of the pleasures of macramé is that there aren't really any set rules; you can hang your art from anything as long as it's sturdy enough," says Katz, pointing to wooden dowels, brass rings, and S hooks, all of various sizes, as suitable options that you can use to hang a plant hanger or wall hanging. Chien even says it's sufficient to "make the knot, and then stick a nail in the wall and hang the knot on it." Gabrielle, who himself makes macramé with copper pipes and found driftwood, adds that dowels are specifically good for beginners because "they're relatively cheap, and you can also get them in a variety of sizes at any art or hardware store."
For making mobiles, lampshades, or circular wall hanging, Katz recommends affixing your work to a metal hoop.
You can also craft flat objects, like coasters and bookmarks, from the macramé knotting techniques, Katz just recommends getting some safety pins to hold down your piece as you work.
Beads add a pop of color or texture to your macramé hanging, though Katz and Gabrielle both say to make sure that the bead hole is large enough to fit your rope of choice. "Many beads on the market are small, so instead of beading into the macramé, you could take some thread and sew smaller beads onto the outside of what you make," says Katz, noting that Modern Macramé sells a selection of wide custom-made beads, designed by artists and craftspeople in Haiti. This assortment of 10mm beads will fit your 5mm rope or string of choice, and comes in an array of tones.
"You can find lots of beautiful beads, but they're not always in the right millimeter or diameter," explains Gabrielle. Instead, he suggests buying wooden beads, and "then you can paint them to match any feel that you're going to."
Gabrielle also likes to embellish his pieces with everything from crystals and old charms to sea glass, which he affixes with wire. "I enjoy the process of wire wrapping, but you can definitely find some people who wrap them in rope to keep the materials consistent throughout the piece," he explains.
Chien doesn't affix anything to her large-scale knotted art pieces, but she does finish the ends with trim. "Rope frays at the end, and it's such a great way to use all that stuff that's sitting at the bottom of your sewing basket to make your work look more finished and polished," she explains. Chien uses different trims, including a 24 karat gold vintage Japanese thread from Etsy, but says that any trim will suffice, like this pack that comes with 50 different tones.
Resources
Both Emily and Gabrielle recommend Chien's book for learning to "diversify and add unexpected elements to your work with new knots," as Gabrielle puts it.
Chien herself depends on resources from the past in order to integrate the history of knotting into her work, including The Ashley Book of Knots, which details nearly 4,000 knots and Chien calls "the bible of knot tiers."
She also recommends "all of the old hippy books," like 1970s-editions of lifestyle publication Sunset magazine, which "has supergood knot-tying instructions with diagrams."
In addition to seeking advice from Instagram and YouTube — Gabrielle recommends Elsie Goodwin's tutorials, and Chien suggests outdoor and nautical-focused channels with knot-tying videos — some of the experts we spoke to also teach virtually: Katz teaches online workshops and virtual classes, and Modern Macramé offers a free 15-minute phone-consultation service for people who need help while they're learning (email crafthelp@modernmacrame.com). Gabrielle also teaches virtual one-on-one lessons (which you can set up over email at hello@michaelgabrielle.com).
The Strategist is designed to surface the most useful, expert recommendations for things to buy across the vast e-commerce landscape. Some of our latest conquests include the best acne treatments, rolling luggage, pillows for side sleepers, natural anxiety remedies, and bath towels. We update links when possible, but note that deals can expire and all prices are subject to change.