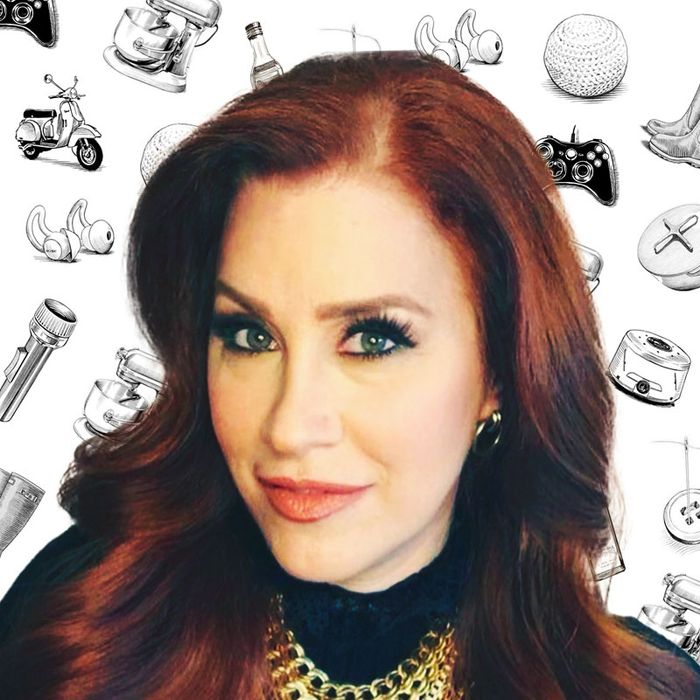 Photo-Illustration: The Strategist; Photo: Lisa Ann Walter
If you're like us, you've probably wondered what famous people add to their carts. Not the JAR brooch and Louis XV chair but the hair spray and electric toothbrush. We asked Lisa Ann Walter — a star of Abbott Elementary — about the heels she and her character wear, makeup she has used for three decades, and tomatoes she can't cook without.
When I was a young mom, I was doing a step-dance class or something. Today it would probably be Zumba but with a step. I'd always wear these high-heeled Docs, because I don't know how to dance in flats or sneakers — only heels. I used them for every workout and hike, and people would freak out. They were like, "How are you doing this in heels?" And I'm like, "Because I don't know how to do it in anything else." After probably 15 years, I'd ruined them. I couldn't find another pair of Docs with heels until I started the character Melissa Schemmenti on Abbott Elementary. Besides one episode, where she wears wedge flip-flops, these are all she wears. I wear them in real life too. They're comfortable and sturdy. In fact, they are sitting next to my suitcase, as I'm getting ready to go on a plane to Italy tonight. That's what I'll be wearing for two days to get to Sicily.
[Editor's note: Walter's favorite Dr. Martens ten-eye Kendra boots have been discontinued, but this pair of Chesney heeled boots is similar.]
I'm Sicilian, and I love to cook. There are a number of tomatoes that could work, but my go-to (the ones I buy by the case once every six weeks) is Cento. If I make a pot of sauce — or "gravy" is what we call it when we put meat in it — I gotta use at least four cans. I like that it's gettable here in the U.S. as opposed to other brands that you might not find for months. And honestly, the taste is sweet, flavorful, and consistent. I think there is a little bit of the fact that it's tradition too. That yellow can is what I grew up seeing on the counter at my nana's apartment in Brooklyn. That's what she used, so that's what I use.
What you cook in is really important. I've had pans over the years that I've worn out because the coating comes off. I've tried expensive ones. Coating still comes off. But I've got a couple of All-Clad pans that I got when I married my first husband, and they are still going strong. We're talking about 35 years later. I've got an All-Clad pan that was my nana's sauce pan. She got them when people were selling them door-to-door. To this day, that's what I use to make my red sauce, because it's got a heavy bottom and doesn't scorch. None of them show any signs of wear. You can't wear them out. You just can't.
Same thing with Le Creuset's Dutch oven. You put a pot roast in it, put it in the oven, cook it all day, and you can wipe it out with a sponge at the end. Nothing sticks. It's ceramic, so you can cook for a long time in it and it's not gonna burn. They're easy to clean too. You have to get them when you have your bridal shower or put them on your wedding registry. They are not cheap, but they're worth it.
I've been a makeup whore since I was, like, 13 years old. I'd throw my friends down and beat their faces with real serious makeup — like, drag-queen makeup. And back then, we didn't have YouTube or TikTok. You just did it. The wonderful thing about being in my business is that sometimes I teach my makeup to people and sometimes the professionals teach me. (I always say you need to be open to learning different things, otherwise you'll be stuck in the past with a beehive and bright-blue eye shadow.) I learned about Touche Éclat, because Whoopi Goldberg asked me to do the Hollywood Squares reboot 22 years ago. It was a blast, and I got this hot tip. The makeup person was like, "You can put as much as you want on, and it'll never build up. It just keeps that under eye bright and doesn't look cakey." It's absolutely true. My secret is that I put it just in the line where the circle would be under my eye and leave it sitting there for a while. Right before I'm ready to roll, I just tap it in.
It's so funny, because if you have green eyes, people are always like, "Oh, you should wear purple eye shadow." No. It looks awful on me. It's very garish and makes my skin look yellow. Coquette looks like a taupe, neutral color, but there's a tiny bit of green in it that makes my eyes pop. It's perfect for my particular type of green eyes, which have yellow in them, not blue. My very first makeup person, Lisa Ashley, used it on me, and I've been using it for 30 years now.
This was also courtesy of Lisa Ashley. I've been using it for probably 20 years. I started using it when I was young, and it made my skin look fresh and got rid of fine lines. Since I've been using it all along, I have facialists and dermatologists say to me, "Oh my God, your skin is beautiful. What's your secret?" I tell them it's this enzyme protein complex and the fact that I don't drink. It is not cheap, but it's irreplaceable.
I'm a person who reads the ingredients. The stuff that goes on top of your skin has to live in your dermis — like squalane. It's what makes skin look moist and young. When I started using squalane every day, my mother asked me, "What is that you're using?" I told her this. And she said, "Oh, that's from olive oils. You know, your nana used to put pure olive oil on her skin. She always had beautiful skin." And I said, "Well, see? There you go. The apple doesn't fall far from the tree."
Perfumes change depending on a person's body chemistry, so there are some I like on other people but not on myself. I started using this one probably when I was 13 years old, after my body chemistry changed after puberty, and I've used it ever since. I originally liked it because it reminded me of White Shoulders, a perfume my nana used to wear. (My nana died when I was young.) Since then, people have always told me how much they love my cologne. They're surprised when I tell them it's Chloé, because it smells different on me than on anyone else. When Chloé changed the formula, I told my mom, and she went out and bought every bottle in north Florida. I have a drawerful of probably 30 bottles of Chloé. They should last me 'til I'm dead.
I play Rummikub all the time. In fact, I've got it in a travel kit ready to take to Europe for three weeks. It's a great game that you can play with four people. Or you can get a couple boards going and play with eight. I just think it's fun. There's strategy involved, but it's luck as well. We have a whole group of gals who play together — kind of like in the old days, when people would play mahjong. We call it the Rummikub Club. It's a bunch of broads sitting around playing with tiles, and it's fun!
I'm on my fourth Dodge Challenger with a Hemi. It's so funny, because it's such a dude car. Any time I bring it to the valet, they're like, "This is your car?" I'm like, "Yeah, I got out of it." But I had to get this one, because it's green and it's the right color green for me. Again, it matches my eyes and my hair. I even got the leather interior and green stitching to match the outside of the car. It's just a hot car. I love a muscle car. I think they're badass.
The Strategist is designed to surface the most useful, expert recommendations for things to buy across the vast e-commerce landscape. Some of our latest conquests include the best acne treatments, rolling luggage, pillows for side sleepers, natural anxiety remedies, and bath towels. We update links when possible, but note that deals can expire and all prices are subject to change.