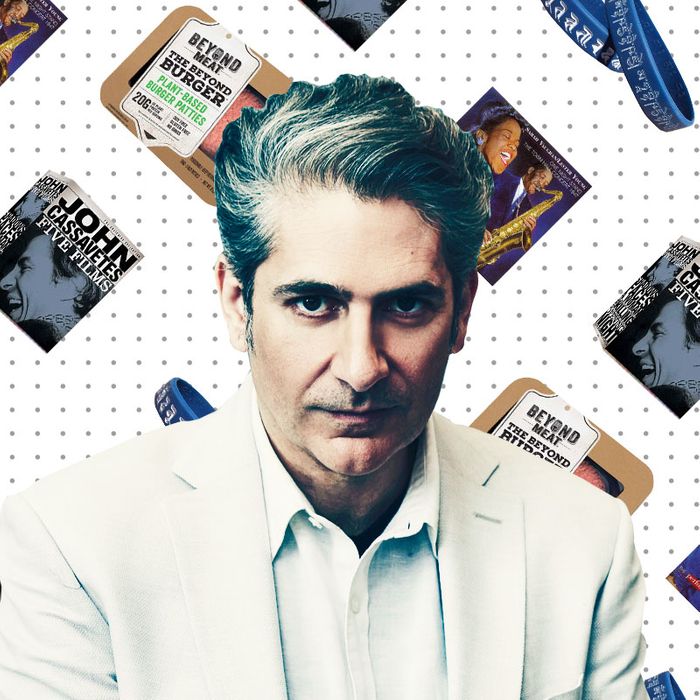 If you're like us, you've probably wondered what famous people add to their carts. Not the JAR brooch and Louis XV chair, but the hand sanitizer and the electric toothbrush. We asked actor Michael Imperioli — who stars in the new Holy Ghost video — about the jazz albums, books, and plant-based burgers he can't live without.
I think this is going to save the world. I gave one to my dad and he's somebody who just, you know, the idea of eating some kind of fake beef is just not his world at all. When he was halfway through eating it, I said, "You know that's not beef." He was like, "You could have fooled me; it's delicious." He loved it. They changed their recipe at the beginning of this year and it's even better now; it actually kind of caramelizes like beef. People always say, "Why do vegetarians want to eat stuff that tastes like meat?" I didn't become a vegetarian because I didn't like the taste of meat; I became a vegetarian because I didn't like the idea of animals being killed. I mean, think about what it takes to raise a cow; all the water and food that you have to give a cow can be used to give to people. Cut out the middleman and the middle animal in this relationship, I think it's environmentally very sound.
I don't judge people who eat meat — people in my family do — it's not about that. But I think they've been raised to do it unconsciously, and I think you should at least think about whether or not you want to do it. I mean, everybody loves hamburgers. I ate them as a kid; I ate them as a young adult. You love the taste and the fun of it — and you get all of that through these. I like mine with just ketchup and cheese, definitely cheese.
This is a brand-new album by Jesse Malin, who has been on the New York scene since he was 14; now he's close to my age. Last night was the release concert at Webster Hall, which was tremendous. But I think he's just ripened and matured, his writing has become very deep and resonant. I call him the Bard of the Bowery now. There are echoes of John Lennon, Neil Young, Elvis Costello, Tom Waits, but he's his own thing. It's very New York, and very powerful.
This is a very strange kind of social-commentary satire about how far celebrity obsession can go. It's about this Über-fan club of Sharon Tate's, and the dark alleys of fandom and obsession, if you will. And it's really fun, very funny, and very dark. I see it in kind of an absurdist, satirical vein, like The Magic Christian — kind of what was popular in the late '60s. If you look at things like the Kardashians and stuff, people just watch them go to the barber or whatever the hell they want. I don't watch it, but being obsessed with every aspect of their lives, and how easy it is to, you know, overstep that into obsessed fan then stalker, where it becomes this part of your life that just consumes you. He nails it. I don't want to give too much away about it, but it gets pretty twisted and dark.
So I've been on the advisory board of the Jazz Foundation for a while now, maybe about 15 years. It's just something that I love because they give direct relief to jazz and blues musicians, a lot of them very old. Sometimes they need housing, sometimes they need their heat bill paid. They try to get them gigs; they try to get them teaching gigs. When Katrina happened and people were homeless, they came right in. It's very, very, very hands-on. They have the Loft Party on October 19, and then they have a big event at the Apollo in the spring. But the Loft Party is really casual and chill. There are a couple of different rooms and you can go from one to the other. Wyclef is playing this year, and so is Pharoah Sanders, who's another jazz legend. And it's one of the best charities, and really one of the funnest events you can attend, so I would encourage going. This year they're honoring Roy Haynes, who is 94. This album is from the Town Hall — Roy Haynes playing drums with Lester Young and Sarah Vaughan.
John Cassavetes is my favorite filmmaker of all time, and these films were ones he financed himself. He would go off and do a Hollywood movie and then write, direct, produce his own movie, and use his house, and his wife, Gena Rowlands, who I think is the greatest actor, period. I think A Woman Under the Influence might be my favorite movie. I can watch these movies over and over again and they always reveal something new, which is unusual. I always get the feeling that I'm not aware of time when I watch them, which is interesting, because with a lot of movies, you know you're in the beginning, you know you're in the middle, you know you're in the end. With his movies there's an almost dreamlike quality where you're not sure where you are in the story. He has a reputation of being someone who improvised a lot, but I've worked and met with a lot of people who knew him and have told me that his scripts were actually very tightly written. His writing is just masterful.
Ah, the most important of the list. So Garchen Rinpoche is an 85-year-old Buddhist lama who my wife and I are students of and have been for about ten years. He sells these on his website for like three bucks, but often gives them away when he does public events. They're these little rubber wristbands that people have been using since the LiveStrong thing, but they're embossed with a Buddhist sutra, a Tibetan mantra, which is said to be restorative just to look at.
People are curious about the fact that I'm a Buddhist, but, you know, Buddhism is not very controversial. Even people who are not religious, there's something with the Buddha that people feel kind of safe with in a weird way. I think people are less surprised when they find out that I'm Buddhist than they are when they find out that I'm not, like, a guy from the Jersey Shore. I think a lot of people, when they first saw The Sopranos, thought that all of us were, like, Jersey Shore, and they found us at the mall and put us on TV — not that we were acting for 25 years or whatever and making theater and independent films and stuff.
There's a shrine room here that they constructed inside the Rubin Museum, and visiting it is like being transported into a Buddhist shrine room from 500 years ago or something. And some of the thangkas, which are paintings, and sculptures are very, very old and very, very precious, and they're blessed by, you know, lamas, high lamas especially. So there's a lot of powerful energy in that place.
This is a new book by Lydia, and I think she has carved a literary path all her own. A lot of her writing is memoir, this is a collection of essays, but she has this unique mind, which is fearless, very unconventional and uncompromising, and very raw and real. I've been doing a lot of spoken-word events with her since I published a book last year, and she's been very inspiring to me because she's been doing this since the '70s, and all over — Europe and South America and here. She's a force of nature.
Kathy was a unique artist and New Yorker and passed away far too soon. She wrote a book called Blood and Guts in High School, and she uses a lot of collage-type techniques in her book. There are drawings and charts and poems and things interspersed throughout it, so it's a very almost New Wave–y type of literature. But again with an honesty and rawness and very strong, feminist voice that I think paved the way for a lot of others. This is a book from "The Last Interview" series, and it's a collection of interviews. And the last one in the book is always the last interview that person gave. I just picked up Kathy Acker and Billie Holiday, and it's just really good. They picked a really good selection.
Vena Cava performed at the Kitchen in New York in, I want to say, '93, and I was there. I mean it's hard to even explain her voice. I don't know what octave she has, but it's supernatural almost. She combines her music with performance art in a way. This recording is something that means a lot to me because I was there. I never saw anything like it — she sings with a couple of different microphones at the same time, which have different effects on her voice, and her voice is so technically stupendous. She doesn't perform very often, but if you have the chance, absolutely go.
The Strategist is designed to surface the most useful, expert recommendations for things to buy across the vast e-commerce landscape. Some of our latest conquests include the best acne treatments, rolling luggage, pillows for side sleepers, natural anxiety remedies, and bath towels. We update links when possible, but note that deals can expire and all prices are subject to change.