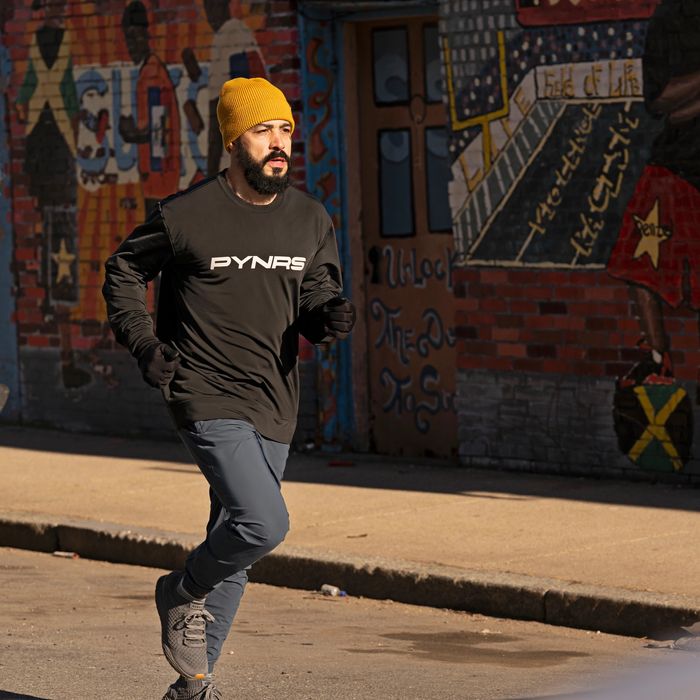 Welcome to "On the Run," a Strategist column in which we ask discerning runners to tell us everything they wore and brought on their most recent run, from shoes and socks to headphones and energy gels. Running-gear preferences are very personal and change depending on the season, so instead of declaring one pair of shorts or one sports bra the categorical best, we hope this series captures what works best for one particular runner on one particular run — and that maybe you can find something in it that works for you, too.
For this edition of On the Run, I spoke to Sid Baptista, the founder of Boston-based Pioneers Run Crew and PYNRS, a streetwear-inspired line of technical running apparel designed to support diverse body types. Baptista didn't start running until his junior year of high school, but was breaking his school's track records by senior year. He walked away from the sport in college and prioritized his corporate career and entrepreneurial pursuits after graduation. After an unsuccessful attempt at launching a business, he started searching for community and found it, once again, in running. He joined a local Nike Run Club and ran his first marathon within a year. "It was something I needed at the time," he says. "It was this thing that I wasn't really good at but was challenging me in ways that were actually adding a lot of discipline in my life and giving me time to think through what my next thing was." The deeper Baptista got into the Boston running scene, though, the more he started noticing its faults. "Boston is a pretty segregated city. I live in one of the biggest, most diverse, most populous areas of Boston called Dorchester," Baptista said, but there was no running community there. "I was tired of leaving Dorchester, running, biking, or driving two to three miles to go run in Back Bay or in the South End … and so in 2017 I founded the Pioneers Run Crew to diversify running and bring running to my neighborhood."
In just five years, Pioneers Run Crew has grown to 200 active members and more than 1,000 runners have participated in its events. The group is officially sponsored by Lululemon, and last year it put on its first 26.TRUE marathon, a race that aims to highlight and celebrate neighborhoods like Dorchester, and celebrate communities that aren't part of the Boston Marathon course. The group puts on smaller events, too, like a recent ten-mile group run from Dorchester to South Boston, which Baptista ran. Here's everything he wore on that snowy, but sunny, day.
Baptista sometimes runs in below-freezing temperatures, so gloves are essential. "I like to say that [PYNRS] is a streetwear-style running brand, so I've tried to find ways to incorporate streetwear style into my running style and my running-gear style," he says. When he found these gloves at Concepts, a streetwear store, they were a perfect match for his aesthetic. Baptista likes that you can text while wearing them and that, most importantly, they're warm — sometimes too warm. Despite temperatures in the 30s, "I ended up taking my gloves off, I would say two, three miles in," Baptista said.
Another key element to Baptista's run attire is a cool pair of socks. As he says, "they make the outfit." He was initially drawn to Stance's bright colors and found them to be sweat-wicking and comfortable. He's been wearing them since 2017, two years after they became the official sock of the NBA but before they were widely popular among runners. "I found them so long ago and I was rocking them, but now that they're a part of the NBA, everyone knows about Stance's socks, but I've been on this forever," he says.
"I started wearing Hokas in July of 2021," Baptista says. "I was a Nike guy, but I started developing these blisters on my feet, and I just couldn't figure out what it was." After trial and error with a few different brands of shoes, he was given a pair of Hokas "and I haven't gone back since," he says. He explains that he supinates when he runs, meaning his feet rotate outward (the opposite of overpronating, an inward motion that is more common), and these shoes help keep his stride in line.
Baptista doesn't listen to anything when he runs, so headphones aren't a part of his routine. "I come up with some really good ideas while running alone without music, kind of going through my thoughts, and then when I'm running with people, I just talk," he says. He isn't a totally tech-averse runner, though: He does always run with a GPS watch. He typically wears the more streamlined Garmin Forerunner 235, but broke out the newer Fēnix 6 Sapphire for this run. "That day was the first time we got together with the crew since before the holidays, so I was like, I'm gonna pop out the Sapphire," he says. It's more of a style statement for Baptista, but it can track running, swimming, biking, hiking, rowing, skiing, golfing, and more. It's cool if you need all of that, but according to Baptista, "There's too much tech on it, to be honest with you. I wear my 235 way more."
Baptista wears fleece-lined joggers when the temperature drops below 20 degrees, but it wasn't quite cold enough on this run to break them out. Since it was a bit warmer and, despite the flurries, sunny, he rocked these tights instead. "They're the ones that you don't have to wear underwear under," he says. "They're very interesting. They're extra-tight, so they keep everything in place." Even without the fleece lining, Baptista says they are super-warm, but not to the point of overheating.
Note: Baptista received these tights as a gift from Lululemon, which sponsors his team.
Naturally, Baptista wears a lot of gear from his own line, PYNRS, which launched in December 2021. "I like to look good when I run," he says. "Look good. Feel good. Run good." He wore this crewneck over a base layer. It's a nylon-spandex blend, and it has a zippered pocket on the back where Baptista stashes a sandwich bag with peanut butter and honey for long runs. He also wore PYNRS's 100 percent wool beanie, which is warm and keeps him dry, but the best part is "you don't have to wash it, which is great," he says. "I just let it air-dry in the laundry room and it comes out smelling amazing." The Pioneers Run Crew Gaiter is also a winter running staple for Baptista, who says it keeps his neck and face warm.
The Strategist is designed to surface the most useful, expert recommendations for things to buy across the vast e-commerce landscape. Some of our latest conquests include the best acne treatments, rolling luggage, pillows for side sleepers, natural anxiety remedies, and bath towels. We update links when possible, but note that deals can expire and all prices are subject to change.