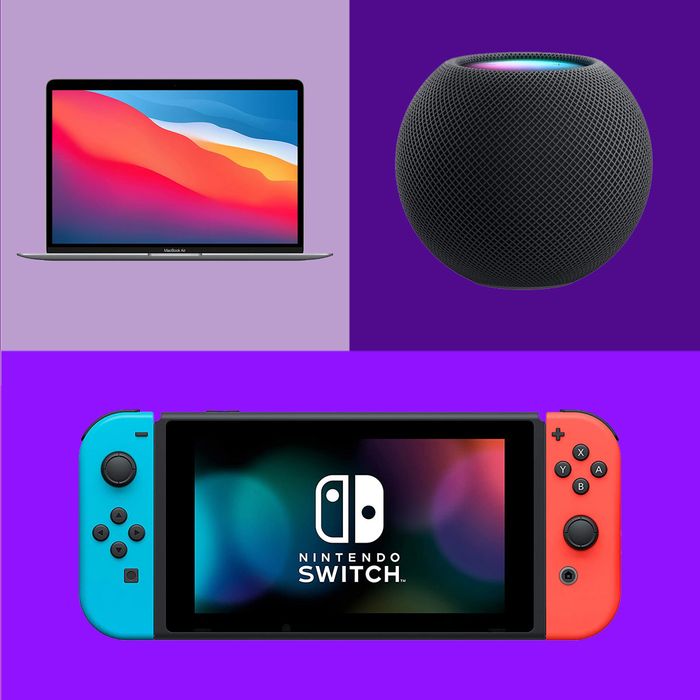 Photo-Illustration: Strategist, Photos: Retailers
If you're not a tech person, it can be hard to keep up with the hottest new gadgets. (It's hard even when you are a tech person, but I do my best.) Luckily, people like Lesley Rohrbaugh, the research director at the Consumer Technology Association, are willing to help. For the past 27 years, the CTA has produced an annual report on consumer-technology holiday-purchasing patterns. I spoke with her for the second year in a row, and she says the 2021 report provides insights into a whole new batch of must-have recommendations. There are some repeats from last year like the latest iPhone and various laptops along with newcomers like streaming services and smart-home devices. And while popular options like Spotify gift cards are never going to sell out, plenty of the other items she mentioned will — especially when you consider the supply-chain issues driving people to shop earlier this year. (According to Rohrbaugh, 68 percent of shoppers are getting a bigger jump than ever on holiday shopping.) To take advantage of this early push, retailers will likely offer sales earlier — which will get more people shopping early, which will make finding the perfect tech gift even more competitive. That's why we assembled the following list of gifts, which fall into the categories Rohrbaugh says will be hot this year. It's probably best not to dillydally. And a holiday shipping note: Some items are still available for expedited shipping and will still arrive in time for Christmas if you order quickly, others will arrive after or are available for in-store pickup at select locations.
Smartphones
Rohrbaugh says smartphones of all types will again be among the most desired holiday gifts. This year, Apple, Google, Samsung, and others released phones that operate on the faster 5G spectrum, which wireless carriers are trying to shift customers to. Rohrbaugh says the CTA noticed an increased interest in foldable phones, which have improved in quality recently and are (slowly) becoming more affordable. If buying someone a new phone isn't within your budget, you can get them accessories like headphones, phone cases, and chargers.
The newest iteration of the iPhone doesn't include any flashy changes, but everything under the hood has been improved. There's a better dual-camera system and a faster chip, and Apple says the new battery should last two and a half hours longer than before. It has 5G capabilities, wireless charging, and Apple's MagSafe technology, which uses built-in magnets to attach accessories to the phone. The cameras have larger sensors for better photos and better image stabilization while recording video.
Stepping up to the iPhone 13 Pro gives you an even better battery life, a third lens, and higher picture quality. Like the 13, the 13 Pro offers Cinematic Mode, allowing the camera to focus on specific objects and add a seamless bokeh effect while recording video. The 13 Pro has an improved screen with a more adaptive and responsive refresh rate; instead of staying at a constant 60Hz, the new refresh rates vary from 10Hz all the way up to 120Hz.