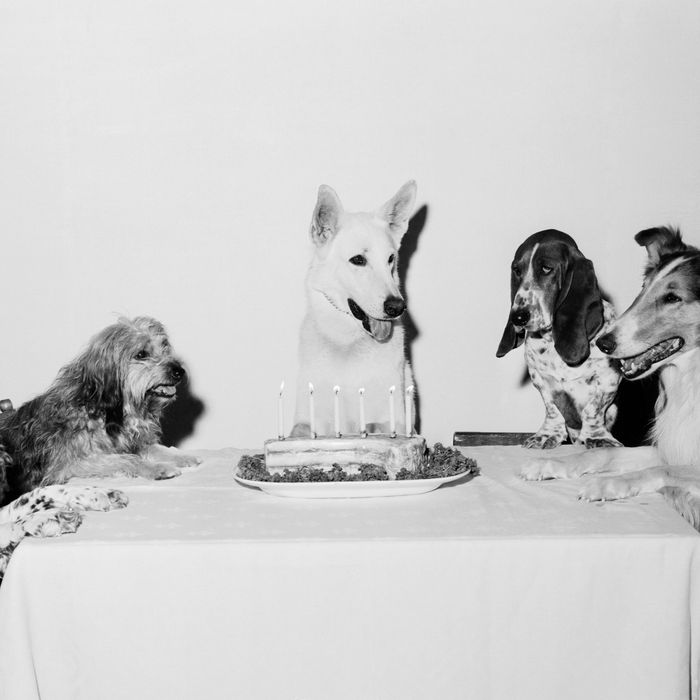 Photo: Bettmann/Getty/Bettmann Archive
Birthday gifts for friends tend to be some of the most fun to give — you (hopefully, at the very least) know their interests, which shrinks the pool significantly. That said: it can still be a challenge to find something that they don't already own. Perhaps your friend loves gardening, but they already have the watering can and shears — what then? Or maybe they've gotten into virtual workouts and already have all of the necessary dumbbells and mats — how to find something delightfully unexpected? To help you find the ideal birthday gift for your friend, we've rounded up some favorite products we've written about, and have also surfaced some new ones — read on for worthy presents for pals of all kinds, from the one who just got into gardening, to the one who finds cleaning "meditative."
For the friend who frequents the farmer's market
If your friend's idea of a Saturday morning well-spent is perusing the stands at a farmer's market, gift them this spacious canvas tote, which has deep compartments to keep their dinosaur kale, heirloom carrots, and farm-fresh celery organized and secure.
For the friend planning a birthday picnic
When we checked in with picnic experts about their go-to supplies for a day in the park, they agreed that when it comes to a picnic blanket, the bigger the better. One recommended this waterproof number, which will keep picnic guests comfortable and dry, while providing ample room to spread out, thanks to its generous 60" by 78" dimensions.
For the friend who's sworn off shoes with laces
If your friend has whole-heartedly embraced the slides movement, you can't go wrong by giving a pair of the most classic lace-free shoes of all time: Birkenstock Boston clogs. They were a favorite of our panel of stylish slides lovers, too: Justin Berkowitz, Men's Fashion Director at Bloomingdale's, called them "quite possibly the most comfortable and versatile shoes I own."
For the friend who's getting into gardening
Watering cans, shears, gardening clogs — the list of worthy gifts for gardeners is long. But you can't plant a garden without some seeds, and we love the idea of giving a mix of packets that will grow into a lovely bouquet. Better yet, these seeds grow into flowers that we've heard make excellent options for flower pressing.
For the friend who'd rather just buy flowers
If they're more inclined to pick up some cut stems at the bodega, gift them this subtly festive vase, which would go with interiors minimal and maximal alike. Bonus points if you present it with some flowers.
For the friend with a perfectly-appointed desk
Your friend might be spending a bit more time at their desk at home these days, which means it might be time to upgrade the desk lamp they've had since college. Gift them this one simple yet stylish one, which Shannon Retseck, the founder of textile and home-goods line Cuttalossa, told us she loves for its "fun hue [that] brings a pop of color to the office, which can often be a sterile space."
For the friend who could use a good night's sleep
Most people could use some extra sleep these days, and if your friend has been tossing and turning, they'll appreciate this blackout sleep eye mask, which kept Strategist writer Rio Viera-Newton asleep until noon on a Saturday.
For the friend taking Zoom calls from the beach
If your friend is spending every weekend in the Rockaways, gift them this coffee-table book with gorgeous aerial shots of beachgoers — come the fall, the beachy shots will provide some welcome escapism.
For the friend who's having a beach birthday party
Cheerful cabana stripes are especially festive, and if your friend is opting for an outdoor bash on the beach, they'll be grateful to have a few extra towels where guests can spread out.
For the friend who's obsessed with corn hole
For the friend who is always trying to get you to play corn hole (everyone has such a friend), mix it up with this ring toss inflatable "Cactoss," which has a similar game concept (toss something into a designated landing spot) and can be used both on land and in a pool.
For the friend who takes grooming seriously
File this one under least expensive gifts from the most expensive brands: Your well-groomed friend will appreciate the Mason Pearson name, and this pocket comb will look as handsome on their bathroom counter, as it will be practical for taking on the go.
For the friend who's nostalgic for arcades
Give them a retro-inspired handheld Pac-Man that will give them ours of phone-free gaming entertainment.