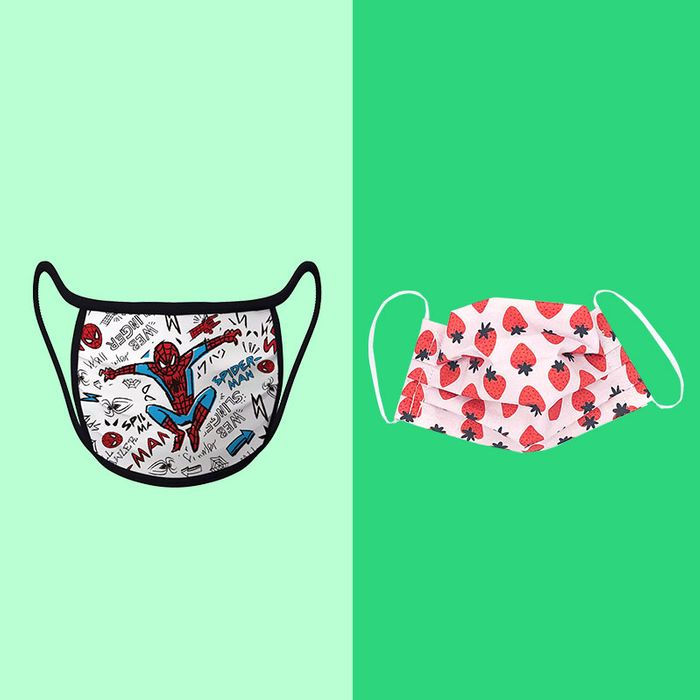 In light of the Omicron variant and at the urging of public-health experts, the CDC has updated its mask guidelines. The agency's new standards stress that fabric masks are the least protective against COVID-19, whereas well-fitting N95, KN95, and KF94 masks — which use special nonwoven materials with an electric charge to block tiny aerosol particles — do a much better job of stopping the virus's spread. Of course, any mask is better than no mask, but since this article was last updated in October 2021, we've talked to doctors, scientists, and public-health experts to help you find the best and most protective of the bunch. So whether you're looking for a comfortable N95 you can wear on a plane, a child-size KF94, KN95 masks your teenager can wear to school, or advice on double masking, we can help.
The CDC has always recommended that all children over 2 years old wear a mask, either when inside or when social distancing isn't possible. With the school year under way, those guidelines were recently updated to recommend that all students, teachers, staff, and visitors wear face masks in K-12 schools this year, regardless of vaccination status, so investing in a good mask is now crucial for little ones. In lots of ways, kids' face masks should follow the same guidelines about fit and fabric quality as masks for adults: They should be made of at least two layers of breathable fabric and should fit securely, covering the nose and mouth completely without causing discomfort. We also know that having metal in the nose bridge and adjustable ear straps make for a tighter, more comfortable fit. But kids can be a particular type of picky.
So even though we've already pulled together a comprehensive list of face masks for kids, we turned to the real experts — parents — to find out the masks their children willingly put on their faces. And after talking with 21 parents of kids ranging in age from 2 to 11, we found that the masks kids are most excited to wear often have bright colors or a fun pattern. In other words, it's something that kids actually like to look at. But they also need to be safe and fit well, which is where the parents' experience comes into play. With all that in mind, here are 19 face masks for kids that are approved by both parents and the kids themselves.
Best overall kids' face masks
If the clog is the status-y shoe of the Park Slope mom, the face masks from Ottotto are the status-y masks for their kids. Several people from the Park Slope Parents group we spoke to recommended these masks, including Sarah Wallace, who says her 4-year-old daughter owns three of these masks and "literally looks forward to putting them on," perhaps the highest praise anyone can give a face mask. They're created by a mom from Park Slope named Reina Nishida, who pivoted her embroidery business to mask-making when the pandemic hit, and she takes orders through her Etsy shop, including customized designs. Jessica Kausman got a custom mask for her My Little Pony–obsessed 4-year-old daughter: "I emailed her and I said, 'Could you source the fabric?,' and so we picked the fabric together and she made my daughter her favorite My Little Pony mask." And not only does Kausman's daughter like the design, it fits well: "She doesn't mess around with the ears, it covers her face perfectly, and she can pull it down when she needs to and it doesn't fall off." Ben Epstein's 5 and 9-year-old daughters also liked the personalization, but he says, "On top of being incredibly well made, they have nose bridges for a proper fit that stays over the nose and adjustable elastic bands." These masks also have a filter pocket for added protection.
Photo: retailer
"This is the most popular mask in all the New York City mom groups," Miraim Cohen, founder of the blog The Very Best Baby Stuff, says. "People rave about it." It was too small for her 5-year-old son, but it works for her 2-year-old daughter who typically refuses to wear a mask. "Usually when I mention masks, she says, 'It hurts me,' which it doesn't, she doesn't like the idea of her face being covered and you can't blame her," Cohen says. She had no choice on a recent paddle-boating trip but to wear a mask, and with the Joah Love everything went smoothly. "She wore it for a few minutes and then she wore it again when it was time to get off, and she ended up not even taking it off." Nina Pearlman, a member of Park Slope Parents, likes these for her 5-year-old too, saying they are comfortable and lightweight. "We were just in the park for like five hours, and it's like he doesn't even notice they are on." She particularly likes that they have the adjustable ear straps "so that you can make sure they fit really snugly." The adjustable straps also mean no ear-pinching, which is crucial for Roberta Correia's 5-year-old son because that "drives him nuts." Correia, who is the editor-in-chief of The Everymom, also likes that these masks don't shrink in the wash and come in many different styles and patterns. She adds that the adjustability not only helps with fit and comfort but is also great for growing kids. She says, "I haven't had to buy new ones because they are truly expandable."
Best (less expensive) kids' face mask
Many parents we spoke to have had some encounter with these masks from Target. Brent Hernandez, the director of student services in the School of Architecture, Planning & Preservation at the University of Maryland, and father to a 5-year-old daughter, likes how it is specifically made to fit a kid's face, so there aren't any gaps, and it comes with a pocket for filters. Bari Kartowski, a member of Park Slope Parents, says her 11-year-old is a fan. "He did two weeks of seven-hour-long outdoor masked camp in them without complaint," she says.
As far as mask bells and whistles go, these have metal in the nose bridge for a more contoured fit and it has a pocket for a filter. The only thing this doesn't have is adjustable ear straps, but to get around that, Tova Halpern, the CEO of Fresh Theatre Arts and mom of three, purchased her own cord toggles to help get a perfect fit on her small, 6-year-old son's face. This two-pack also happens to be the least expensive of the masks on this list, which was a selling point for Torrina Bennett-Michael, mom to a 7 and 9-year-old in New Jersey, who says her kids seem to lose their masks from time to time so she appreciates that these are affordable if they need to be replaced.
Best basic kids' mask
These masks don't have adjustable ear straps or metal in the nose bridge, but according to Cohen, she says these fit her five-year-old son perfectly. "My 5-and-a-half year old can wear his mask for long periods, even on a hot day, without fussing with it or complaining," she says. "It doesn't bother him at all, which is great because for school, unless they're eating they have to wear the mask 100 percent of the time." She also feels safe with him wearing them as they have two layers of fabric and come with a pocket for a filter, which is important, but it helps that her son is super excited about the panda print.
Best plain kids' face mask
GoodDayMasks is another popular Etsy find. Author and mom of two Kelsey Osgood is one fan. While some parents' approach is to go for fun, decorative masks with their kid's favorite character on them in order to get them to wear one, Osgood is thinking one step ahead and trying to avoid a meltdown when her kids' favorite masks inevitable go missing by sticking to plain ones. "Before they went back to school in September, I got a bunch of monochromatic GoodDay ones on Etsy," she says. "Stylistically, they go with everything, they're comfortable, and, because they're two layers of simple cotton, they are really easy to clean." Another parent told us "they're soft, [a] nice fit, and have a neat little flag tag detail on the front" — but not a big enough one for your kid to get too attached.
Best themed kids' face mask or best character kids' face mask
If you have the opposite problem and need to sweeten the deal to get your kid to wear a mask, going the patterned route might actually help. "Adding characters always helps seal the deal with my son, and he's deep in an Avengers and Spider-Man phase now," says Correia. "These masks are comfy and light enough for him to wear all day at school." In this set of four, they'll be able to rotate between a Captain America shield mask, a polka-dot design featuring Marvel-character symbols, a Spider-Man mask, and a Marvel Universe comic-montage mask.
Best set of kids' face masks
We've previously recommended these face masks for kids, and it turns out they are a hit among parents too. Erin Bakst, the senior vice-president of people and culture at Vox Media, says they're a hit with her 3-year-old, because "they tend not to get up into the kiddo's eyes." She adds, "They're bright, the cut is good, and the ear loops are adjustable. They're my favorite." Jason Ormand, a senior engineer on the developer experience team at Vox, who has a 4-year-old son, likes the fit, too. "Kids have no patience so the simple loops on the Crayola masks makes it very quick and easy to put them on." Plus, "The Crayola masks also have a wire in the nose bridge portion of the mask so you can get a better fit," but he notes the fit isn't 100 percent perfect. "I do not like how short the Crayola masks are," he says. "As my child talks, his chin ends up pushing the mask down over a relatively short time."
One thing these masks do have going for them is that they come in a set of five, designed to carry your kid through a week of school. They could wear a different mask every day, and bring them home to wash on the weekends.
Best designer kids' face masks
"This is the bougiest recommendation ever but Lele Sadoughi's are the best," says Abigail Aronofsky, the director of brand strategy at Vox Media. Lele Sadoughi started making face masks for adults and kids with a two-layer design with contour fit, adjustable elastic ear straps and an opening for a filter pocket, and for Aronofsky's 5-year-old daughter, who "has a pretty small face," these fit without much adjustment. "According to her (she is 5 so take with a grain of salt) they are the most comfortable masks, and she loves the heart details," says Aronofsky. But she does say that they hold up well when you machine-wash them in a lingerie bag.
[Editor's note: The heart-pattern mask Aronofsky references is no longer available, but the tartan and floral pattern above are in stock.]
Best kids' face mask with a vent and filters
This ended up being Vox Media employee Heather Savatta's kid's Goldilock mask. Her 5-almost-6-year-old daughter says the mask is comfortable, cute, and easy to keep on during the day. Better yet, "She likes most that she feels like her breath doesn't get too hot in it," Savatta says. "She has had this hot breath problem in other masks." When it comes to what really matters, mom likes the adjustable ear loops for a tight fit and that it has a vent. Not only does it have an insert for filters, it also comes with a set of ten filters.
Best three-layer kids' mask
Photo: retailer
Gap makes a few different styles of masks, but freelance writer and Strategist contributor Natalie Toren is particularly keen on the contoured masks, as she finds them to be "really durable quality and very easy to hand-wash." She adds, "The plastic pieces that adjust the length on the sides don't break like some other kids' masks I've bought with rubber coils — from brands I've wanted to love." There is also a sturdy wire in the nose bridge and a pocket for a filter, but this mask is already made with three layers of cotton, while most on this list have just two. Toren warns that the contoured masks sell out quickly (this is the only print currently in stock): "So, basically, I check back in with the site every month or two to put in an order for masks and throw in some GapKids socks as well."
Best kids' face mask for really little kids
Photo: retailer
If you have a tiny toddler with tiny ears, Jessica Kurtz, another mom in Park Slope, Brooklyn, says this mask will fit. Her daughter is 2.5 years old and she says, "It was hard to get masks to stay put over my toddler's tiny ears but these ear loops are adjustable and I actually don't use the loops at all, I just tie the long string around the back of her head like a Halloween mask." The kids' masks now come in small and large sizes if you're looking for something for your older kids as well.
Best kids' face mask for kids with glasses
A big hurdle for both mask-wearers and glasses-wearers has been finding a mask that doesn't fog up your glasses, and Kartowski says this Rafi Nova mask has worked for her glassed-up, masked-up 7-year-old. Not only is there fogging to worry about there is a "ear-crowding issue" with the mask straps and glasses handle. But she says they come in multiple sizes — extra small to extra large — so you can get the right fit. "Plus, even then it's adjustable," she says. As far as the no fogging, she chalks that up to the fabric. "The fabric is a bit stiff so it creates a pocket to breathe into (vs getting sucked into your mouth) and then the nose piece is sturdy and it is wrapped in the lining they use for the ear strap, so maybe less air gets through that way," she says.
Best kids' mask for kids who can't hear
This is another Rafi Nova mask that was recommended to Cohen, by a mom with a deaf child. "She was really freaked out about her child having to be in a room with a teacher wearing a mask all day," Cohen said, so she recommended this mask with a clear panel over the mouth. "Initially, she told me that it's a great concept, but they fog. Now people are saying if you wash them with dawn soap, or anti-fog glasses spray, they don't fog."
Best mom-and-me kids' masks
Photo: retailer
If you're dealing with a kid who can't quite grasp why we need to wear masks, you have to get creative. "At the beginning of the city shutdown, I bought a couple of disposable masks, but my 2.5-year-old wasn't convinced, saying her mouth wasn't cold and therefore she didn't need to cover it," says Park Slope mom Amy Cao, so she knew she had to make it look fun. "Ultimately I decided to throw money at Ele Story because … Unicorns! Rainbows! Prints to tempt a child. Also, they make them in matching kid and adult versions, another strategy to convince a skeptical toddler that masks are for protection from germs. Not for keeping our mouths warm."
Best kid's face mask with strong elastic ear loops
If your child is just of mask-wearing age, which is 2 years old and up, Vox Media employee Dayna Hall Carter says this mask is more comfortable than any other masks she has tried to put on her 2-year-old son. She especially likes the adjustable ear straps and the nose bridge, which she thinks helps it stay up on little faces better. "I've noticed the kids in the class who don't have the nose bridge, their teachers are constantly helping them readjust and put it back into place. That can't be good, so I like that his stays in place when they have to wear them," Hall Carter says. She also finds that the elastic is sturdy: "I've seen him tug on it hard trying to get his down [from the hook]" and they have held up so far.
Best kids' face mask from a Black-owned business
Christine Michel Carter, the author of Can Mommy Go to Work? and Mom AF, is relying on disposable masks that her 9-year-old daughter and 5-year-old son decorate so they can best represent themselves, but when it's time to really invest, she plans on turning to Blended Designs. "It's very important for me to not only support Black businesses but to make sure that the products that my kids interact with reflect them," she says. "And we have already been a customer of Blended Design because they had backpacks that featured Black boys and girls on the back of them. They have face masks now that feature Black boys and girls." An order of this mask comes with two filters already included.
Best disposable kids' face masks
Reusable masks are more sustainable, but disposable masks can really come in handy as a backup. "I keep one box of individually wrapped disposable kids' masks by the door that I throw in a purse or keep in my daughter's backpack — I know it will always be clean and there in a pinch," says Toren. Another parent at school recommended these. They not only feature fun prints for kids, but they offer five layers of protection and have an adjustable nose bridge and ear loops so they can fit a variety of small faces.
This mask is a much better deal. You get more than triple the mask count and four different designs for less money. Correia began buying these after her son's preschool started stocking them. "We found them to be so comfortable and light enough that he managed to wear them all day," she says. "For the start of this school year, we bought a stash to keep at home, and that way he can always have extras in his backpack if he gets the reusable one dirty." These only have three layers of protection compared to the above five and don't have adjustable ear loops, but if the mustache print delights your little one as much as it does Correia's son, then maybe they'll actually keep it on, which makes it a winner.
Best kids' face shield
Hernandez is serious about face masks. He himself wears two masks and face shield in public, and holds his 5-year-old daughter to a similar standard. "We try to avoid crowds, honestly, but if we're ever in a place where we're inside, and near other people, that's where we use the cloth masks with adjustable straps, the filters on the inside, and the plastic face guard." This shield comes with added sun protection as it is attached to a baby bucket hat, which Hernandez said has come in handy for trips to the zoo and outdoor playdates.
The Strategist is designed to surface the most useful, expert recommendations for things to buy across the vast e-commerce landscape. Some of our latest conquests include the best acne treatments, rolling luggage, pillows for side sleepers, natural anxiety remedies, and bath towels. We update links when possible, but note that deals can expire and all prices are subject to change.