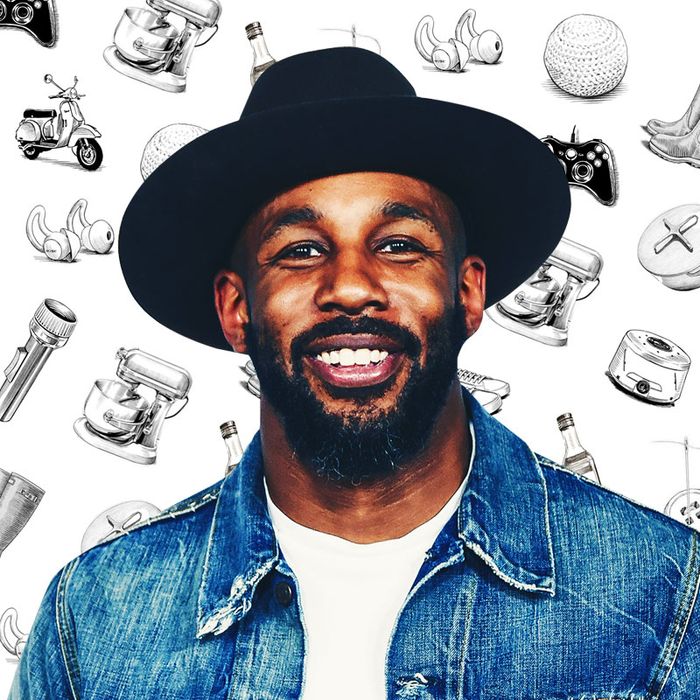 Photo: Getty Images / Presley Ann / Stringer
If you're like us, you've probably wondered what famous people add to their carts. Not the JAR brooch and Louis XV chair but the hand sanitizer and electric toothbrush. We spoke with dancer Stephen "tWitch" Boss — who recently partnered with Mucinex to choreograph a dance for its #BeatTheZombieFunk TikTok challenge — about the sneakers, hat, and candy he can't live without.
Every street dancer has their shoes; krumpers, for example, prefer a much heavier shoe, like a combat boot or Timberlands, because it grounds them. Other dancers in the style of the Kinjaz are really into Flyknit shoes, like Yeezys, because those allow their footwork to be incredibly fast since they're so light. Personally, I like a mid-weight shoe. Air Jordan 1s were basically the first stylish street sneaker, and now they're a classic. I have about 20-something different Jordans — and probably 200 pairs of sneakers total. There are a lot I haven't worn yet because I'm keeping them on ice for a special moment, or to pass on to my son when he's of age. I'm praying he has a size-13 foot. My wife and I were recently battling because I was telling her that she definitely has more in the closet than I do, and she was like, "Well, what about the ones you have in storage?" And I was like, "Oh, yeah. You might be right."
To me, this is more preferable than coffee. A lot of people say they get jittery on it, but I don't. I just feel incredibly alert. I can drink one, and I'm good for the day — I don't have to keep refueling, whereas with coffee, I definitely have to. I take it on the weekend if I'm teaching dance all day, and during the week if I have an early-morning call time.
Even if no one can see them, wearing cool socks completes my look, especially when I'm dancing. My favorite pair are these Stance Wu-Tang socks in the classic black and yellow. Sometimes I'm the only one that knows that I have them on, but they give me a little extra confidence — like, I've got these dope socks on, I'm ready to go. I've been wearing them for about six years now. They are actually really great, quality socks.
I started with Stance socks six years ago and am still wearing them, so I had to get some of its underwear. At first I was like, Wait a minute — this is a sock company. Will the underwear be any good? Listen: It is like the greatest underwear that I've ever worn. I sound like a commercial, but I promise you, this is coming from the heart. It's just so cool how Stance takes the time to design it — there are very few others flexing creation on men's underwear. I wear festive pairs every day, but no one knows; the only person really seeing the designs besides me is my wife. But like my socks, the underwear is just for me. It's a subconscious thing that makes me happy.