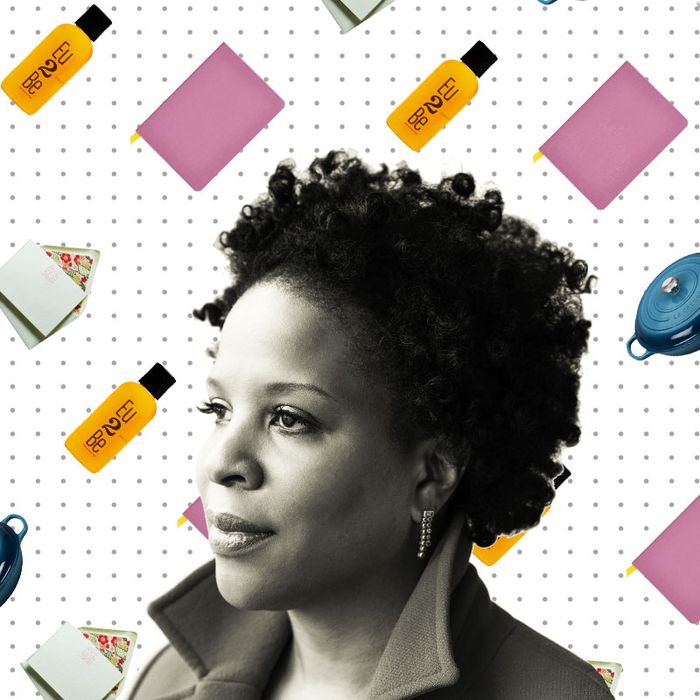 If you're like us, you've probably wondered what famous people add to their carts. Not the JAR brooch and Louis XV chair, but the hand sanitizer and the electric toothbrush. We asked Tayari Jones, author of the New York Times best-selling novel An American Marriage, about the notebook, body oil, and braiser she can't live without.
I have this in several colors. It's a very sleek clutch bag that charges your phone. I charge it at night and I just put it in my tote bag or backpack or, if I'm going to something a little fancier, I use it as a purse. It's so undignified having to charge your phone in a wall in public. More than once, this purse has saved my dignity. It's the best thing.
I believe I can cook an entire Thanksgiving in this one dish. It's good for everything. You can cook in it, you can bake in it. You can do everything from scramble an egg in it to cook paella. It's easy to clean and naturally nonstick. I use it every day. The people from Food and Wine magazine wanted to cook with me in my home and they had ordered a special pan to cook in, but it didn't arrive and and they were like "how are we going to make the pineapple cornmeal upside-down cake?" And I said "we can use my Le Creuset braiser." They were skeptical but it came out like a dream.
I write on typewriters and I also write in pencil. I use a wooden pencil and I like it very, very sharp and crisp. I like to hear it scratch the paper. With this pencil sharpener, every time you get a perfect point. I use pencils because I like to erase and it also helps me get in touch with the very young person I was when I started writing. When I was a kid, children wrote in pencil and adults wrote in pen. When I write, it's very important that I'm able to access the pleasure and joy of it.
Don't sleep on the laundry soap. It may only cost $2 but it will change your travel life. I spend my whole life on planes these days, and sometimes you need to wash clothing when you're in a hotel. You don't want to travel with liquid because it spills and that's a catastrophe. I always have this little bar in the bottom of my suitcase and I wash my clothes with it. I cannot endorse this enough. I don't know why everyone doesn't use it