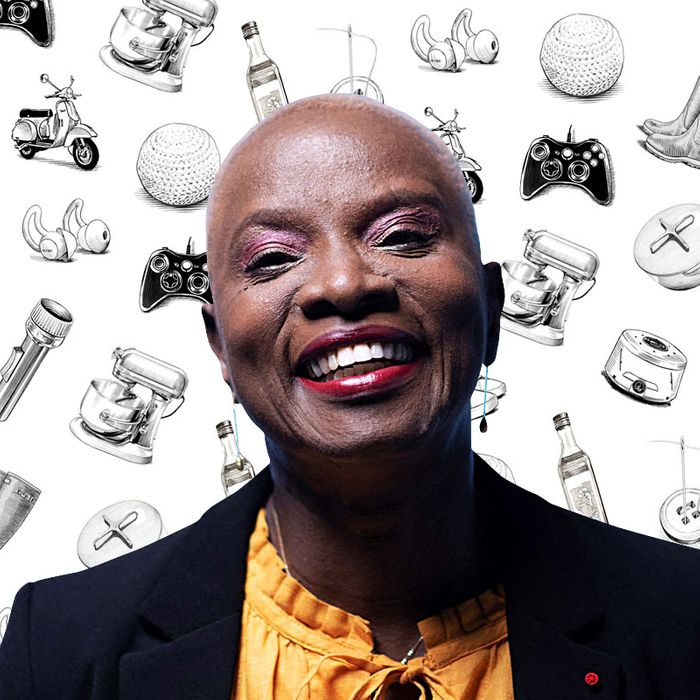 Photo-Illustration: The Strategist. Photo: Olivier Morin/Getty Images
If you're like us, you've probably wondered what famous people add to their carts. Not the JAR brooch and Louis XV chair but the hair spray and the electric toothbrush. We asked musician Angélique Kidjo — a four-time Grammy winner who recently released her newest album, Mother Nature — about the perfume, olive oil, and conditioner she can't live without.
Growing up in Benin, I had very long hair because my mom was the one that would take care of it. When I would tell her it was too much, she would tell me to shut up. My mom used shea butter to nurture our scalps and make sure our hair was strong. She would put it all over our scalps and then wrap our heads in a very hot towel and let it sit for a while. The shea butter really sinks into your pores that way — I never had dandruff or breakage. When I arrived in France as a student, I didn't have the time or interest to take care of my natural hair, so I cut it off. I started using Aveda then because it's very natural and has lots of herbs in it. They were one of the first brands to release hair products with essential oils. This conditioner is really good for scalps and hair. It smells good, too. I've been coloring my hair for 20 or 25 years, too, and have used this throughout.
I make bread for my husband and me every two days. We sit down and share bread every time people come over. I make mine with spelt flour, which has fiber in it. Because I make bread every two days, I prefer to use this machine. I'll do the whole oven thing when I have time, but the bread maker is much easier. I can go to the studio to record something or run errands and the bread will be done by the time I come back. I just have to push a button and this makes perfect loaves. You just let it be, and all of a sudden you have great bread.
The funny thing about this perfume is that I found it by accident. I have always had problems finding perfume — a lot of times I'll buy some, then after a month or two, I can't stand the smell. I was going to stop wearing it because nothing ever felt right. Somebody gave me a sample of Timbuktu at an event and from that moment I knew that was it. I never get tired of this. I put it on in the morning and it stays with me all day. People in New York, Europe, and Australia have stopped and asked me what the scent is. Some actually have taken out pieces of paper and written the name down. It has a mixture of spice and floral scents that really works for me. I don't have to look up the notes — I know what's in it as soon as I smell it.
Editor's note: Premiere Avenue lists all prices in euros, so the price shown is an approximate conversion in U.S. dollars.
Every time I make a tomato-mozzarella salad — which is very, very often — I use this. The flavor is incredible. I've been using this olive oil for at least ten years. It was very hard to find for a while. But when my daughter went to Yale, a store near the university had it and I bought tons there. I can find it more easily now, but I still buy a dozen bottles at a time. The bottles are small, and I go through them very quickly.
People think that Black skin has one undertone, they don't understand that we have a huge range. When looking for makeup, the undertone of our skin is as important to us as it is to those with other skin tones. I always had a hard time finding a good foundation. When I told Iman about my difficulty finding products that work for my skin, she suggested I try this. At the time, I was using a MAC foundation that I had been wearing for a while, but this formula is so well-designed. I've been buying it ever since. There's a shade for every type of undertone in Black skin. I barely have to put a powder on this when I apply — I can even sweat and it stays put.
I use turmeric every opportunity I can because it's really good for your joints. It has always been a staple. My mom always used it, too. I particularly love using it in tomato sauces. My favorite turmeric is from Spices and Tease. When I'm in New York City, I will go to one of their stores just to get the turmeric, and I always buy much more than I plan to. I'm constantly discovering stuff at Spices and Tease. I'll just pick something up and say, "Oh, this smells good. What is it?"
I was at an airport once and saw a Met store there. I was like, "What is the Met doing at the airport?" I walked in to check it out and there was all of this jewelry. Everything looked so elegant and beautiful. I found myself looking at the prices and, compared to the cost of other jewelry, I thought they were a win. These earrings add something to my stage outfits without being tacky. They look very regal. I never buy something to wear once. If I spend money on something, I want to wear it again and again — even if it goes out of fashion. The lapis stone is one of my favorite colors. I love a sharp blue. It complements my skin tone and is as efficient as the color black but adds a pop to whatever you're wearing. The earrings aren't too heavy, either. If you wear heavy earrings onstage and move around, you can break a tooth if one hits your face. So I pick statement pieces that are lightweight.
The sound from vinyl can't be replicated. I don't care what other people say: The warmth and crispness you get from vinyl is unlike anything you can get from Spotify. Everything from Stevie Wonder to Bob Marley to Miles Davis to James Brown to Tony Allen sounds better on vinyl. There's a certain magic to it. This is a beautiful turntable — it sits in my living room and gives a wonderful sound. After Ziggy Marley and I did a song together for his children's album, he sent it to me as a gift. I was talking about buying a new turntable at the time that it showed up. I was like, "Thank you, Ziggy!"
The Strategist is designed to surface the most useful, expert recommendations for things to buy across the vast e-commerce landscape. Some of our latest conquests include the best acne treatments, rolling luggage, pillows for side sleepers, natural anxiety remedies, and bath towels. We update links when possible, but note that deals can expire and all prices are subject to change.