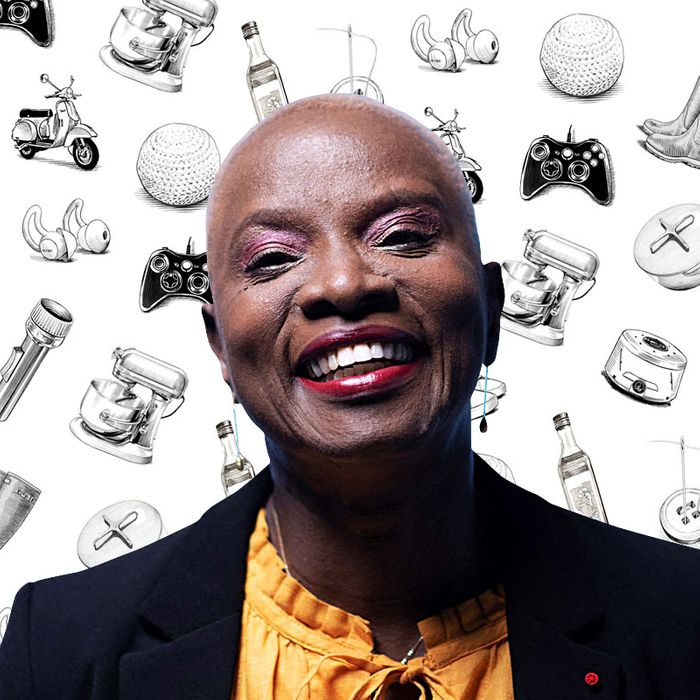 Photo-Illustration: The Strategist. Photo: Olivier Morin/Getty Images
If you're like us, you've probably wondered what famous people add to their carts. Not the JAR brooch and Louis XV chair but the hair spray and the electric toothbrush. We asked musician Angélique Kidjo — a four-time Grammy winner who recently released her newest album, Mother Nature — about the perfume, olive oil, and conditioner she can't live without.
Growing up in Benin, I had very long hair because my mom was the one that would take care of it. When I would tell her it was too much, she would tell me to shut up. My mom used shea butter to nurture our scalps and make sure our hair was strong. She would put it all over our scalps and then wrap our heads in a very hot towel and let it sit for a while. The shea butter really sinks into your pores that way — I never had dandruff or breakage. When I arrived in France as a student, I didn't have the time or interest to take care of my natural hair, so I cut it off. I started using Aveda then because it's very natural and has lots of herbs in it. They were one of the first brands to release hair products with essential oils. This conditioner is really good for scalps and hair. It smells good, too. I've been coloring my hair for 20 or 25 years, too, and have used this throughout.
I make bread for my husband and me every two days. We sit down and share bread every time people come over. I make mine with spelt flour, which has fiber in it. Because I make bread every two days, I prefer to use this machine. I'll do the whole oven thing when I have time, but the bread maker is much easier. I can go to the studio to record something or run errands and the bread will be done by the time I come back. I just have to push a button and this makes perfect loaves. You just let it be, and all of a sudden you have great bread.
The funny thing about this perfume is that I found it by accident. I have always had problems finding perfume — a lot of times I'll buy some, then after a month or two, I can't stand the smell. I was going to stop wearing it because nothing ever felt right. Somebody gave me a sample of Timbuktu at an event and from that moment I knew that was it. I never get tired of this. I put it on in the morning and it stays with me all day. People in New York, Europe, and Australia have stopped and asked me what the scent is. Some actually have taken out pieces of paper and written the name down. It has a mixture of spice and floral scents that really works for me. I don't have to look up the notes — I know what's in it as soon as I smell it.
Editor's note: Premiere Avenue lists all prices in euros, so the price shown is an approximate conversion in U.S. dollars.