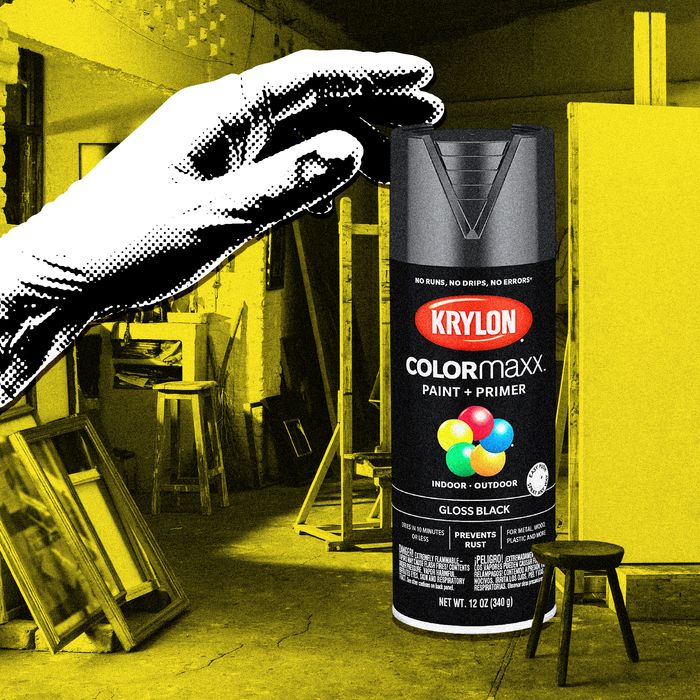 Photo-Illustration: Stategist; Photos: Krylon, Getty
Assistant is a bit of a catchall term. Sure, assistants schedule meetings, take notes, and retrieve coffee, but they can also act as a quasi-concierge, sending fruit baskets to top clients and buying gifts for partners. In an effort to unearth the highly specific material needs of powerful people, we sat down with Alex, who's been the personal assistant to New York City–based oil painter Jimmy Wright for the past year. We spoke to him about the tarps and packing tape his boss "can be a bit of a diva" about, the yogurt they eat while having heart-to-hearts, and the spray paint Wright used to do an enigmatic coverup job on some graffiti.
Art Supplies
Alex got his first-ever personal-assistant position with Wright after a friend sent him the job posting. "I don't know why he thought I'd be good at it," he says. At the interview, Wright asked if he had Photoshop or art-handling experience; Alex hadn't used Photoshop before but had begun working at Shelter Gallery a week before. "He stared at me with this ten-yard stare, and said, 'Well, I've never had a straight assistant before, but I'll give it a try.'" (Later, Alex learned he had been hired because Wright's gallerist David Fierman had approved of Alex when Wright mentioned him in a conversation. "I don't fully understand that because I hadn't met David at the time," Alex says.)
From there, Alex became Wright's eyes and hands. Wright is 79 years old, so a lot of what Alex does is manual labor, like handling some of the 1,500 to 2,000 pieces of artwork, which can be as large as six feet by six feet, that Wright has in his studio. "It's not something an elderly man can just lift up and drag across a room and place somewhere," he says.
Alex has assisted Wright with six shows, some of which were in New York, Chicago, and Vienna. "I'm essentially an art handler with no art-handling experience," Alex says. "Jimmy makes fun of me and says I don't have the finesse for it, but I think he's still satisfied with the effort I put in." Ahead of sending out paintings for showings, Alex goes to a supply store in Wright's neighborhood and gets large, clear tarps and packaging tape for wrapping so the artworks won't rub against each other and become damaged. Wright oversees the process and is particular with how he wants his art packaged and placed. "He can be a bit of a diva, but he's never rude to me," Alex says, adding that often, Wright tells him which pieces should and shouldn't lie on top of each other. "It's somewhat arbitrary, but he has a plan."
In a corner of his office, Wright keeps a stack of around 50 books and magazines he or his artwork have been featured in, ranging from '80s BOMBs to more recent New Yorker and Artforum clips. In preparation for a show in Vienna, Wright needed the October 1997 issue of Architectural Digest featuring a home with one of his flower paintings on display. He and Alex searched for almost an hour before Alex finally suggested he buy one off eBay, where he was able to find tons of copies for less than $10. He purchased it immediately, and it arrived in days.
Wright had Alex upgrade his bare-bones art-inventory filing system to this cloud-based monthly subscription service so "curators would be able to access his work without having to sit in front of his Mac in his apartment," Alex says. Most of what's in the Artwork Archive is Wright's art from the '70s to '90s, but some date back to 1959, during his art-school days. Alex inputs the metadata for each piece — dimensions, dates, and other info — and helps Wright put together online viewing rooms for curators as they did for the Vienna show. "I don't offer feedback," Alex says of the process, during which he clicks through files as Wright directs. "Very occasionally, I'll say, 'No, I really like this one.' But only if he says he doesn't like something." Jimmy's often hard on himself "for comic effect," Alex says. "He'll say, 'Ah, this one should be burned.' And I'll say, 'Oh come on, Jimmy. Stop being so dramatic.'"
Personal Items
"Jimmy has a list of important to inane things that he needs me to do," Alex says. "It can be anything from putting together a list of available artworks for a show to his clock not working and he needs me to set the time right." Alex frequents Iconic Magazines for Wright's usual sausage, egg, and cheese (and the occasional Apartamento issue), picks up home supplies for Wright's building near the Bowery (which houses his living space, studio, and rental property), and assists with other tasks like organizing his closet, moving furniture, and replacing household appliances.
Alex buys Wright's usual lunch — a slice of pepperoni pizza — at Whole Foods, along with his longtime favorite yogurt: Brown Cow With Cherry. (He enjoys the cream top the most, Alex says.) Occasionally, around 4 p.m., they'll snack on Brown Cows together, during which they talk about life updates. (Alex says the phrase, "I'm getting peckish" is his signal for a yogurt break.) "Our most intimate moments usually occur around the Brown Cow yogurts," he says. "Sometimes I'll remind him if we're talking too long, 'You know you're paying me for this.' And he'll say, 'Well, you're cheaper than my therapist.'"
Wright doesn't often send gifts but will sometimes give his own paintings to friends and colleagues. The one occasion Alex has purchased a present on behalf of Wright was for his gallerist: While Wright was reading the fall 2022 issue of Apartamento, he spotted his own art — a piece that was part of a series he did in the '70s on the gay club scene in New York — in Mel Ottenberg's home. Wright wanted to send a copy as a thank-you to Fierman, who sold the work to the Interview magazine editor-in-chief. Alex picked up the issue from Iconic Magazines and sent it out that same day.
Alex had to replace Wright's nine-year-old Miele vacuum, which stopped working recently. After doing a quick Google search, Alex learned there was a circuit-board issue and found a servicing shop recommended by the brand. After schlepping the vacuum in a Trader Joe's bag to the Upper East Side, Alex was told by a store associate they could fix the vacuum for $350 or offer a new one for $800. Wright agreed to a trade-in but wanted Alex to bring the new model back that afternoon instead of having it shipped. "I had to then take it on two subways with a transfer, holding it by the box's handle," Alex says. "By the end of the trip, my hand was so arthritic because it was so gripped in this very tight holding position. I was kind of miffed."
Wright's apartment has a staircase near the entrance that Alex says can be difficult to navigate. "I've been walking down it holding heavy things before, and it's easy to miss a stair," he says. To improve the lighting, Wright described the effect he was going for — a warm tone rather than cool — as Alex jotted down his preferred wattage and colors. He then asked a KC Electric Hardware Corp employee for a recommendation. "I was afraid Jimmy was going to say they were too bright or not the right wattage, but he hasn't complained about them yet," Alex says.
Although Wright's apartment is located near a popular spot for graffiti writers, Alex says they're typically respectful of his property and only paint on the brick walls — but there was one instance recently where his door was tagged. Wright tasked Alex with picking up a can of black spray paint to match the color of the door, and he painted over the tags himself. One of them, which read "Mail Slot," was untouched. "Why he left it, I don't know, but he spray-painted over everything else," Alex says.
Want to be featured in Assistant Files? If you've been an assistant in the past three years and want to tell us about your boss's shopping habits (anonymously or not), email strategist@nymag.com with "Assistant Files" in the subject line.
The Strategist is designed to surface the most useful, expert recommendations for things to buy across the vast e-commerce landscape. Some of our latest conquests include the best acne treatments, rolling luggage, pillows for side sleepers, natural anxiety remedies, and bath towels. We update links when possible, but note that deals can expire and all prices are subject to change.