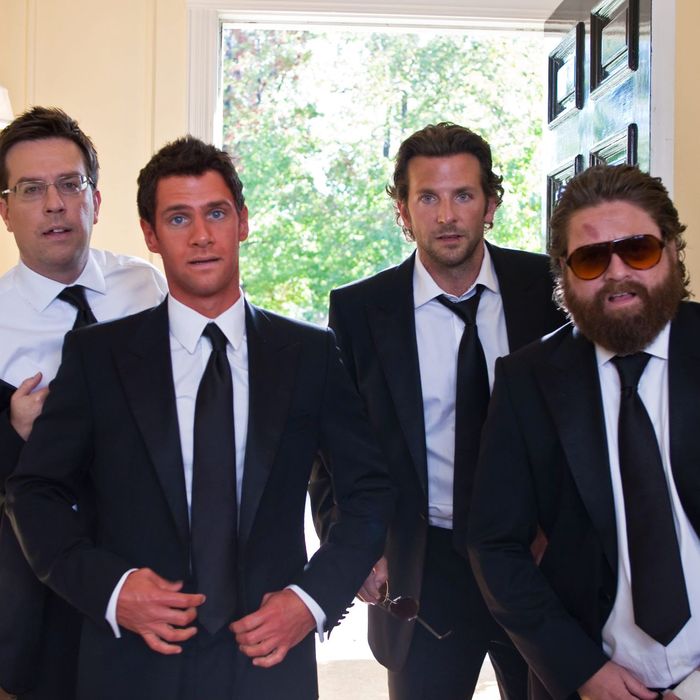 Gifts to use on the big day and beyond.
Photo: Courtesy of Warner Bros. Pictures
When you're getting married, figuring out gifts doesn't just end at the wedding registry. Gifting your wedding party itself can be a tall order. Do you get them something they can use on the big day or something they can use forever? And how do you make the usually traditional gifts feel thoughtful? So we decided to ask ten experts, some of whom have seen hundreds of weddings — including wedding planners, wedding bloggers, and stylists — for their input and even added a few favorites of our own. (Don't worry, there are no flasks to be found below.)
For the Every(grooms)man
"As nice as slippers are to have, a lot of people just never think to buy their own pairs — which makes them perfect for gifting," says Allison Davis, owner of events-planning company Davis Row. The shearling lining is moisture wicking and insulating. And the sole has enough traction that you can run outside to take out the trash or get the paper without worrying. "Up the ante a bit with a super plush pair, and know that because they're LL Bean they'll last basically forever."
Bathrobes are a good bet because they can be used the morning of the big day while getting ready — and then every morning after that. This Snowe bathrobe (a favorite of Chillhouse founder Cyndi Ramriez) is fast-drying, plush, and hypoallergenic. "If you have a little extra money to spend, consider personalizing the front … or across the back for a little more edge," advises Davis.
"My husband gave gifts from Paul Stuart to his groomsmen. We had robes made with the date and their initials monogrammed on the cuff. A nice memento and something that they will wear forever," says publicist Lisa Wells. These robes are definitely a splurge, but the solid linen construction is sure to be soft, comfortable, and breathable.
For the boozy groomsman
"Think of this like the Blue Apron of beer that you can gift to your best drinking buds," says Annie Lee, principal planner at Daughter of Design. If you've got a groomsman in your crew who thinks he's the next big brewmaster, this foolproof kit has everything he needs to get started.
And for the budding mixologist, Lee recommends this nifty cocktail smoking cloche, which can infuse drinks with a smoky flavor. Best for the home bartender who's already kitted out with basic gear and is looking for something a little bit extra.
"I got my husband a pair of these whiskey glasses and they are favorites. We love to spin them around with bourbon in them (sort of a party trick) — no spillage!" says Melissa McNeeley, founder of Events by Melissa McNeeley. These spillproof glasses are well made, affordable, and look like they cost double what they actually go for. Plus, it's rare to find novelty items that look this sophisticated.
"Bonus round: Get them these ice-cube molds — the round cube fits right in the groove of the glass," says McNeeley.
Leah Pence of Another Wild Hare, a boutique wedding-planning and design firm, suggests this craft-cocktail kit filled with homemade syrups and bitters. There's a box designed to complement gin and vodka, and another for whiskey and bourbon. Pence specifically loves the whiskey set that comes with "lemon cardamom, nettle orange, rosehip hibiscus syrups and seasonal aromatic bitters."
For the foodie groomsman
We've sung the praises of this birchwood-handled chef's knife before. It's gyutou style, which means it can pretty much cut anything. So whether your groomsman wants to debone a fish or just make a grilled cheese, this knife will suit his needs.
A sous-vide machine is a serious culinary tool and a great pick for a groomsman who knows his way around the kitchen. Grub Street editor Alan Systma recommends the sleek Joule because the accompanying app "is filled with very solid recipes and videos that show you how to do everything."
"For the cook who cares about the Earth," McNeeley recommends this well-designed and discreet compost bin. It's pretty enough to display on the counter, making it an easy-to-remember receptacle for banana peels and eggshells. "If I had one of these on my counter, I'd compost more." In other words, cuff links it ain't.
For the techie groomsman
"Recently I showed up to photograph the getting-ready portion and found the groom and his groomsmen all playing Xbox," says Jocelyn Voo, an NYC-based wedding photographer. If you've got a few childhood friends in your wedding party, why not indulge in some nostalgia with a PlayStation Classic instead. It comes preloaded with 20 games and includes two controllers.
"I just don't know a guy who doesn't want to play with one," says Lee. This quadcopter is a solid entry-level drone that is good for practicing flying basics. It also comes with an HD camera, is VR-headset compatible, and can be controlled through your cell phone.