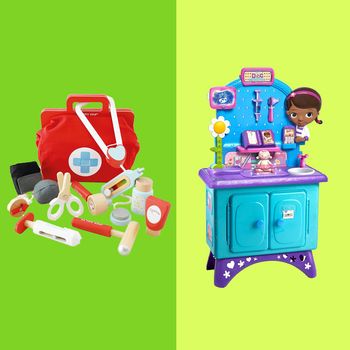 Photo-Illustration: Courtesy of the retailer.
Kids love to play doctor — using a stethoscope to check on their teddy's health or prodding their parent's forehead with a fake thermometer. But aside from being fun, this kind of imaginative play is important for your child's development, says Karri Bowen-Poole, an educational playroom designer, pretend-play expert, and founder of Smart Playrooms. "This kind of play naturally encourages open-ended thinking, processing, and communicating which are integral to cognitive development." Kids' doctor sets give children props and tools to help them stay engaged in pretend play for longer, including toy stethoscopes, otoscopes, and blood-pressure cuffs. But there's a wide range of kits available. Some are more durable than others, standing up to wear and tear from boisterous kids while remaining in good enough nick to pass down to younger siblings or friends' children. How interactive they are varies, too — some have stethoscopes that make heartbeat sounds or have moveable parts to keep kids interested.
We spoke to Bowen-Poole and ten other experts — including a Montessori educator, two special-education preschool teachers, and many parents — to discover the best kids' doctor kits. Read on for their recommendations, including the best wooden kids' doctor kits, the best plastic kids' doctor kits, and the best kids' doctor dress-up kits.
Best wooden kids' doctor kits
This first kit is a popular one. It's a favorite of Bowen-Poole, Dr. Nikki Hurst (a pediatric occupational therapist and principal therapist at Embodied Inc.), and Suzanne Bucknam (a mom, Montessori educator, and CEO of Connecticut Explorer). Bowen-Poole loves that it's "crafted to last, using non-toxic wood." She adds that "there are no plastics involved at all, even in the packaging." The "muted colors, textures, and sounds are extremely sensory-friendly," says Dr. Hurst.
It fits the "Montessori idea of learning naturally," according to Buckham. The kit includes a stethoscope, thermometer, blood pressure gauge, syringe, otoscope, scissors, reflex hammer, two medicine bottles, and a bag to store it all in. Bowen-Poole believes this is just "the right amount of accessories" as more than this could be "overwhelming for a child." Dr. Hurst agrees that it's a good amount of items for "children who may get overwhelmed with too many things to play with." She also points out that the pieces are a bit larger than some, "which makes the toys easier to grasp for children who may struggle with fine motor skills." Bucknam notes that the pieces "have screw caps, levers, and Velcro elements, which encourage use and coordination."
"My kids are into Xboxes and iPhones now, but they loved this set when they were little," says Tamsin Corona, musician and parent of two boys, ages 9 and 11. She bought it because "it honestly looked less garish than others" and "it wasn't too large, so it wouldn't end up strewn all over the house." The set contains just seven pieces: a stethoscope, thermometer, syringe, blood-pressure monitor, tube of ointment, prescription pad, and carry case. It's mostly made from wood and fabric, although there are some plastic elements in the stethoscope. Corona praises its durability — "it managed to survive both my boys in pretty good condition."
Best plastic kids' doctor kits
This update on the classic Fisher-Price medical kit features a stethoscope, blood-pressure monitor, syringe, otoscope, bandage, thermometer, and doctor's bag. Melissa Bykofsky, a parenting writer and executive editor at What to Expect, says her 2-year-old is a big fan. "My child loves squeezing the blood pressure monitor to make the gauge spin and putting bandages on me and his dad," she says. It's also a favorite of Laurie Leahey, senior editor at TTPM, and her daughter. Leahey says her daughter "likes that some of the pretend tools have working features, such as a spinning blood pressure gauge and a thermometer with changing temperatures." Leahey herself appreciates that it's easy to keep the kit contained while it's not in use because "everything stores inside the fabric doctor bag."
"I actually grew up with Fisher-Price's 1987 version of this medical kit and it still gets played with at grandma's house all these years later," says Bykofsky. "Today's Fisher-Price model is the most similar kit I've seen to the one I grew up with, so I bet it will still be in rotation nearly four decades from now, too." Leahey is also confident about its durability. "We've had this toy for a few years and everything is still in good working order," she notes.
Chad Montgomery, a parenting blogger at Parent Intel, has three boys (ages 6, 4, and 3) who love this Melissa & Doug Set. It has "seen many hours of use" in Montgomery's household, "with the boys fixing each other or making each other feel better." It's also a top choice of Dr. Hurst, who appreciates that the tools "are both realistic-looking and easy for hands to grasp and use." She adds that the "colors, textures, and sounds are fairly sensory friendly."
With 25 pieces, including a stethoscope, otoscope, syringe, reflex hammer, and blood-pressure cuff, it's a comprehensive set without being excessively large. "It's got medicine, an eye chart, and reports, and enough medical devices to test and work on any injury," notes Montgomery. He likes that "it doesn't come with 1,000 unnecessary pieces like a lot of cheap kits do, which just serve to end up in every corner of the house." A final bonus for Montgomery: "The durability is good."
According to parenting coach, early childhood educator, and founder of Nurtured Noggins Ann McKitrick, this set is "a top choice for early childhood educators." Since it's recommended for ages 3 to 6, McKitrick likes that it has "chubby instruments perfectly adapted for little hands." It contains 11 pieces, including a blood-pressure monitor, syringe, bandage, thermometer, stethoscope, and a carry case that fits everything inside. "I love the high-quality construction with an emphasis on safety and the educational focus of the materials," she says.
This 14-piece set includes items such as a stethoscope, syringe, blood-pressure cuff, scissors, and reflex hammer. "All of the items are high-quality and the container is sturdy as well," notes Sally Macaluso, who's a special education preschool teacher, an educational blogger at Tenderhearted Teacher, and a mom to a toddler. "Our little one loves that the stethoscope has a real heartbeat sound," she says. Macaluso likes the mini clipboard that comes with the set — "I love that there's an element included in the kit that allows for a child to practice their emergent writing skills while they engage in dramatic play."
Best deluxe kids' doctor kit
"We've gotten a lot of mileage out of the Doc McStuffins Get Better Checkup Center," says Evan Porter, author, editor at Dad Fixes Everything, and parent of two girls, ages 8 and 3. The center has lots going on, including a workstation, several medical tools, a posable Lambie figure for kids to examine, and a talking Book of Boo-Boos — a book that features in the Doc McStuffins show. "It comes with a play syringe and otoscope, which my kids loved to use on their own to give us endless check-ups and shots," says Porter. But, he also notes that there's plenty of fun for kids to have with the main set, too — "it talks, has a light-up X-ray slide, and it has storage inside" so children can expand their collection of medical equipment. "We pieced together multiple play syringes and stethoscopes, and stored them all inside," he adds.
McKitrick rates this Lakeshore Learning kit for older kids. It's recommended for ages 4 to 10, containing more realistic toys and accessories than others on this list. McKitrick notes the "working stethoscope" as a selling point for parents of kids who want a little more realism from their pretend play. "This one has a patient medical chart, exam checklist, prescription forms, name badge, even a diploma with the child's name for the wall," she continues, adding that it encourages "early literacy skills, like reading and writing." As for durability, McKitrick says, "Lakeshore Learning materials are commercial quality and used in many schools so they're built to withstand lots of play."
Best kids' doctor kit with coat
"As a preschool teacher, I've used many Melissa & Doug products over the years," says Macaluso. "They're always classroom favorites." Both she and Malia Phelps Waller — a special educator, homeschool mom, and CEO of PLAY to Learn with Malia — are fans of this set. It includes a lab coat, surgical mask, stethoscope, reflex hammer, otoscope, syringe, and reusable name tag. "Even though the medical toys don't come with their own container, they all fit nicely in the costume's pockets," Macaluso explains. It's a practical choice for little ones, with Macaluso praising "the quality and durability" and noting that "the costume can be machine-washed." Phelps Waller adds that the toys in this kit "withstood years of play with lots of little hands engaging in my classroom, where I had them for a decade before bringing them home for my own kids."
The Strategist is designed to surface the most useful, expert recommendations for things to buy across the vast e-commerce landscape. Some of our latest conquests include the best acne treatments, rolling luggage, pillows for side sleepers, natural anxiety remedies, and bath towels. We update links when possible, but note that deals can expire and all prices are subject to change.