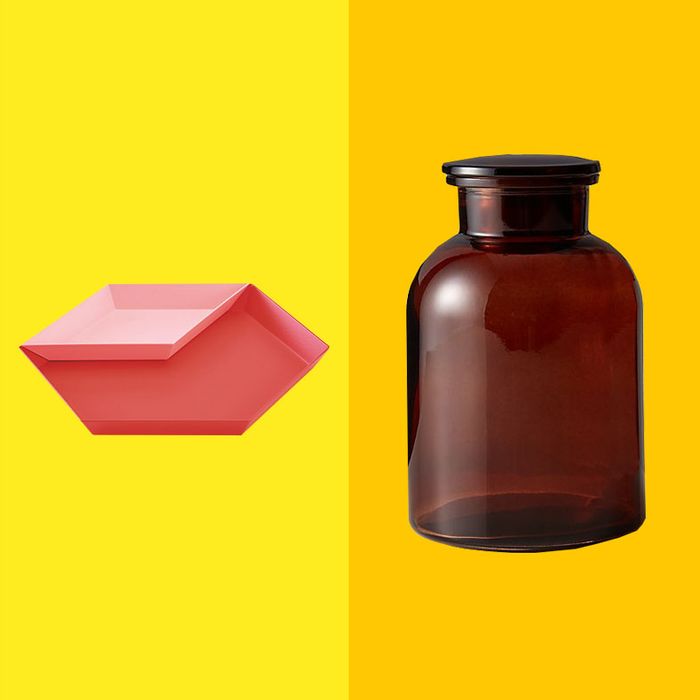 In our advice column, Ask the Strategist, we take your most burning shopping questions and survey friends, call up experts, and draw on our own personal experience to answer them. As always, please email any online-shopping-related queries to strategist@nymag.com with the subject Ask the Strategist — we're here to help.
Where should adults put their loose change? A ziplock bag is practical but lacking aesthetically, whereas a piggy bank is a little too kitschy for us. Is there a piggy bank alternative?
As the daughter and granddaughter of dedicated coin collectors (and a storage enthusiast), I must say you've asked the right person. My dad used to store all his change in an enormous translucent blue vase that he filled several times when I was growing up. (In fact, he paid for the deposit on my first New York City apartment using the change from that vase.) Accordingly, I've grown up to be a change collector, though I collect significantly less change than my father because, well, debit cards. That said, I do have a repurposed applesauce jar full of coins under my bed, as well as a small ceramic bowl full of change near my front door. The lesson: Keeping change out doesn't have to involve a piggy bank (though I found and included some very nice looking ones) or an unfortunate ziplock bag. Here are some decidedly adult ideas for storing your coinage.
Vases, Bowls, and Vessels
If you'd like to display your change, I recommend buying something display-worthy to hold it. The ceramic jar of coins that I keep near my door brings me infinite joy (and even more so when I put coins in it). Look for something tall enough to hide your coins so your vessel looks like a piece of décor rather than a stopgap. When this vessel gets full, just transfer the coins to a bigger jar or take them to a coin exchange and start all over again.
This decorative vase will look nice on your mantle or bookshelf, and at nearly nine inches in height, it can hold a ton of coins.
If you're going for a more rustic look, consider this Japanese-made bowl featuring natural oak and a matte finish.
If you're willing to spend a little more, well, change, you can get this soft-pink marble bowl from Hudson Valley brand Hawkins New York.
Or, save some change and turn a budget-friendly pinch bowl, like this Santa Fe–themed one from Urban Outfitters, into a coin dish.
Take a cue from my own dad and fill a blue vase with coins. The silver and copper shine of the coins looks really nice in soft blue light.
Trays
Another option is to get an attractive catchall tray that can hold coins. This is a good option as long as you're not bringing home pockets full of coins every day, in which case you should opt for a larger vessel. Catchalls have the advantage of being, as the name suggests, multipurpose, so you can throw your keys and other small objects here when you get home, especially if the tray is divided like this one. (This leather one also makes a fantastic third-anniversary gift.)
If you're drawn to geometric designs, I love the Kaleido line from Hay, which features trays of varying shapes (diamond, hexagon, etc.) that fit together in a way that's customizable to your needs.
On the ceramic side of things, there's this lovely 15-inch, blush-pink stoneware tray from CB2.
Don't sleep on felt. Kikkerland makes these soft catchall trays that are perfect for holding more delicate objects, like your phone, as well as keys, wallets, and, yes, even coins. Best of all, it's a set of two, should your coin collection grow.
Glass Jars
The humble glass jar is by far the most practical and affordable vessel for holding change. And by affordable, I mean, in many cases, "free." But if you don't have an old applesauce jar lying around to hold your change collection like I did, you can buy a shiny new one for just a few bucks.
Or, go for a 32-ounce mason jar. It's big enough to hold years' worth of change, but small enough to store away in the back of a closet or under the kitchen sink.
If you're looking for a jar with a bit more flair, there's this large one from Bormioli Rocco featuring a chalkboard label that you can update every time you add additional coins. (Or just label "spare change.")
This lovely amber canister will make your coin collection look slightly more grown-up — and it comes in a smaller size, too, if you don't collect much change.