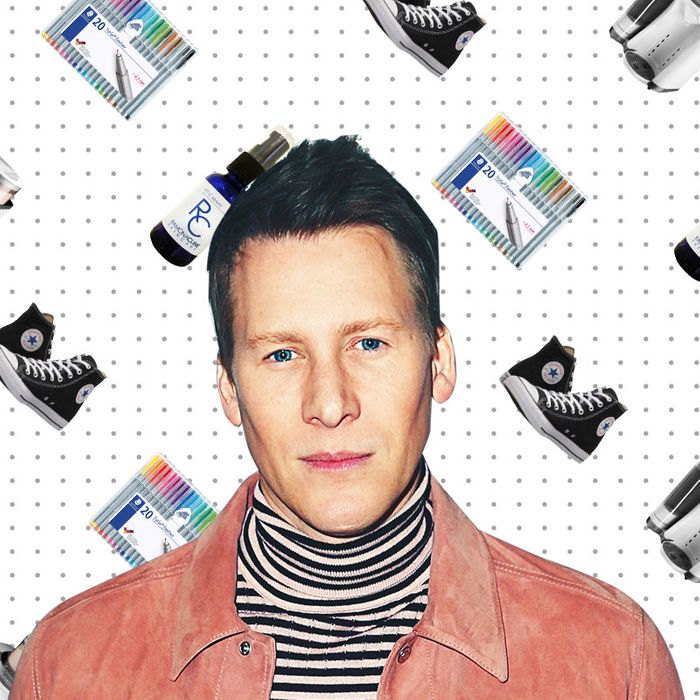 Photo: Getty Images; Courtesy Retailers
If you're like us, you've probably wondered what famous people add to their carts. Not the JAR brooch and Louis XV chair, but the hand sanitizer and the electric toothbrush. We asked director, producer, and Oscar-winning screenwriter Dustin Lance Black, and author of the memoir Mama's Boy: A Story From Our Americas, about the pens, blue paint, and baby-formula dispenser he can't live without.
Dorothy Parker's a massive inspiration to me. I've always been a very big fan of hers because she's really funny about some of the darkest things there are. My growing-up experience had a lot of dark days, and it's nice to have someone like Dorothy there to hold your hand and help you laugh your way through it. A friend gifted this to me, just a collection of her poems and short stories, and it's fabulous, and if you're having a dark day, crack it open and laugh at pain. It's kind of lovely.
I hate getting dressed. I think they were on sale at a discount shoe shop on Sunset Boulevard, years ago when I first moved to L.A., and I was broke, and I was like, "Those are cool, and they're on clearance for 15 bucks," and I never stopped wearing them. I remember when the Academy Awards were approaching, I didn't realize that they had become such a part of me. I was doing press at the Writers Guild of America Awards. I'm wearing a tuxedo with black Chucks and didn't think a second about it, and someone asked, "Will you be wearing those to the Oscars?" And in my brain, I'm like, "Of course not." It's not a fashion statement. They're just easy, and it's one less thing for me to think about, and those little cells that would've stressed out about what I'm putting on my feet can now think a little bit about story. And they're cool. They go with everything. It might be lame, but it's true. I think they're better than, you know, what's his face, the Facebook dude, Zuckerberg who wears the gray hoodies all the time. It's a step up from that, but I think it's the same philosophy, which is, I got things I'd rather put my mind to today.
You just plug it in, then it connects with your Wi-Fi, and you can see and hear — with crystal-clear quality, even in the pitch-black dark — what's going on, which is cool. But the unexpected upside is because Tom [Daley, Black's husband and Olympic diver] and I travel so much. I literally just got off of it. It gives you an alert that it sees someone in the room — in this case, the nursery — and then I signed on, and I'm in L.A., and there's my little family. My son's on the floor playing. And it has this walkie-talkie, so I can talk, and he turned to the camera and said, "Da-da!" I'm only away for a few days, but it feels like an eternity, so it's a nice thing to have … I think when our kids are older, it'll be really, really helpful. Because we can just say, "Go to sleep. Get back in bed."