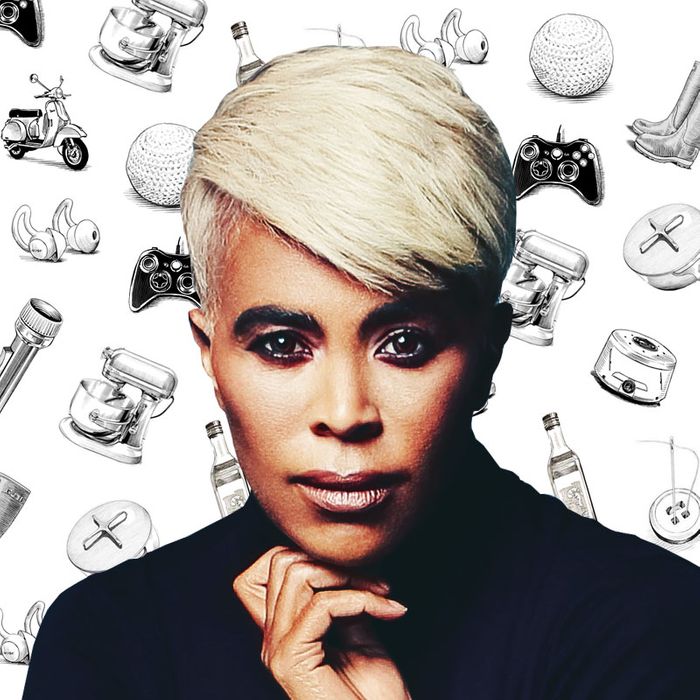 Photo: Cheryl Fox, Illustration: Joe McKendry
If you're like us, you've probably wondered what famous people add to their carts. Not the JAR brooch and Louis XV chair but the hairspray and the electric toothbrush. We asked choreographer Laurieann Gibson — whose new book Dance Your Dance: 8 Steps to Unleash Your Passion and Live Your Dream comes out on February 16 — about the soap, water bottle, and headphones she can't live without.
My skin is really dry, especially living in Los Angeles with our highly chlorinated water. And being a dancer who has to work out every day, I also have a lot of challenges with acne. I first tried the Shea Moisture African Black Soap about three-and-a-half years ago. It completely changed everything for me. It doesn't dry out my skin, it has the ability to moisturize and cleanse at the same time, and it's affordable.
It stays hot. It stays cold. It's durable. It's eco-friendly. It holds a lot of water — really, the perfect amount. It works for me, it gets the job done. I try to drink two a day.
Puff Daddy had the first one I ever saw. I saw him with it and I was like, "I need it." I don't always have all the time I need to stretch right after I've worked out or danced all day, so this helps release the lactic acid from my muscles. It's therapeutic: Sometimes just the sound of it can soothe me after a really high-intensity day. I tell everyone about it. I got my mom one and now she's living her best life.
A lifesaver. Again, I have dry skin, and I use this at night on my feet, elbows, and knees. Sometimes I mix it with an oil to dilute it a little bit so I can put it all over my body. And I use it daily on my lips and on my cheeks as a highlighter. I'll dab it on my eyelids, too. Girl, I use it for everything.
Really can't live without them. Sometimes you might be talking to me and I might have my AirPods in and I might be choreographing the routine for my next rehearsal. But you'll never know that's what I'm doing. I'm a little scared about what they might be doing to my hearing, but they produce a very full sound, there's no distortion, and the levels are really good.
My mother's Jamaican. When we were little, we'd be like, "Castor oil, oh no!" But when I was home for the holidays, I saw this little bottle of Jamaican Black Castor Oil in her cabinet and I put some on my face. It instantly had this tightening effect on my skin. So now I use it once a week for a deep-moisturizing treatment that also tightens. I know it's not a placebo because everybody will tell me, "Oh my God, your skin is so tight." It doesn't look like Botox, either. It looks very natural.