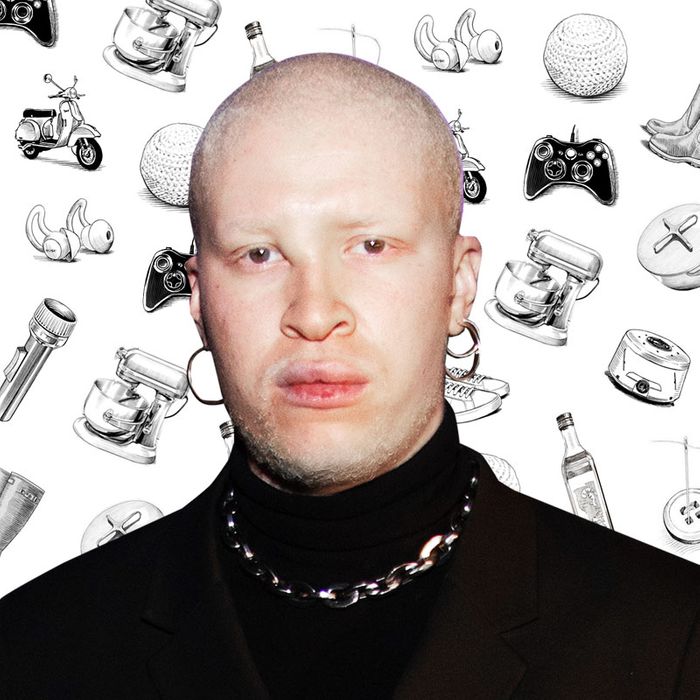 Photo-Illustration: Getty
If you're like us, you've probably wondered what famous people add to their carts. Not the JAR brooch and Louis XV chair but the hair spray and the electric toothbrush. We asked model and musician Shaun Ross — whose debut album SHIFT drops on May 7 — about the shaver, electronic piano, and underwear he can't live without.
Having albinism means I have sensitive skin, so I always have to figure out ways to keep it looking and feeling good. I was in Paris looking for beauty products one day when I found this tea-tree face mask. It's so good. It does a deep cleaning, that's what I love about it. Because it cleans so deeply, I don't use it all the time — I would recommend using it once or twice a week depending on your skin.
I looked for something that could give me a close shave for so long. I can't use a traditional razor because they really irritate my skin. I had seen the BaByliss Pro and thought it looked cool — and when I finally got one, I found it actually works for me too. It gets nice and close and is one of the only things that does the job well.
The best cheap fix for my face. I highly recommend it. Its hydrating from the aloe but also tightening and brightening from the hyaluronic acid. I spray it right on my face when I come out of the shower. My boyfriend uses it too. We picked it up after one of our friends started using the brand's face masks and we noticed her skin looked really, really good.