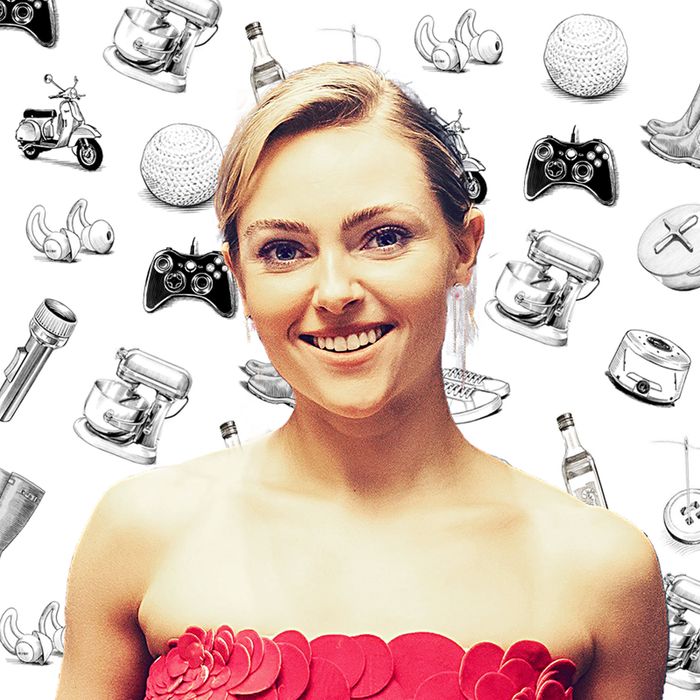 Photo-Illustration: The Strategist; Photo: Charles Roussel
If you're like us, you've probably wondered what famous people add to their carts. Not the JAR brooch and Louis XV chair but the hair spray and the electric toothbrush. We asked actress AnnaSophia Robb — who recently partnered with French liqueur brand St-Germain — about her all-in-one beauty palette, "divine" floral cheese, and vitamin C packets she downs every day.
My friend Gavin, who's a facialist, turned me on to Augustinus's cream. I use it daily. I'm at that age when I can start seeing a slight difference in my skin, and this keeps me hydrated and makes the little fine lines disappear. I prefer the light cream because it doesn't get too heavy in humid climates, but it's thick enough to keep your skin supple in dryer conditions, too. It's beautiful. I used it while I was filming in New Orleans in the summertime, and I was never oily.
A makeup artist turned me on to RMS, I think when I was in college, and I love the products. They're all vegan and natural. I discovered this palette because I went to a wedding a couple of years ago and forgot all of my makeup at home. I went into a beauty shop, bought this palette and mascara, and I was good. I could do everything: bronzer, highlight, a bit of tint, and lip moisturizer. It's my favorite easy makeup tool. When I go on trips now with just a carry-on, it's the only beauty palette I take. It's creamy and lasts forever, too.
I shaved my head back in 2019, and it's been this long growing-out period. This paste is especially great for short hair. A lot of hair goop weighs it down, but this doesn't at all. It gives volume, but it's not heavy. A little goes a long way, too. Between this and the RMS palette, my beauty routine is pretty simple.
I used to drink these only on jobs, but now I take them every day. Right at the beginning of COVID lockdowns, I mass-ordered a bunch because I didn't want to be without them. It's a blast of vitamin C, and I've always noticed a difference in my immune system. I've never gotten super-sick during flu or cold season if I'm consistently taking them. I've also noticed my skin is a little brighter and my eyes look a bit more clear when I take them. I know some people pour them into water to dilute them, but I just take them straight out of the packet into my mouth and wash it down with water. It tastes awful. It's never not surprising. I've tried different ways to cover up the taste — lemon in the water, eating something after — but no. It's just one of those things you've got to get through.
I'm actually sipping on Throat Coat right now. I've been drinking it for a while, but I really relied on it when I had bronchitis and pneumonia a few years back during a play. I would make a full thermos of it with four bags of Throat Coat, and it truly got me through. Every winter, it's my go-to warm drink of choice. I steep four tea bags at a time to make it nice and potent. It's so soothing, the flavor's great, and I feel really healthy drinking it. It also makes a great stocking stuffer.
Every time I would go over to my friend Julian's apartment, he would make me scallion pancakes and put these chili crisps on it. (He's even invented his own magic sauce with this as the foundation.) Now it's a refrigerator staple for me. I eat this on my eggs every morning. It's the best way to make things spicy. I also marinate fish with it, throw it on baked potatoes, or sauté broccoli rabe with this and shallots. It really adds a nice texture.
I love discovering new cheeses. I even have an app, LeCheese, on my phone so I can read different reviews of cheeses. When I saw this at the cheese shop, I was so excited. It's covered in wild dried flowers and herbs local to the Alps. It sort of seeps into the cheese, and it's so divine, so fun. It doesn't taste like flowers, but it is a floral cheese. I think it's delicious. I'll cut a slice and eat it by itself, but it also is really beautiful on a charcuterie board. It's a hard cheese, so it lasts a while, too. You can keep it for like two to three weeks. I served it to my girlfriends last year, and they were all just as excited as me.
I recently bought these this winter, and I'm obsessed. I wore them when I went home to Colorado recently, and they held up in the snow. It's nice to have a leather boot that you don't have to worry about getting scuffed up or ruined from the salt on the pavement or if you're out dancing. They're also a great boot for clumping around in New York because they're weatherproof and easy to walk long distances in, and they're just chic. They have a great chunky weight to them that gives me extra height. I'm five-two, so I need all the height I can get.
I bought these this summer, and they've been my go-to. I love the color, and they're really durable. I just drop them in my tote and am not precious with them, and they're doing great. And I like how they fit. I have a pretty small head, and these fit me really well. I have another pair that's blue, but I definitely gravitate toward the olive ones.
I generally like to wear hoops, but these are my favorites. I've been wearing them constantly since the summer. They're a fun, kind of unusual shape, so they make a statement, and they're the perfect size. They're not superheavy, either, which is great because I get headaches at the end of the day after wearing bigger earrings. I can wear them with casual looks, and they transition well to more formal night looks. My friend Mary Brennan, who's the designer, made my wedding band as well. I gravitate toward her stuff because it's handmade and local to L.A., and she has introduced me to some of the craftsmen she's worked with. All of her stuff is high-quality and at a good price point. It makes great Christmas presents. I actually just bought some of her jewelry for family members.
I joined about three years ago and am such a fan. It lets me keep a diary of what I've watched and liked. I most recently watched The Banshees of Inisherin. It was delightful and surprising and very well shot, acted, and written. I love Martin McDonagh. It's also a fun way to follow friends, parents, and critics and see what their cinematic appetite is, especially when there's so much to choose from with streaming. My 16-year-old stepsisters are my favorite people I follow. I'm always curious to see what they're interested in. We're long-distance, so it's a nice way to keep in touch with one another.
First of all, the bottle is absolutely gorgeous. I love lighting a candle next to it because it lets off a warm, golden light. It's such an easy liqueur, especially for the holidays. I partnered with them for my wedding, and one of the cocktails used this; it was just Champagne with a dash of St-Germain and topped with pomegranate seeds. My mom actually just asked for the recipe because she's hosting a Christmas party. It's also great to have on hand year-round. Whenever we have guests over, we add St-Germain to drinks. It's not like we're having to mix and shake something up before everybody comes over. I love the elderflower flavor because it's light and floral. It's easy but glamorous — it's like an extra step to make occasions feel special.
The Strategist is designed to surface the most useful, expert recommendations for things to buy across the vast e-commerce landscape. Some of our latest conquests include the best acne treatments, rolling luggage, pillows for side sleepers, natural anxiety remedies, and bath towels. We update links when possible, but note that deals can expire and all prices are subject to change.