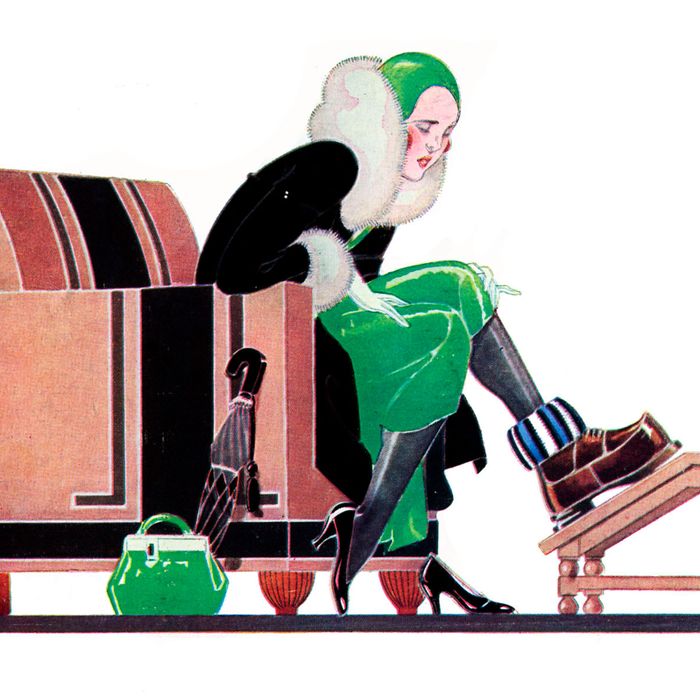 Photo: Lebrecht/Getty Images
Here at the Strategist, we like to think of ourselves as crazy (in the good way) about the stuff we buy, but as much as we'd like to, we can't try everything. Which is why we have ​People's Choice​, in which we find the best-reviewed products and single out the most convincing ones. (You can learn more about our rating system and how we pick each item ​here​.) 
And while we've written about lots of cold-weather gear — including what your dog needs to stay warm, the best gloves for women, and the famous Amazon coat — here, we've rounded up the best boot liners and warm insoles, as praised by the most enthusiastic reviewers on Amazon. 
Best-rated boot insoles
While these sheepskin insoles could be stuffed into any shoe, about a quarter of five-star reviewers mention boots in their reviews. About 10 percent compare these to sheepskin-lined Uggs, saying that these soles are perfect for replacing a worn down pair, or making a knockoff feel like the real deal. "I cut away all of the sheepskin fur on the bottom of the inside of the shoe and placed these inside," one reviewer writes. "It was just like wearing a new pair of Uggs for a hell of a lot less." Another customer calls these "the real deal," and they love that these are constructed out of "a piece of lamb hide with leather on the bottom and fleece on top." That means if the fur ever wears down, "I will be walking on soft leather, which isn't bad." However many reviewers note that these hold up pretty well. "They have held up through near daily wear in NYC for the past 4 months, so lots of walking and they haven't gotten matted or stinky yet," one customer writes. As for the fit, reviewers say it's true to size.
Best-rated (less expensive) boot insole
"These insoles are everything that is advertised," one reviewer writes. "Turned my 800 gram insulated hunting boots into what I would consider 'arctic' boots. Never once this winter did I feel any cold radiating up through the soles as I've felt many times before." Another customer thinks they are "Worth every penny" since they "kept my feet very warm in my hiking boots in weather down to the mid-20's during the day and night with a single pair of good merino wool socks." One reviewer who has frost bite even says, "so far so good," adding, "I've worn them in -4 weather and my feet didn't freeze." While a few reviewers point out that this doesn't have any arch support or add any comfort to your boots, a few mention using this in conjunction with another supportive liner. Many also recommend buying a larger size and trimming as needed. One even says "make sure to order 2 sizes up and trim as needed."
And now for some micro-picks of every type of boot liner or insole you might be looking for.
Best boot liners for all-weather boots
Like one user says this liner, "really puts the 'all' in 'all-weather' boot," many others praise these boot socks for turning their Hunter rain boots into footwear suitable or the snow. "My feet stay dry, and the socks help because without them my feet would be too cold," one reviewer from Ohio writes. "As for the blizzard this past week," another customer writes, these boot liners "kept my feet toasty and dry." One reviewer says these fleece work with non-Hunter rain boots, too, writing, "Bought the cream socks to pair with a pink pair of rain boots, non-Hunter and it looks great." These liners are machine washable, which at least one reviewer says they hold up well to: "The material is soft and after going through the washer and dryer multiple times, still look perfect."
Best boot liners for rain boots
"I really liked my purple Jileons when I bought them, but I didn't fall in LOVE with them until I got these liners," one reviewer writes. "They are so comfy cozy, and the foldover top gives the boots an awesome "just got in from hiking in the Poconos" look, even when you're just out running errands." They're just one of more than 25 percent of reviewers who bought these liners to go with their rain boots. "Not only do they fit perfect but they really make the boots cozier," one customer notes. "Rubber boots can make you sweat and can even rub you raw on your skin these amazing babies are a match made in heaven." Another reviewer, who puts these on multiple times a day to walk their dog, even says they slip-on easily: "I just pop off whatever I'm wearing at the time in the house, usually slippers and slide on my boots with these liners already inside."
Best boot liners for short rain boots
"Perfect" is used in nearly a third of the five-star reviews, and many praise how well these boot liners fit. "These boot socks feel as if they are custom-made," one writes. "The foot shape is sewn in so you get a close fit. The fleece fabric gives warmth with half the bulk of heavy socks." Another says, "They're super soft and warm plus they fit perfectly in my short Hunter rain boots." Users also love that "They are warm and comfy and extend the use of my boots well into late fall and early spring," and that they, "Make my new boots so much easier to take off," according to one reviewer. Beyond Hunter brand boots however, one customer says they "adapt to less expensive boots, fit the boot and the wearer very comfortably." One even say they work beyond boots all together: " You don't need to wear with boots — with clogs it just appears to be a slouchy knee sock."