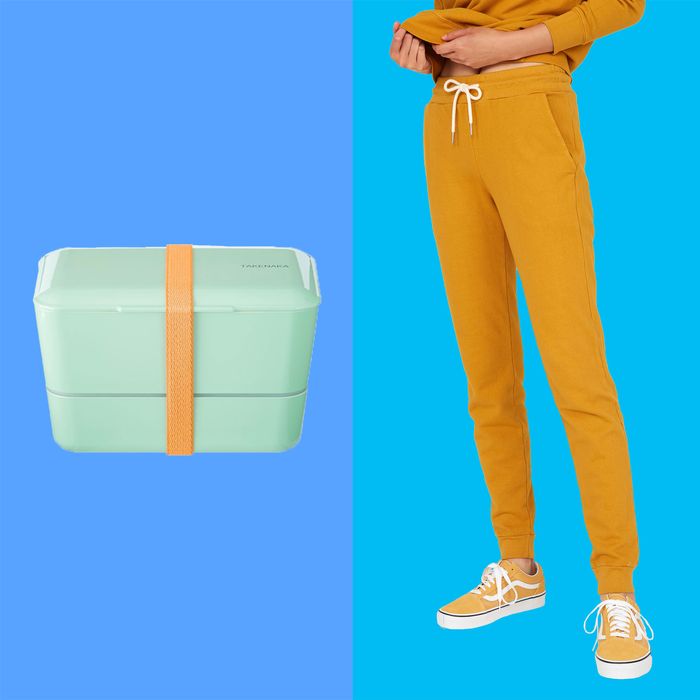 Photo-Illustration: The Strategist; Photos: Retailers
Between holidays, birthdays, and those "just because" occasions, it feels like we're always trying to come up with gift ideas for the special people in our lives — so why not opt for presents that are also good for the planet? While we're spotlighting sustainable products on the Strategist right now during Green Week, we are always on the lookout for the best ecofriendly stuff. In the past, we've covered sustainable denim brands, reusable kitchen items, plenty of compost bins, and many more environmentally conscious goods in nearly every category. And lots of these would make great gifts. Below, we've rounded up some of our favorite sustainable options, including something for everyone on your list — even those notoriously hard-to-shop-for dads, co-workers, and teenage girls.
For new parents looking to avoid plastic
We first wrote about Bamboozle when we included this surprisingly stylish compost pail in our roundup of the nicest-looking compost bins. It turns out the brand has a wide selection of kitchen and dining accessories, all made from biodegradable, sustainable bamboo fiber. Their kids' options are especially adorable, like this elephant set that includes a dishwasher-safe
bamboo plate, bowl, cup, and silverware.
For the mom who's always cold
If the cardigan she carries around all summer (because she never knows where the AC will be on full blast) is looking a little worse for wear, she'll love this luxe sweater from Spanish brand Babaà. According to Strategist writer Liza Corsillo, who included the brand in her guide to sustainable clothing, its organic cotton yarns are "never mixed with acrylics or any other synthetic fibers, meaning the end product lasts a long time and is biodegradable."
For the brother committed to meal prepping
If he spends his Sunday afternoons roasting veggies, grilling chicken, and cooking up a pot of quinoa to eat throughout the week, he'll appreciate receiving a few of these glass storage containers. Each one has a silicone (not plastic) lid and comes with a protective silicone sleeve that also provides insulation. BPA-free, the containers can be used in the freezer, oven, microwave, and dishwasher.
For the niece with a 10-step skincare routine
Sheet masks and under-eye patches are great for an instant hydration boost, but if you're using them on a regular basis, you could be generating a lot of waste. Instead, you can pop these reusable, washable patches over your favorite eye cream for ten to 30 minutes and get very similar results. Strategist writer Rio Viera-Newton likes to keep hers in the fridge for "a cooling, de-puffing effect."
For the husband with no matching socks
Refresh his basics with a set of socks from Japanese brand Paper Project. The heel and toe areas are made from durable, sustainable paper yarn that's a blend of actual paper and Manila hemp, a fast-growing plant that prevents soil erosion. For every pair of socks sold, Paper Project also donates a tree to the National Forest Foundation.
For the family that bought an RV during COVID
Over the past year, recreational vehicles surged in popularity among people looking for a pandemic-friendly way to travel — and avoid gas-station bathroom breaks. One industry insider told Strategist contributor Ashlea Halpern that RV sales were up 170 percent last summer compared to the previous year. If you know anyone who went all-in on the trend and bought their own, help make their home-on-wheels a little more ecofriendly with this composting toilet. It processes waste without water and lets it naturally decompose. Among RV experts, Nature's Head is the biggest name in the game.
For the kid who's finally going back to school IRL
Even those who are eager for schools to reopen might find they miss one aspect of remote learning: homemade lunches that are way more delicious than cafeteria food. Parents who spent the past year improving their kitchen skills can send their kids off with some favorite menu options in this reusable (and microwave- and dishwasher-safe) lunch box from the nearly century-old brand Takenaka. Strategist contributor Leah Bhabha brings hers to work, and says it's "so much cooler than Tupperware or a brown paper bag."
For the dad who's a regular at the farmer's market
Whether he's picking up heirloom tomatoes, locally made sourdough loaves, or the first ramps of the season, these reusable cloth bags are a favorite of Park Slope Food Co-Op members for carrying produce and bulk goods. They're also useful for storing vegetables in the fridge at home and keeping them fresh longer.
For the wife who's on a first-name basis with the baristas at her coffee spot
She doesn't have to cut out her daily coffee runs and make her brew at home to be more sustainable. Instead, just swap out a to-go cup with one of these reusable glass tumblers that work for both hot and cold drinks. Baristas like that the small-size KeepCup fits into most espresso machines, so it's easy for pouring cappuccinos or cortados.
For the aunt with the spotless kitchen
She may keep her countertops shiny and her fridge fingerprint-free, but her habit of burning through a whole roll of paper towels in each cleaning session isn't doing the planet any favors. Take a hint from Micaela Preston of the natural-living blog Mindful Momma, who told us "one of the simplest and affordable ways to kickstart an ecofriendly kitchen makeover is by swapping out single-use paper products for more reusable cloths." Preston recommends these "paperless towels" that are durable, absorbent, and machine-washable — and able to stand up to any kind of mess.
For the friend who's sworn off "real pants" for good
If her favorite work-from-home sweatpants have seen better days, give her an upgrade in the form of these organic cotton joggers from Mate the Label. As Corsillo explains, the brand "reduces its carbon footprint by keeping its supply chain local. Everything is cut, sewn, and shipped from Los Angeles." Go with basic white or choose from a number of pretty, natural-inspired hues like sage and turmeric.
For the remote co-worker who misses the office snack bin
A women-owned, minority-owned family business, Pipcorn makes popcorn and other snacks from sustainably grown heirloom corn. Pipcorn's crackers (which come in flavors like cheddar and everything bagel) are actually made from finely ground corn flour that's a byproduct of its cheese-ball production. This sampler includes some of the brand's greatest hits, including crackers, cheese balls, Parmesan crunchies, and of course, its signature popcorn.
For the sister who got really into housedresses during quarantine
This flowy, high-neck dress is handmade from organic cotton and as comfortable as her favorite billowy caftan — but sophisticated enough to wear outside the house. Christy Dawn, one of our favorite sustainable clothing brands, supports its workers both in its Los Angeles factory and the farm in India where it sources cotton. Its clothing is often made from upcycled, deadstock fabric, and the brand is invested in a process called regenerative agriculture, in which carbon is drawn out of the atmosphere and locked into the soil.
For the TikTok-literate teenage cousin
Gen Z has spoken: Skinny jeans are dead, just like other millennial favorites like the side part and — for some reason that's unclear to this 30-something — the face with tears of joy emoji. Show your cool teen cousin you're up on the trends with this decidedly voluminous pair of jeans from sustainable denim brand Boyish. Along with using ecofriendly materials like organic cotton and Tencel, Boyish has minimized the use of plastic fibers in their jeans and participates in the Jeans Redesign project, an industry-wide initiative for reducing waste.
For the fidgety nephew
Compared to plastic toys, wooden ones last longer and biodegrade faster. These oak blocks are painted with a nontoxic, water-based paint and can be stacked in an infinite variety of shapes to keep little hands (and, adult ones, too) busy.
For the friend building an Instagram following
Good lighting makes a big difference, whether you're taking selfies, product photos, or filming an IG Live. Unfortunately, energy-conscious compact fluorescent lightbulbs tend to be less flattering than less ecofriendly incandescents. That's not the case with these LED bulbs, though, which Homepolish interior designer Olivia Stutz says give a "nice soft light."