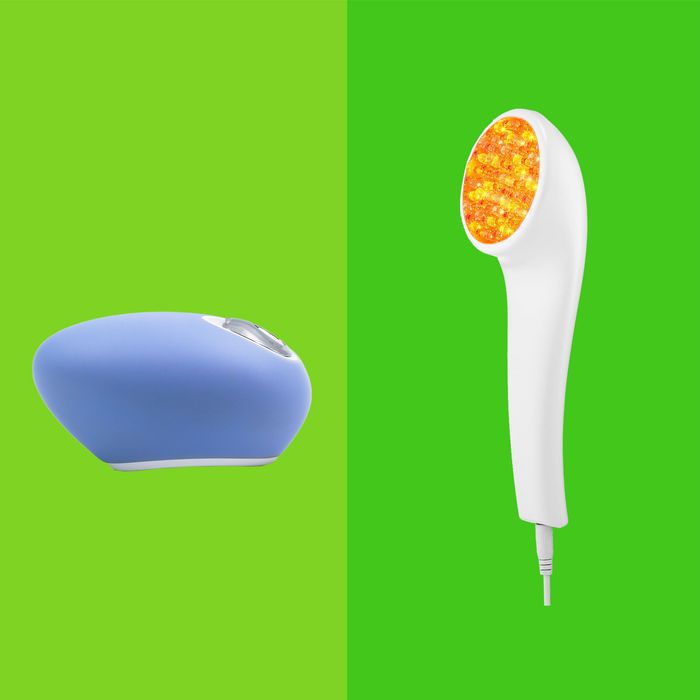 Photo-Illustration: The Strategist; Photos: Retailers
So many skin-care devices catch our eye that it's hard to tell the truly helpful from the purely hyped. So we asked the professionals — four dermatologists and two aestheticians, to be exact — about the best options for a number of skin concerns including acne, wrinkles, and hyperpigmentation. Whether you're already happy with your skin and just want a personalized routine to maintain it, or have some serious goals you'd like to meet, our experts shared the best beauty tech out there — including facial brushes to get a deeper clean and red-light helmets to promote hair growth. We're focusing only on the higher investment–higher payoff beauty tech so we haven't included manual tools (like gua sha stones). And because these devices use various forms of energy like LED light or microcurrent technology, consult your doctor before using if you're pregnant or have an existing medical condition.
For everyday maintenance
A moisture meter is the foundation to any at-home routine because it tells you what your skin actually needs. "These devices can help determine if skin is dehydrated," says board-certified dermatologist and docent medical advisor Dr. Farhaad Riyaz. "Many people trying to improve their skin actually cause harm by overusing products or doubling up on ingredients. Too many acids or other harsh ingredients can cause dehydration or dry out the skin, which actually contributes to premature aging." By pressing the probe on the top of the pen into the skin, this device reads moisture as well as oiliness. It comes with a manual and diagram that explains what the ideal percentages should be on different areas of the skin, but Riyaz says. "Optimal moisture readings are from 35-60 percent." He continues, "Where ratings fall below the 35 percent patients need to look at their regimen and lifestyle." If you fall into this lower range, he recommends checking if your cleansers are sulfate-free and confirming that your toners are alcohol-free, and then adding extra hydration into your routine. Your oil content should be in a similar range, but "anything below 35-40 percent warrants attention," Riyaz says. Your skin doesn't change often enough to warrant daily testing. But testing during the change of the seasons or during periods of hormonal change (like menopause) will help refine your routine. This pen would also come in handy to check the effects of a new product on your skin.
Some skin-care devices are close to $1,000, so it's important to really know what you're getting. Ideally we'd purchase things that address multiple skin concerns, like the My Skin Buddy, which uses four different technologies: ultrasonic vibration, ion care, LED therapy, and thermal heat therapy. Celebrity aesthetician Natalie Aguilar recently purchased this all-in-one device and noticed a visible difference in her skin, citing "clearer, more refined and toned skin" after just a few days. The ultrasonic vibration, which pulses 8,500 times per minute, provides a mini massage while lifting and firming the skin. The ion care emits negative and positive ions. Negative ions will help your products penetrate better, while the positive ones pull impurities out from the skin. The My Skin Buddy also contains red, blue, and green LED lights that together fight acne causing bacteria (blue light), improve the appearance of wrinkles (red light), and reduce redness (green light). The added heat therapy basically boosts all the other functions. It helps the ions emulsify dirt and oil. It also aids in the vibration's skin tightening by increasing oxygen to the cells by improving blood circulation and shrinking pore size. "It sounded too cool to be true, but I quickly fell in love with it," Aguilar says. "It has a cleaning mode, toning mode and a treatment mode that helps penetrate your finishing products like serum and moisturizer," she adds. "It's ability to customize settings makes it ideal for all skin types."
Created by Makeup artist Jillian Dempsey, "this 24K skin sculpting gold-plated T-bar vibrates 6,000 times per minute leaving your face sculpted, contoured, and smooth," says Taylor Worden, celebrity aesthetician and founder of Taylor Worden Skin. Writer Mackenzie Wagoner tested it along with a lot of other facial rollers, and despite the price, she still felt this one was worth it. She said it helped release tension in her jaw, and she saw the immediate brightening effects of the instant blood rush to her skin. "I rev this puppy up as soon as I've applied my skin care, morning and night, to just get those good vibrations all over my face, starting at my neck, moving upward and outward all the way up into my hairline to release tension and boost my circulation and lymphatic system," she says. The massaging effect of the vibration that left her so relaxed (she equated it to a strong dose of CBD) was enough to sell Wagoner, but dermatologist Whitney Bowe also explained the skin-care benefits. According to Wagoner's interview with Bowe, vibrations applied with slight pressure can theoretically stimulate collagen production and "act as a wakeup call for your cells." If you can't justify the cost, Tracee Ellis Ross and Rio are very happy with this $12 dupe.
A thorough cleanse is the foundation of every good skin-care routine, which is why Dr. Corey L. Hartman, founder of Skin Wellness Dermatology in Birmingham, Alabama, recommends the Foreo cleansing brush. It's especially good for acne, he says. "It's not a direct treatment but it's a way to get your skin more thoroughly cleansed and let your active ingredients penetrate better." There's no shortage of cleansing brushes on the market, and frankly some are far cheaper, but Hartman said this one seems to be a little more effective than the others.
This is another favorite of Dr. Hartman's. It helps with lymphatic flow and improves circulation, which benefits overall skin health. "It's a facial massage device that helps to decrease edema and puffiness, and keeps the lymphatic drainage channels moving and open, preventing blockages so that we can get rid of all those toxins and impurities that our lymphatic system is meant to help us get rid of." Sometimes this natural process can use a little help, which is where the Magic Glow Wand comes in.
This is a new device that our experts are still in the process of testing, but two dermatologists we spoke to say it sounds promising. The Droplette converts serums into micromists that can penetrate deeply into the skin. The device uses a piezoelectric transducer that makes the droplets just 4 microns in diameter. They are further reduced in size by the pump that forcefully expels the mist at an accelerated speed that makes the droplets even smaller, and the fast speed and small size means the mist can more easily get into the skin. "If we were to liken it to an in office procedure it would be like the jet-fuel laser, which powerfully injects a serum so that it can penetrate deeper and bypass the skin barrier a little bit," says Dr. Michelle Henry of Skin & Aesthetic Surgery of Manhattan. You can't just use your favorite products that you already own though. Droplette also makes specific capsules that fit into the device. There are currently three options: 10 percent collagen capsules to help hydrate and firm, .15 percent retinol capsules to help smooth and revitalize, and 8 percent glycolic capsules for bright and glowy skin. Dr. Hartman has tried it as well and thinks it's "promising," but found it a little difficult to use.
For acne
Surely you've seen some satisfying videos on the internet of a spatula-like tool like this exfoliating skin. Ultrasonic spatulas not only exfoliate but deeply cleanse and are good for acne-prone skin. "They attempt to eliminate dirt, debris, and oil that clog pores and can lead to breakouts, and slough off the accumulation of dead skin cells," Dr. Riyaz. The vibrations help to dislodge debris from clogged pores and essentially help you do extractions on your own. Scraping this across your face will help get rid of dead skin, and with that out of the way and your pores cleared your products will sink into your skin better. This one from Dermaflash has an infuse mode and an extract mode. "The infuse mode helps to penetrate products deeper into your skin and is great for dry and dehydrated skin," says Worden, while "the extract mode helps to unclog and remove dirt, blackheads, dead skin cells." Start with extract mode, which uses a steady vibration to unclog, and after you can apply a serum or moisturizer and switch to infuse mode, which uses a tapping vibration that "enhances the penetration of the active ingredients in your skin care to help them work more effectively," according to the description. Worden is particularly fond of the results for your nose and recommends for teens and anyone with a lot of blackheads.
The Lightstim was mentioned by four of our experts. It uses LED light therapy to treat the skin a few skin conditions. This one is designed to treat acne with blue light. "Blue-light therapy helps soothe inflammation, irritation and destroy acne-causing bacteria," explains Aguilar. "This is a very beneficial treatment for those with acne because it can be used often, it works, and the chances of being allergic to ingredients are nonexistent." This device also has a little bit of red light, to help soothe and calm the skin. Dr. Hartman likes the use of both and even says that red light can be more effective for acne than blue light. "Red light and blue light are different wavelengths," he explains. "The red light targets deeper, and can more effectively get into the oil gland where C-acnes and P-acnes like to hang out and cause trouble." And while there are a lot of LED devices out there Aguilar thinks Lightstim is the best "because it has dense bulbs and plenty of them." She adds, "It's portable, and because of its small head, it can be used on the full face, neck, hands and body. It's built-in timer let's you know when it's time to move on to the next area." Worden is a fan too, but she advises anyone using products with vitamin A or benzoyl peroxide to apply those after the light.
This blue light device is about $20 cheaper than the Lightstim, but doesn't have any red light diodes. Dermatologist Dr. Hadley King says it still yields positive results and likes it because "It's safe, easy to use, pain-free, waterproof, portable, and offers 100 uses after a single charge." It still gets at the route of P-acnes and also utilizes t-sonic pulsations to increase blood circulation and cell turnover.
If you're looking for a more affordable way to try out LED skin care, Dr.Henry recommends Neutrogena's spot treatment. "It's an old-school one but I really do like it still for acne," she says. While it won't cover as much surface area as the others, it's great for the occasional active breakout and small enough to travel with, but is not suitable for all over preventative use. It has just a couple of lights which isn't much compared to Lightstim's 36, but if you are willing to go pimple by pimple, in a compact device you're still getting blue light and red light, and for $30, you can't really beat that.
This high-frequency facial wand from Stacked Skincare sends an argon gas-filled electrode into the skin, which creates oxygen when it hits the skin. Bacteria cannot survive this oxygen generation, so acne-causing P. acnes are killed off. In addition to preventing pimples, it helps with plumping the skin, says Worden. It also helps reduce inflammation and redness. She recommends using this at the beginning stages of acne. This device comes with different tips, depending on if you want to spot treat or cover more ground. For best results, you should use it multiple times a week (two to three to be exact) but each treatment only lasts a couple minutes.
For aging
Lightstim for Wrinkles uses red light (amber, light red, dark red, and infrared LEDs) to target signs of aging. "The most common benefit of red-light therapy includes a decrease in inflammation, an increase in cellular energy (which plays a role in collagen production), smoothing lines and wrinkles, promoting wound healing, and it can reverse photoaging in the skin," says Aguilar. It's safe for all age groups, but Worden recommends "people to start using it in their 20s so they can help prevent the first signs of aging." She adds, "Use the light five to seven days a week, three minutes per spot." And while all the devices on this list are safe, Dr. Hartman cautions the use of light therapy to anyone dealing with hyperpigmentation. "Even if metered, even if for short periods of time, I would be careful of any additional light because, depending upon the source of your hyperpigmentation, light and heat could be driving forces," he says.
The only downside to the LED devices we've mentioned thus far is that they are handheld, which could get annoying and deter use. As an alternative, our experts recommend a mask like this for hands-free treatment. "It's really easy to use, because you just put it on and turn it on, you don't have to worry about moving it around, you can do it while you're doing other things, hands-free," says Dr. Hartman. It has over 160 red and blue lights to target both acne and to increase collagen production. While this is pricier than the handheld options, if you think you'll use it more due to the convenience it might be worth it.