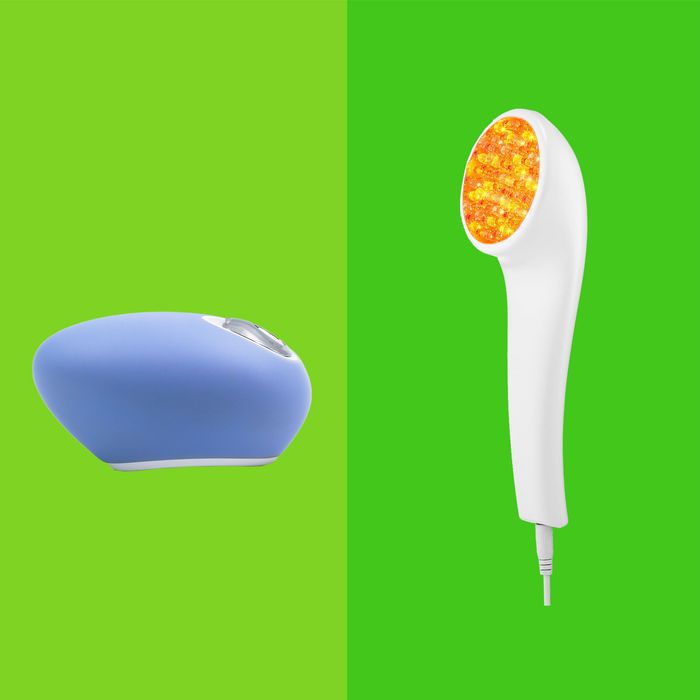 Photo-Illustration: The Strategist; Photos: Retailers
So many skin-care devices catch our eye that it's hard to tell the truly helpful from the purely hyped. So we asked the professionals — four dermatologists and two aestheticians, to be exact — about the best options for a number of skin concerns including acne, wrinkles, and hyperpigmentation. Whether you're already happy with your skin and just want a personalized routine to maintain it, or have some serious goals you'd like to meet, our experts shared the best beauty tech out there — including facial brushes to get a deeper clean and red-light helmets to promote hair growth. We're focusing only on the higher investment–higher payoff beauty tech so we haven't included manual tools (like gua sha stones). And because these devices use various forms of energy like LED light or microcurrent technology, consult your doctor before using if you're pregnant or have an existing medical condition.
For everyday maintenance
A moisture meter is the foundation to any at-home routine because it tells you what your skin actually needs. "These devices can help determine if skin is dehydrated," says board-certified dermatologist and docent medical advisor Dr. Farhaad Riyaz. "Many people trying to improve their skin actually cause harm by overusing products or doubling up on ingredients. Too many acids or other harsh ingredients can cause dehydration or dry out the skin, which actually contributes to premature aging." By pressing the probe on the top of the pen into the skin, this device reads moisture as well as oiliness. It comes with a manual and diagram that explains what the ideal percentages should be on different areas of the skin, but Riyaz says. "Optimal moisture readings are from 35-60 percent." He continues, "Where ratings fall below the 35 percent patients need to look at their regimen and lifestyle." If you fall into this lower range, he recommends checking if your cleansers are sulfate-free and confirming that your toners are alcohol-free, and then adding extra hydration into your routine. Your oil content should be in a similar range, but "anything below 35-40 percent warrants attention," Riyaz says. Your skin doesn't change often enough to warrant daily testing. But testing during the change of the seasons or during periods of hormonal change (like menopause) will help refine your routine. This pen would also come in handy to check the effects of a new product on your skin.
Some skin-care devices are close to $1,000, so it's important to really know what you're getting. Ideally we'd purchase things that address multiple skin concerns, like the My Skin Buddy, which uses four different technologies: ultrasonic vibration, ion care, LED therapy, and thermal heat therapy. Celebrity aesthetician Natalie Aguilar recently purchased this all-in-one device and noticed a visible difference in her skin, citing "clearer, more refined and toned skin" after just a few days. The ultrasonic vibration, which pulses 8,500 times per minute, provides a mini massage while lifting and firming the skin. The ion care emits negative and positive ions. Negative ions will help your products penetrate better, while the positive ones pull impurities out from the skin. The My Skin Buddy also contains red, blue, and green LED lights that together fight acne causing bacteria (blue light), improve the appearance of wrinkles (red light), and reduce redness (green light). The added heat therapy basically boosts all the other functions. It helps the ions emulsify dirt and oil. It also aids in the vibration's skin tightening by increasing oxygen to the cells by improving blood circulation and shrinking pore size. "It sounded too cool to be true, but I quickly fell in love with it," Aguilar says. "It has a cleaning mode, toning mode and a treatment mode that helps penetrate your finishing products like serum and moisturizer," she adds. "It's ability to customize settings makes it ideal for all skin types."
Created by Makeup artist Jillian Dempsey, "this 24K skin sculpting gold-plated T-bar vibrates 6,000 times per minute leaving your face sculpted, contoured, and smooth," says Taylor Worden, celebrity aesthetician and founder of Taylor Worden Skin. Writer Mackenzie Wagoner tested it along with a lot of other facial rollers, and despite the price, she still felt this one was worth it. She said it helped release tension in her jaw, and she saw the immediate brightening effects of the instant blood rush to her skin. "I rev this puppy up as soon as I've applied my skin care, morning and night, to just get those good vibrations all over my face, starting at my neck, moving upward and outward all the way up into my hairline to release tension and boost my circulation and lymphatic system," she says. The massaging effect of the vibration that left her so relaxed (she equated it to a strong dose of CBD) was enough to sell Wagoner, but dermatologist Whitney Bowe also explained the skin-care benefits. According to Wagoner's interview with Bowe, vibrations applied with slight pressure can theoretically stimulate collagen production and "act as a wakeup call for your cells." If you can't justify the cost, Tracee Ellis Ross and Rio are very happy with this $12 dupe.
A thorough cleanse is the foundation of every good skin-care routine, which is why Dr. Corey L. Hartman, founder of Skin Wellness Dermatology in Birmingham, Alabama, recommends the Foreo cleansing brush. It's especially good for acne, he says. "It's not a direct treatment but it's a way to get your skin more thoroughly cleansed and let your active ingredients penetrate better." There's no shortage of cleansing brushes on the market, and frankly some are far cheaper, but Hartman said this one seems to be a little more effective than the others.