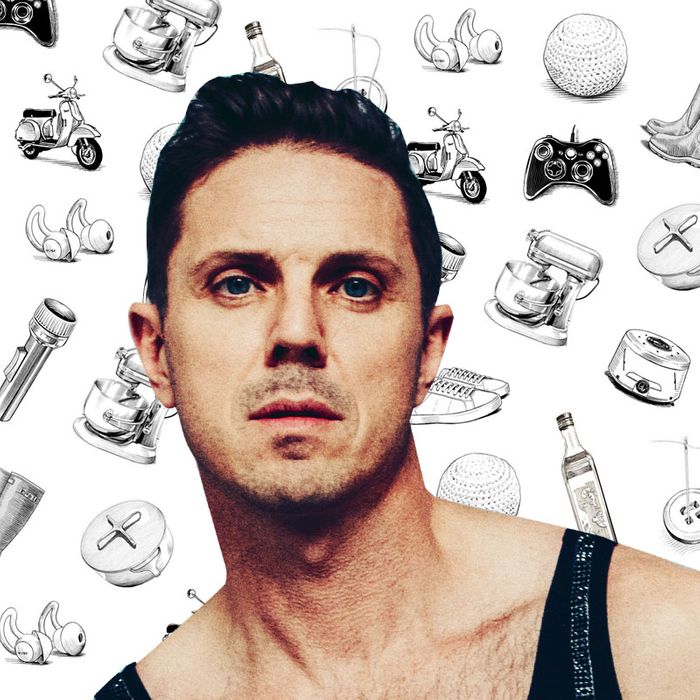 Photo-Illustration: Photo: Ivan Bideac
If you're like us, you've probably wondered what famous people add to their carts. Not the JAR brooch and Louis XV chair but the hair spray and electric toothbrush. We asked singer Jake Shears, formerly of the Scissor Sisters, about the thermos, recording equipment, and hair-loss treatment he can't live without.
I think I'm on my 15th Kindle. I've broken many of them, and I've definitely given a couple to my mom over the years. This current model is one I've had for a while, and it's honestly one of the things I really can't live without. I like the new Oasis design because it's so comfortable to read on. You can hold it by either hand. It's better than reading on an iPad or something because the screen isn't backlit. Now that we're in lockdown, I use my Kindle mostly for the New York Times app in the morning. It's a better way to read the news, rather than on the phone, because you're not getting endless updates all day. And then I read The New Yorker, which comes out on Mondays. I feel like I'm really relying on it at the moment. The one thing Kindles are not very good at is photography or illustrations. So it's mainly just for the articles. It's keeping me informed but, like, with a finite amount of information.
First of all, they're amazing for making giant cocktails. Like, if I'm working at night or something, or if I'm in the studio, they're so great for just dumping a third of a bottle of vodka and a bunch of tonic water in. These are so insulating — they keep the ice super-cold so you don't have to keep mixing drinks. If I'm drinking at home, they really come in handy. But I love them for just plain water, too, near my bedside. I love having something that's ice-cold next to the bed. It saves me from getting up.
Photo: Retailer
People make fun of me for liking it, but I'd take Smirnoff over Grey Goose. I like the taste — I really don't think it tastes that different from the pricier ones out there. Tito's and Ketel are fine. But if I'm at a bar and I see they've got Smirnoff, I'm happy. I love to drink it around the house, too. A vodka tonic is my favorite drink, but I am trying to cut back — tonics are so sugary, so sometimes I water it down with soda water. I also love making a Negroski at home — that's a Negroni with vodka instead of gin.
[Editor's note: Because Drizly works with a network of retailers to sell and deliver booze, this product's price and availability varies by location.]
I usually live in New Orleans, but I'm actually staying in Virginia, near my parents, who live on a horse farm. This interface connects with your monitors, a laptop, and a little mic. And there you go: You're ready to make music. I've basically been a nomad for 15 years of my life, traveling here and there. But wherever I am, I can make music with this. I do sessions on Zoom with this producer I've been working wit