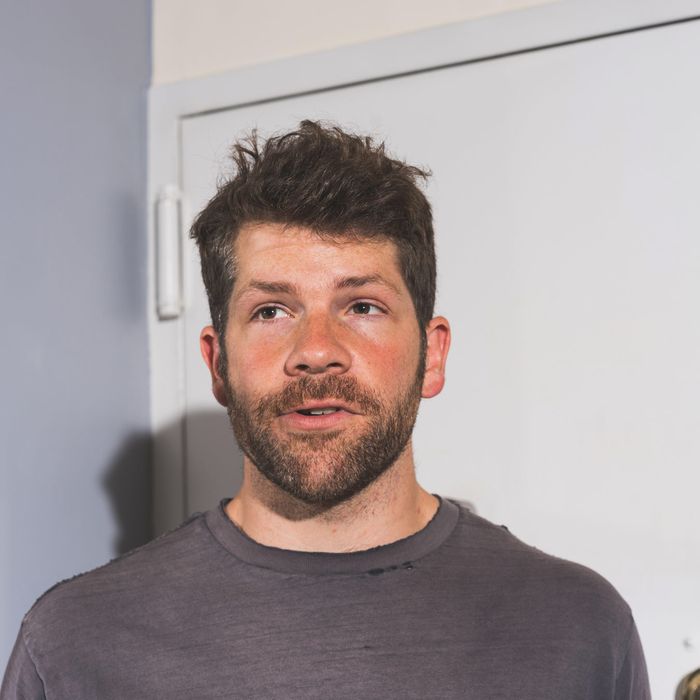 John Jannuzzi.
Photo: Laura S. Wilson for Gossamer
Every month, the Strategist editors do their version of a haul blog, jibber-jabbering about their favorite purchases of the last four weeks. To get that same personality and taste insight (via receipts), we're inviting interesting friends of the Strat to run down their own buys. For this installment of the Guest Strat Haul, frequent Strategist contributor and Bonobos editorial director John Jannuzzi on his purchases for the last four weeks.
I opened my drawer. Everything was wrong. It was that moment of existential dread all of us face: I hated everything I saw. A carefully chosen arsenal of black, heather gray, and navy T-shirts had finally betrayed me. This one too wide, the other too tight, others somehow showing stomach cleavage and an unflattering glimpse of hair. I pulled yesterday's shirt from the laundry basket, a J.Crew broken-in pocket crewneck (the same as all the others) and trotted out to find its successor. I checked Buck Mason and came up short. I wandered to Noah, but am simply not that cool. I visited Ralph Lauren, but can't bring myself to do it. I sauntered past Sweetgreen and looked in the window at the happy millennials in athleisure. Why can't I be like them? I wondered to myself, I love salad and athleisure. Defeated, I returned home. My girlfriend told me that J.Crew was having a sale (they do this several times a week). I bought 12 of the T-shirts that had betrayed me earlier in the day and resigned myself to the fact that there is no such thing as "the perfect T-shirt."
After an extremely demoralizing morning of being schooled in Mario Kart online by what I assume was a gang of Japanese teens, I was feeling down. This has become a part of my life. In our house, we call it "self-care Mario Kart." But it had turned on me. Restless, I dusted off my copy of Zelda: Breath of the Wild. Perhaps there was some cool side quest I could complete? Did Hyrule need more saving? And then I remembered that I foolishly never got the DLC pack for it. Hello to hours and hours of new Nintendo Switch gameplay. Good-bye to literally the exact same thing because I am aimless.
The morning commute brought me a sobering realization. There was a hole in the sole of my shoe. It was not big, but it was there, a constant reminder that I have abused my Adidas. How much longer would they last? The slick streets seeped through the small hole with every step, dampening my sock. Do I treat all things in my life with such carelessness? Do I let my relationships wither to the point of minor decay and replace them with something new, like I will these Adidas? The water spot on my sock grows. Later, I welcomed a new pair and cursed myself as I laced them up, knowing that one day, not far from now, the water will flood back into my sock. Everything will fail you if you give it long enough.