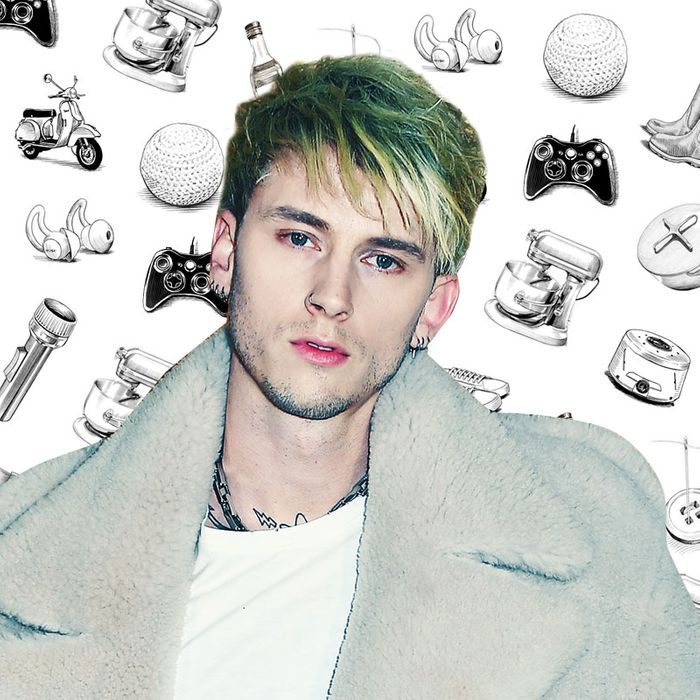 If you're like us, you've probably wondered what famous people add to their carts. Not the JAR brooch and Louis XV chair but the hair spray and the electric toothbrush. We asked musician Machine Gun Kelly (né Colson Baker) — whose latest album, Tickets to My Downfall, is out today — about the incense, French press, and pen he can't live without.
I smoke a lot of weed, so the studios I record in smell like that. But when I was recording Tickets to My Downfall, Travis Barker, the album's executive producer, was always burning this because he doesn't smoke anymore. It made the studio smell like home to me. It's this really powerful scent. I'm huge into scents — I'm always burning something — so I had to grab some for my house. Every time I burn it, it reminds me of making the album.
My hairstyle is very much just bed head, like I woke up at two in the afternoon smelling of tequila. The only thing I do to it is give it some texture with this Oribe texturizing spray. It lifts the hair off my scalp. I run my hand through my hair a couple of times and let it make a formation. A hairstylist on a shoot first used it on me, and I think it was the smell that initially hooked me. When I smelled it, I was like, Whoa, this smells like expensive shit.
Photo: retailer
If there is any book I'd say someone has to read, it would be The Alchemist. I've read it twice now, and both of those times I've been at a point when I really needed answers. The first time I picked it up was early on in my career — maybe 2013, 2014 — when I was on tour. I was blending all of these punk-rock elements into my aesthetic — I had a six-inch mohawk and wore ripped, tight jeans and vests with patches that I stitched on. I did a lot of Blink-182 covers, but I also had a song on the rap and hip-hop charts. People were confused by me, so I felt disconnected from the world because no one got my vibe. I picked up this book, and it showed me that my time was coming — I just needed to manifest it, and I couldn't doubt myself along my journey. I always appreciate how the book was a much-needed sign at that time. It reminded me not to give up.
My assistant, Olivia, got me this French press — it's custom and says my name on it. I really like the morning routine of grinding the beans, putting grounds into a French press, and drinking a really great cup of coffee. I'll never forget the first time I actually used a French press. Someone brought me one at a restaurant, and I was like, "What is this?" Then they set an alarm clock next to it, and I was like, "What is that?" They explained to me that, once the alarm rings, you push the handle down and then you'll have your coffee. When the alarm went off, I pushed the handle down, and I was like, "Holy shit, that was so fun." You're in control of how much caffeine is released from the grounds, too, depending on how slow you press the handle and how long you let it sit. It's nice to feel like you're not at the mercy of some shady coffee machine.
My father had the same Montblanc pen his entire life. The top of the pen had this white cap, almost like the top of the mountain the brand is named after. He would just change the cartridges once it was out of ink. My dad was super-proud of that pen, so it's always been a special brand to me. I am big on writing things down. I have a thing for good pens. With a Montblanc, right when you touch whatever you're writing on, the ink is super-fluid — my dad's pen was always like that. It's almost a metaphor, because you want the ideas to just flow out of you; you don't want something to stop them. There's nothing worse than when you have to shake a pen to get it to work. You can lose an idea that way. I couldn't afford a Montblanc pen earlier in my career, but when I finally got one, I was like, Yeah, this really is the best pen.
Photo: retailer
I'm an extremist. If I'm on tour, then I'm climbing up 100-foot rafters and hanging upside down by one leg, or jumping off of a 15-foot drum riser. I was recently jumping off cliffs and wakeboarding on a lake in Utah. So my bones ache all the time. Taking a bath with these salts is kind of my time to chill out and recover. I don't really remember how I got into these specific salts; I remember someone told me that salt makes the water in your body come to the surface, basically forcing it to sweat, which is a good thing because you're detoxing and getting rid of all those bad things. These also help my aches after I've done things that are hard on my body. They're kind of like a poor person's cryotherapy. I don't really know how to build one of those chambers to rehab my body, so I settled on bath salts.
When it comes to rolling weed, there are a lot of options. A classic blunt, Swishers, cigarillos, raw papers. Then there are Backwoods, which are my favorite. You just kind of go with what rolls best for you. I probably go through a 100-pack of Backwoods in a week — it's me and three or four other people smoking them. They're leaves; you unwrap one and empty out the tobacco from it. It's always better to stuff a Backwoods because they smoke a lot better that way, so we put two, maybe three, grams of weed in.