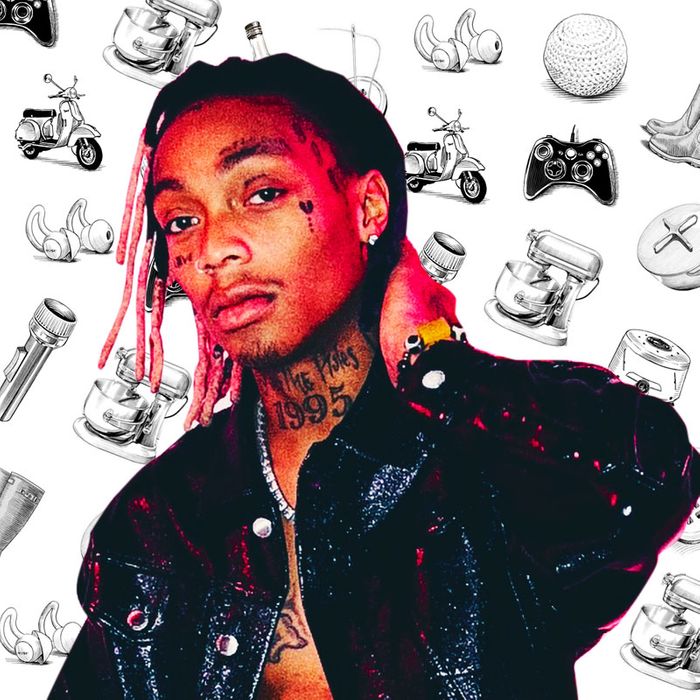 Photo-Illustration: Chris Villa
If you're like us, you've probably wondered what famous people add to their carts. Not the JAR brooch and Louis XV chair but the hairspray and the electric toothbrush. We asked rapper Tyla Yaweh — whose new single with Da Baby, "Stuntin' On You," is out now — about the candy, headphones, and cologne he can't live without.
When I have the munchies, I like to eat Sour Patch Kids. They're the first thing I go for when I get those cravings. The watermelon ones are my favorite, for sure. But all of the flavors are fire. I usually go all out and buy a jumbo package. If I'm with my friends, I am nice and I share, but mostly because I can't eat the whole bag by myself.
There's nothing better. They get so loud, and I'm damn near deaf so that's one reason why I like them. I wear them when I work out. I wear them when I record. I wear them when I chill. I just love them. They're super comfortable — sometimes I fall asleep with them on. I have the wireless ones now but my parents got me my first pair of Beats for Christmas years and years and years ago.
I grew up playing video games, to the point where I would sneak play in the morning until I had to get on the bus for school. I've always played on an Xbox — the quality is just better. I mean, the PS4 isn't bad, I know people who like it, but I prefer the Xbox. Most of my friends also have one, so it's easy to connect online and play together when we're all at home. We pretty much just play Call of Duty. Oh, and Mortal Kombat. That game is dope, too.