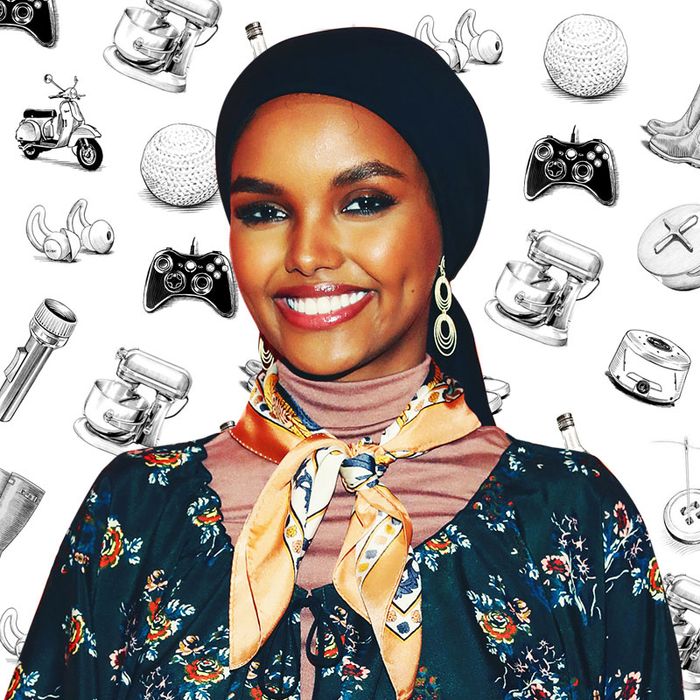 Photo-Illustration: Getty
If you're like us, you've probably wondered what famous people add to their carts. Not the JAR brooch and Louis XV chair but the hairspray and the electric toothbrush. We asked model Halima Aden — who this year partnered with Rothy's for the release of its handbag collection — about the snack, book, and candle she can't live without.
I used to love Flamin' Hot Cheetos, but in the sixth grade one of my best girlfriends brought Takis over, and I've loved them ever since. They're just really, really tasty — and spicy. I love the lime flavor. I grew up in a house where spices and herbs were really common in all of our Somali dishes, so I've always loved spicy food. I can't have Takis all the time because I actually have GERD, which is basically really bad heartburn, so I'm not supposed to have a lot of spices too often. But once in a while I pick up a huge bag to indulge. I promise they're so good — like hot Cheetos, but even spicier and mixed with lime. It's a very unique taste.
One of my favorite teachers at Apollo High School, Ms. Gruber, taught me that while you can always say thank you in person, nothing leaves a lasting feeling with somebody the way that a handwritten thank-you card does. So I always carry thank-you cards. They really make people's days, because how many of us will sit down and take the time to write out a thank-you card nowadays? I love these ones from Papyrus because they come in boxes of 16. As somebody who goes through the cards really fast (I send a lot of thank you notes), I love how convenient it is to have a lot of them on hand. I throw them in my purse or backpack in case I need to write one before I get home. I always make sure to send a thank-you note to everyone I work with on a set — if an assistant is working hard, it will have an impact on me, so they deserve a proper thank you. On my phone, I'll write down everyone's name and a few things they did that I appreciated, and then once the day is over, I'll look at those notes, take out my cards, and write one to each person. I always want a person to know it is meant just for them, not just a blanket thank-you note I sent to everyone.