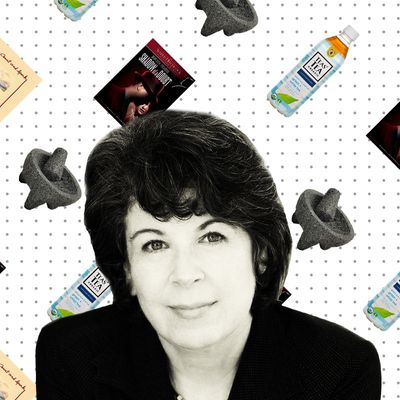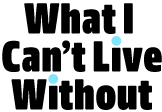 If you're like us, you've probably wondered what famous people add to their carts. Not the JAR brooch and Louis XV chair, but the hand sanitizer and the electric toothbrush. We asked Meg Wolitzer, author of The Interestings and the new novel The Female Persuasion, about the custom Scrabble board, unsweetened iced tea, and coriander hand cream she can't live without.
I really like to entertain myself in various ways when I'm writing. I'm always using my hands and typing with my hands, and they need a little attention. The hand cream just feels like a tiny way to take care of yourself in the middle of a long writing day. And it smells wonderful. I actually have it as a body lotion, too. I would never smell it and go, "Wow, that's coriander!" If they say it's coriander, I'm sure it's coriander. I believe them. It just is a lovely, great scent.
I wrote a piece about this book for "The Enthusiast" column in the New York Times, where they ask you to write about a writer you love. I consider this a perfect novel. It's about a Kansas City housewife, and it's set mostly during World War II. It's both hilarious and sad and a perfect character study while still giving a sense of what it was like to be a housewife and a woman in the world at the time. She's held back by her circumstances, but also by who she is. We see her trying to do things and not getting through, and it's maddening in some ways, but also hilarious. There are chapters and sections with titles that are just brilliant — you remember the characters years later. And after I wrote the piece, so many people wrote to me about which quotes were their own favorites. And you don't know it, but I think you'll love it. I've bought so many copies for different people and they always do.
I'm not particularly good at doodling. I'll doodle the same face over and over again. I draw this cartoon man in profile, but I just do the face — the forehead and nose and lips and mouth. I'll draw this all over different things in my apartment, and my husband once put a cartoon bubble above the head that said, "Why, oh why won't you finish the back of my head?" I think when you're writing or really doing something on the computer, any time you can get away from that even for a brief moment, to sing or jump around or draw, is a good idea. As a child, I would draw comic books, and I had all kinds of magic markers, so the Sharpies are a less-big way of the same idea now that I'm an adult. The drawings themselves aren't good enough to publish. I think they're really for me. In The Interestings, Ethan is an animator, and I did some little drawings of the characters for the New Yorker blog of how I imagined them. But I think the drawings have to be taken in the spirit with which they were offered, which is a very unschooled, not very fluent kind of cartooning. Or private doodles. I can't even call it cartooning.
This was recommended by friends — I got the first month free, and right at the moment Andy began to speak, I fell into a state. I have a real response to that voice. I think of that voice as being connected to "Just do this. Just breathe." Because I travel so much and do so much public speaking, I tend to forget to breathe, and I really love the time in the day when I can use it. So I definitely signed up. It's funny to think about Andy's voice versus someone else's. What if it were the voice of the guy on the subway saying, "Stand clear of the closing doors?" Maybe I would be responding to that.
I love this film so much. It's such a beautiful film and such a strong Hitchcock entry that a lot of people don't really know. Teresa Wright with a Thornton Wilder script. You've got beautiful Americana with this darkness emerging from it. It looks so great and Uncle Charlie is so disturbing. As with Mrs. Bridge, I enjoy seeing it with someone who hasn't seen it before just to get the thrill of the first viewing.
If you were to see what's on my music playlists, they really do go back to a time when I was sort of wearing earth shoes. I think listening to music from your youth is as powerful as a scent passed beneath your nose. I associate this album with college and listening to it again and again and again — I'll think about those experiences and coming into the world for the first time. And she's also in recent years become ill, so it's a bit sad to think about that. She's such an influential songwriter and performer whose voice I completely love. As with Andy from Headspace's voice, when I hear Joni's, I perk up in a certain way.
I read this book when I was really too young to really gain anything from it, and then I read it later, and it had this mournful quality in the way it deals with mortality and other issues. It's actually something I find myself revisiting every five years or so because I think the attention to language is really just stunning, and when the text swirls past me, it's like I'm going back to those times I read it previously.
It weighs like a million pounds and sits on my counter. I love guacamole and think about it a lot when I'm supposed to be thinking about language. Whenever I go out for guacamole, I'll think, Oh I could just make it. I found the Rosa Mexicano guacamole recipe online and now I just ground things up in my molcajete and make it myself at home.
These accompany me throughout my day. I can't drink coffee — it makes me feel really agitated, and I like a cold drink anyway. I don't really get the point of hot liquids. I'm not a fan of hot tea most of the time. Even in freezing winter, I'll drink the iced tea. I like the Teas' Tea because I find it kind of bracing, and the caffeine is enough that I feel it, but it doesn't give me the antsy feeling coffee gives me. It's more just soothing and replenishing. I drink it when I write my novels, and I'm still writing novels, so I guess that means something. It has to be the unsweetened kind. I used to actually drink a lot of Snapple, which was sweetened, and that was something I did not want to continue doing. This is my more adult drink.
So Sam Timer is a company that makes all these custom boards for chess and checkers and Scrabble, and I heard about them through the Scrabble world. I've played competitively, though not well, and I love Scrabble so much that the idea of having a beautiful, well-designed board that was a piece of art really appealed to me. Mine's clear plexiglass along the edge, and the tiles recess into it because it's got this inlay. I'm a big believer either in a board like this or the classic Scrabble, which came in that maroon box when I was young. That's the one our family brought to the beach when I was a kid, and we'd leave the score sheets in the box, which would have the oil patches on them from the Bain de Soleil. I'll play online occasionally, but I miss the real board.
The Strategist is designed to surface the most useful, expert recommendations for things to buy across the vast e-commerce landscape. Some of our latest conquests include the best acne treatments, rolling luggage, pillows for side sleepers, natural anxiety remedies, and bath towels. We update links when possible, but note that deals can expire and all prices are subject to change.
Every editorial product is independently selected. If you buy something through our links, New York may earn an affiliate commission.