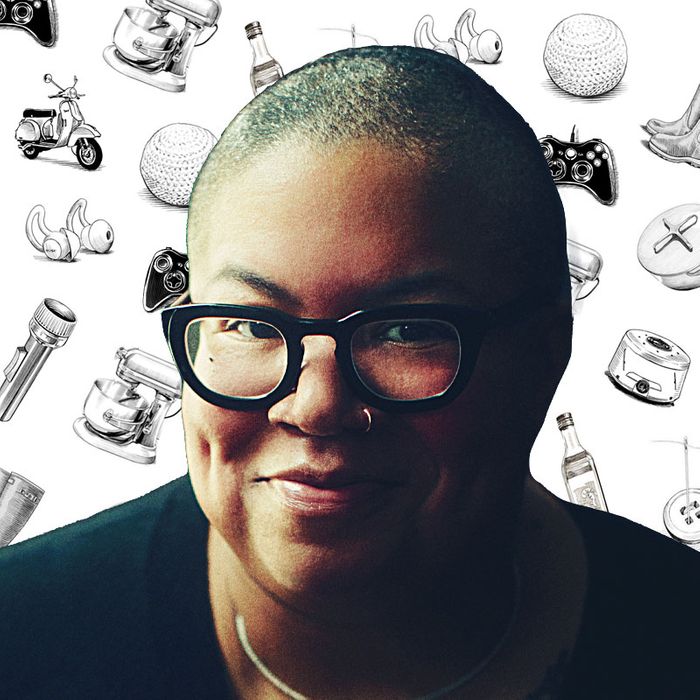 Photo-Illustration: The Strategist; Photo: Lori Morgan Gottschling
If you're like us, you've probably wondered what famous people add to their carts. Not the JAR brooch and Louis XV chair but the hair spray and the electric toothbrush. We asked comedian Samantha Irby, whose new book of essays, Quietly Hostile, is out now, about the oregano oil drops, paint-by-number app, and indestructible toilet paper she can't live without.
My wife, Kirsten, and I have a huge bedroom — the bed is on one side and we have a couch and TV on the other side. It was my dream to have a bedroom couch. I was like, Oh this is how you know you've made it, if you have a couch in your bedroom. And my wife works for public schools and gets up at 5 a.m., so she goes to bed at nine. I like to go to bed at 2 a.m. With the white-noise machine, we've discovered, you can turn it on on the bedside table and you don't hear the episode of Survivor I'm watching for the 37th time. But it's not so loud that I can't hear the TV. It's very no-frills. There are different frequencies of noise, and you cycle through and pick one. Some are very jarring. Then there's the one that's like, Ahh. I found a higher-pitched one and never changed it. It feels almost like a cocoon around your eardrums. I think it's the white-noise machine that has kept our marriage intact. All my marital problems need to be things I can solve by filling an online cart.
My old cat was always sneezing and spraying snot everywhere and one vet told me to switch to no-dust litter. The Feline Pine bag touts how good it is at odor control. And I thought, How good can you be on cat pee? We now have four cats. They're all gross. You don't smell them. This stuff is magical — I let nothing else touch my cats' buttholes. The litter lasts for a long time. The only thing is that it breaks down and turns into fluffy fuzz, almost. But it still absorbs. There's none of that trail of dust and crumbs — how you can follow Hansel and Gretel to the litter box. It's the closest thing to not having a cat. I'm a cat person, but sometimes I think, Man, if y'all weren't here … First of all, my clothes would be beautifully clean. There wouldn't be scratch marks on every piece of furniture we own. I feel like even hard-core cat people fantasize about not having cats. So with this, you can feel the fantasy, live in your delusion of not being a cat person.
As I've gotten older, I've developed … not even allergies, but weird skin sensitivities. Some days it's flaky and terrible. I bought this cream because at one point — this is revolting — there was what looked like dandruff on my eyebrows, and that was absolutely horrifying to me. One of my friends thought this was just dry skin and said to try this cream. "It won't break you out. It's really moisturizing." Blah, blah, blah. It fixed my skin in a week. There's no scent. The best thing is that you can use the cream on your whole body. I have eczema on my legs and it handles that. I get a little bit of rosacea — cheek patches — and it takes care of those. It's very thick, but it's not greasy. Sometimes I'll use a lotion and feel like a pig on a spit. This doesn't do that to you. It sinks right in and your face feels … you know how the buzzword these days in skin care is "bouncy"? It gives you that with no grease, no sheen. You just look like you have skin that's taken care of.
A couple years ago I went to a podiatrist who told me, "You have flat feet. Time to get orthopedic shoes." But I'm a person who likes to have my toes out in the summer. I can't wear those little Old Navy flip-flops. They have no support.
I was doing let's say research, scrolling, and saw these that have some special "wobbleboard technology" that keeps you from tipping over. I wear them all the time. I buy one pair a year and wear the shit out of it. Then I recycle them and get another pair. It's the least sexy piece of footwear you could ever put on your feet. You've got to age-adjust your clothes, and I don't mean "Oh, you're too old to wear this" or "Only young people should show their bellies." My body is at a point of decomposition where this outfit also needs to help me. This shoe needs to push up my flat foot. This underwear needs to come up and compress my belly a little bit. I'm fully in that stage of life, and you know what? I'm into it. There's nothing in my life that I want badly enough to be uncomfortable while doing it.
This is probably the thing I'm most passionate about on earth because I have Crohn's disease, which means I have unpredictable bowels and diarrhea all the time. I have only ever bought Charmin. I'll never be without it — we order it by the case, delivered every month. I cannot not have it. It's so soft, but also so strong. There's nothing more disgusting than when you wipe yourself, pull away, and have shredded toilet paper on your hand. No one wants that. It's happened to all of us at one point or another. It won't happen with Charmin. You really have to be spelunking to get that stuff to break.
I have poor people's teeth — we would treat an emergency, but we wouldn't do anything preventative because we were broke. As an adult, I've had to have a ton of dental work done. I have a plaque thing. I've tried every kind of toothbrush — electric, the ones that feel like they're for a baby. I can't do that. With a soft brush, my teeth never feel as clean as I want them to feel. These really get my teeth so slick. They're the best. They're cheap. You can get them in a six-pack. If you're a clean-tooth person, they really do the trick.
Some things you just have to be like, Okay, whatever damage I'm doing, we'll deal with that later. Or maybe I'll die before I have to deal with it, and it won't be a problem. Me and my squeaky-clean mouth full of crowns will not have to worry about it. At my last dentist appointment, they sent me out with a mushy toothbrush. I'm like, "Uh-huh, thank you so much." Then it immediately goes in the trash. I don't need that. You keep that. I get out my big scratcher and saw at my teeth like I'm filing my nails.
I went to the co-op. I thought I was coming down with something. And the co-op — they're never going to have NyQuil or Theraflu. One of the people working there heard me sniffling behind my mask and was like, "Hey, have you ever tried oregano oil?" I was like, Oh, I believe in real medicine. I don't know how to say "no" to a salesperson unless they're trying to get me to buy a car. But a low-stakes item I will always buy so there's no awkwardness between us. That hippie got me, because I didn't get sick. It could have been a fluke. But once a thing works one time, I think, I got to use this all the time.
So now, especially if I feel a little throat tickle, I have convinced myself that the oil, because it burns, is killing the bad stuff in my mouth. I don't think that's real, but that's how I feel about it. Truly, when I'm using my oregano-oil drops, I don't get sick. I can't recommend the oil for everyone: You have to be okay with smelling like pizza for a little bit. It's strong. It burns. They make a capsule variety, but I like to feel the burn. It's either a placebo that'll just make you smell like an Italian restaurant, or it's the real deal. Even if it doesn't fix your problem, you get a pleasant tingle in your mouth.
Before I got on Zoloft and started dealing with my mental problems the chemical way, my friend said I should color on my phone. I was like, "Excuse me, I'm an adult." But then I found this coloring app. I'm definitely going to get some sort of forearm damage, carpal tunnel, something, from making tiny movements on my screen. But until then, I can't stop.
There are no rewards, no losing, no leaderboard. And $10 a month on coloring is a little monthly fee. I have unlimited pictures to color, and I never worry that I'm not coloring as good as somebody else. My method is to break the picture into sections and do one full section at a time. I'm not usually so organized, but I'm very precise in coloring my masterpieces. I torture my wife by sending her the pictures every day, even though she's making fun of me. "Oh, your picture." I receive it as, "What a work of art you made." This is my dream: converting more people to getting the app so it never goes away.
Everyone's like, "Drink water." By everyone, I mean my doctor. He says, "Give your kidney something to do." One of my friends got one of these and texted the group chat, "You all need to get this water bottle." Well, it's good. I wouldn't text anyone about it, but if someone asked me for a water-bottle recommendation, I would give it.
Two things. One, I love ice water. Kirsten goes out and buys gas-station ice and puts it in our freezer because no ice maker can make it as fast as I can drink it up. The bottle keeps your things cold. I filled it last night with ice cubes, and it is still full of ice cubes and cold water. Two, the mouthpiece. You can either tip it back, like you're drinking from a plastic water bottle, or you can sip it — and there's something about the shape that makes it so easy. It's like you breathe in and water comes up. You don't have to slurp or shake around or move the straw. For those of us who love to sip, it's top tier.
I have shaved my head since I was 16. I can't even imagine myself with hair. But I also have a great big pumpkin head, and I can't stand a thing that's tight on my dome. You get a beanie from a regular place and suffer while it squeezes the life out of your brain. A couple of years ago, I said, Wait a minute. We live in the internet age. I need a hat that actually covers my big head, doesn't hurt, covers my ears, and maybe even covers the back of my neck. So I Googled "warm hats for big heads." I mean, how do you walk away from bighatstore.com? You can't.
And the beanie fits my head, covers my ears, and is very warm. I got to have one in the car, one in the closet, one in my bag. I have a neon, bright traffic-cone orange. I have a cherry red. I have a navy one, a black one. I don't mess around — I have these hats everywhere. I'm always very grateful to a product that solves my very specific need. That is my favorite thing, to be like, This little whatever is the one thing I need that I couldn't get anywhere else. I will stay hopelessly devoted to them forever. No more head shame. If you have a big-ass head, order a big-ass hat.
The Strategist is designed to surface the most useful, expert recommendations for things to buy across the vast e-commerce landscape. Some of our latest conquests include the best acne treatments, rolling luggage, pillows for side sleepers, natural anxiety remedies, and bath towels. We update links when possible, but note that deals can expire and all prices are subject to change.